The Wilkes-Barre/Scranton Penguins have gotten off to one of the best starts in franchise history, as they are 6-0 to start the 2013-14 season. The Pens kicked things off by coming back from behind in their season opener against the Bridgeport Sound Tigers to win 5-2. A week later, they opened their home schedule against the Hershey Bears and took a 3-1 victory.
Those games are just small samples of how the Penguins have started strong. The team has a lot of individual talent and has worked together as a whole to win early and quickly climb to the top of the Eastern Conference standings.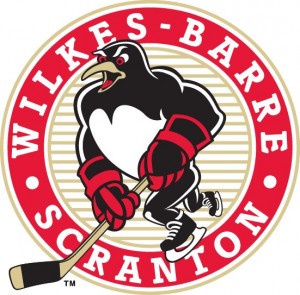 Here is how the Penguins have become one of two undefeated teams in the AHL in the first month of the season.
Jayson Megna and Brian Gibbons
Megna and Gibbons aren't known for their size. Gibbons is 5'8", 170, while Megna is listed at 6'1" and 195. However, through the first six games, they have become one of the Pens' most formidable duos.
In the home opener, they teamed up for a shorthanded goal, with Gibbons getting the score and Megna assisting. They then worked together twice in an October 18 win over the Adirondack Phantoms, with one or the other getting the goal or the assist.
The two have been outstanding individually as well. Megna is currently tied for the AHL lead with two game-winning goals. Gibbons, meanwhile, had two multi-point games during the team's recent 3-in-3 stretch. He scored three points against the Phantoms then had four points in the October 20 overtime win over the Manchester Monarchs.
Both look to be on pace for breakout campaigns. Gibbons is looking to improve after posting identical 30-point seasons in 2012 and 2013, while Megna had 12 points in 56 games last season. Gibbons is showing more follow through on his scoring chances, and Megna is becoming more visible on the ice.
"The way that Gibbons and Megna have played, they were driving the bus," head coach John Hynes said to Jonathan Bombulie of The Citizens' Voice. "It wasn't one guy creating offense and the other two were beneficiaries. They were all contributing to it."
Megna added that it's a relief that the two are finally creating he offense that eluded them at times last year.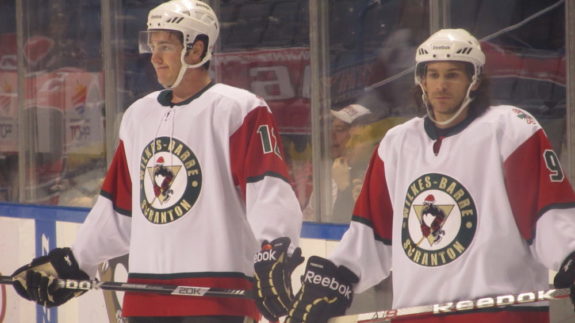 "I wasn't burying them for him last year," he explained. "He's still feeding me. Finally they're starting to go in. I'm happy for him. I'm happy for me too."
Jeff Deslauriers
Deslauriers, who previously played for Wilkes-Barre/Scranton in 2006-07, was signed late in the summer on a 25-game tryout. So far, he is proving that it will be worth keeping him around should the Penguins choose to do so.
"I'm an everyday guy. I practice every day," Deslauriers said. "As a goalie, you always want to be part of the success of the team. You want to start every game if you could. That's the mindset I have."
The veteran netminder was 22-12-3 with a .908 save percentage and 2.47 GAA back in 2007. Through six games this season, he has equaled his save percentage total from that year and is also 5-0 with a 2.40 GAA. The only game he didn't play was October 19 against the Worcester Sharks, when fellow offseason signing Peter Mannino made his Penguins debut.
Deslauriers has made several highlight-reel saves early on to keep the Pens competitive. He has struggled with consistency in the last few years, but if he keeps coming up big and gets support from the team, he can be one of the AHL's top goaltenders. And he is confident his teammates will be there for him.
"It's a circle," Deslauriers stated in an article in the Penguins' game program, Breakaway. "I feel confident that they can do their job, so I want them to feel the same way about me. Everybody has the same goals in mind and we are all pushing in the same direction."
Defense
The Pens have not given up more than three goals in any of their first six games. In fact, they are currently eighth in the AHL with 2.3 goals against per game.
Although this looked to be a weak unit following the departures of standouts such as Alex Grant and Joey Mormina, other players have stepped up. Brendan Mikkelson, who has played in over 100 NHL games, has seven points in his first year in Wilkes-Barre. Top defensive prospect Simon Despres has added a plus-six rating to rank third on the team. Gibbons and Megna lead the way with plus-nine and plus-eight ratings, respectively.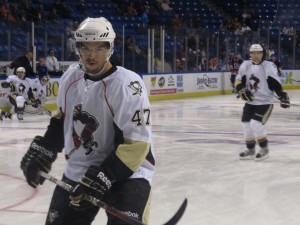 As Hynes noted to Tom Venesky of The Times Leader, Mikkelson will be an asset to the younger Penguins defense.
"Guys go through many ups and downs, and veterans like Brendan are real important because they've been through it and they've done things the right way. His experiences will definitely help our younger players."
"It would be awesome just to find a place," Mikkelson chimed in. "So far things have been great…now I have to return the favor, hold up my end of the bargain and be a good player they can trust in all situations."
The defense is also a strong compliment to the offense, which is first in the league with 4.5 goals scored per game.
Third-Period Scoring
Prior to the game on October 18, the Pens had outscored their opponents 10-1 in the third period. That only continued over the 3-in-3 weekend. Wilkes-Barre had five third-period goals to its opponents' three to help it go perfect in the first long stretch of the season.
On Saturday, the Penguins combined their third-period power with their determination to fight back when the odds are against them. The Pens found themselves down to Worcester 1-0 going in to the final period, but scored three times for an eventual 5-2 win. Two of their goals came roughly seven minutes apart, and Tom Kuhnhackl, trying to make his mark after suffering a shoulder injury last year, got two of those goals.
While it's far from ideal to be mounting comebacks all the time, the Pens are showing they can come through when it counts and that no opponent should consider a lead safe.
Overall, it may be still too early to call the Penguins champions of the Eastern Conference, or even the East Division. However, they are laying a good foundation by doing all the right things and getting contributions up and down the roster. This should only help them maintain their momentum as they finish October and look ahead to the second month of the season.