Over this past offseason, it was pretty apparent that the Oilers had many needs and a number of holes to fill. Three of the most glaring were a top pairing defenseman, a top six power forward and goaltending help.
Craig MacTavish did his best and diligently worked the phones trying to acquire these assets. While he did bring in players at those positions and the depth has been addressed, the same issues plaguing the Oilers in those spots have not.
Of course, adding players of that calibre is not as simple as a phone call, and you might be thinking, who doesn't want help in those three areas?
The Edmonton Oilers roster overall is better with his additions this season that it was last, however the question will be, was it enough? Or is better good enough?
Top Pairing Defenseman
The area in the most need of help in the offseason, MacT definitely upgraded the area, but still was unable to land the top pairing, left hand shot he so desired. Naturally the position most in need is the hardest one to address and those type of defensemen are rare indeed.
His big offseason free agent signing was former Boston Bruin and Edmonton native Andrew Ference. Ference brings toughness, grit, leadership and a winning pedigree, all of which the Oilers are desperately in need of. Signed to a four year deal, the Oilers got a captain and a top four defenseman in Ference. He has played about 20 minutes per night paired primarily with Justin Schultz and has looked good, but has not particularly stood out.
Ference was a good signing and a nice fit with the team for a number of reasons. However, he is miscast if the Oilers think he will be the top guy for their group they have been searching for. He is a solid top four player that brings many of the assets the team needs. He is not the top pairing minute muncher that can play 25 minutes a night and in every situation though.
MacTavish also added depth in Russians Anton Belov and Denis Grebeshkov from the KHL, both should be able to provide solid bottom pairing minutes. It's an improvement to what the team had last year no doubt, but it would be unrealistic to expect much else from them.
The defense has been upgraded as a group, there is far more depth and a better top four. If the team could acquire the top defenseman they so badly want, the position would go from a weakness to one of strength over night.
Top Six Power Forward
The Oilers have talent in spades up front. For all of the issues they have, they are still the envy of many teams in terms of their young talent.
There are two things that all the young stars on the Oilers roster have in common. They are supremely talented, and they are not overly big or physical.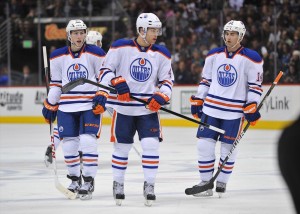 Looking at the group of Taylor Hall, Jordan Eberle, Ryan Nugent-Hopkins, Sam Gagner and Nail Yakupov none are physically imposing and average about 5'11" and 190lbs.
Adding a player with size to their top six was also an item on MacTavish's shopping list. Someone who can create space in front of the net and be intimidating in the offensive zone.
Similar to the defense, MacTavish improved the depth a great deal and improved the position from a year ago. He traded for David Perron and signed Boyd Gordon, Jesse Joensuu and Will Acton.
Perron is another tremedously skilled forward that fits in nicely with the Oilers group. He plays a better two way game than the previously mentioned forwards and plays with a feisty competitiveness.
He's another solid addition and a skilled top six player that will certainly help, however at 6'0″ and 195lbs he's not the imposing power foward they were hoping to get.
Joensuu on the other hand, has the size and tools to play the part, but is a bottom six forward and while providing solid depth is just not good enough.
Gordon has been a revalation and fills another huge need as the No. 3 centre, and has impressed with both his offense and defense. Acton fills the fourth line centre spot and gives good minutes in that role. Neither is a top six power forward.
MacTavish has again made his team better and much deeper, but that prototypical power forward still eludes him.
Goaltending
A position where there has arguably been no improvement from a year ago. The team let an aging Nikolai Khabibulin go and signed veteran backup Jason LaBarbera.
It has been no secret MacTavish had been shopping for goaltending help. It was public knowledge he was asking about Cory Schneider and other potentially available netminders.
It would seem he was not sold on Devan Dubnyk, and with the Oilers start this season it's hard to blame him. I believe Dubnyk faced much undue critiscm last season as he was far from the Oilers main problem and put up good numbers considering the situation he was in.
The Oilers made not have needed a Vezina candidate in goal, but they did need help. If not a No.1 to supplant Dubnyk, a 1b. Someone to push him for top spot and someone who could step in if he faltered. Unfortunately LaBarbera is not that guy. A serviceable backup, he is not a legitimate starter that can play a lot of games.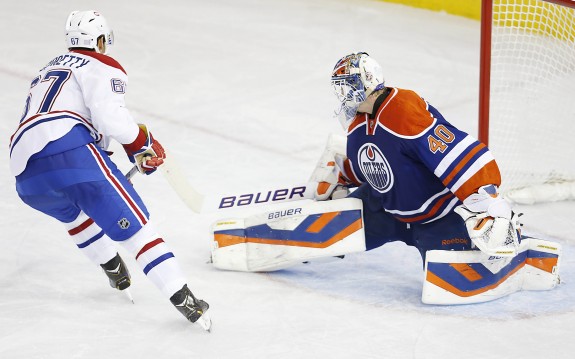 *****
It's hard to fault MacTavish for not landing one or more of the players in those desired positions. After all most of the team's in the league are also trying to acquire the exact same thing. He did what he could and provided a solid Plan B and the best he could do in each situation.
Having said that, the team is better, but the needs far from fully addressed. The biggest is still the top pairing defenseman, followed by the other two. It is also the hardest player to find and virtually impossible to trade for. They have a prospect in Darnell Nurse who could be that player one day, but that doesn't help them now.
MacTavish does have a few things many other teams do not, and that is some young forward talent to use as trade assets. No.1 overall pick Nail Yakupov comes to mind and seems to be still finding his way into Dallas Eakins' good graces and could be the one deemed expendable.
It's a risky move looking to trade a first overall pick that's still just 20 years old, but if the team's fortunes don't soon change, a drastic move may be in order.
____________________________________________________________________________
Follow Carl on twitter @maloney3383 and Google+ for more articles.
The NHL regular season schedule was released on Friday. Check out our partners at TiqIQ for the best deals on Edmonton Oilers tickets for all 2013-14 games.
Carl covers the Edmonton Oilers for THW as well as providing additional prospect coverage. Follow him on twitter @carlTHW, connect on Facebook or contact at carl.maloney@hotmail.com for questions, comments or if you're interested in him writing for you.