Following the Florida Panthers loss to the New Jersey Devils on Oct. 27, they boarded a plane and headed for Helsinki, Finland to face the Winnipeg Jets in a back-to-back NHL Global Series matchup. The games were headlined by hometown stars Aleksander Barkov and Patrik Laine.
Results
Nov. 1 – Winnipeg Jets, 4-2 L
This game was full of action and penalties. After a long week, both teams were visibly excited to finally be playing. Despite Florida controlling much of the play, the Jets came out of the first period with a 1-0 lead due to a costly turnover. Laine was certainly on top of his game. After just three goals to start the year, he matched his season total with two goals on the power play from he, and Alex Ovechkin's office, plus an empty net goal to seal the deal on the game and Laine's hat trick.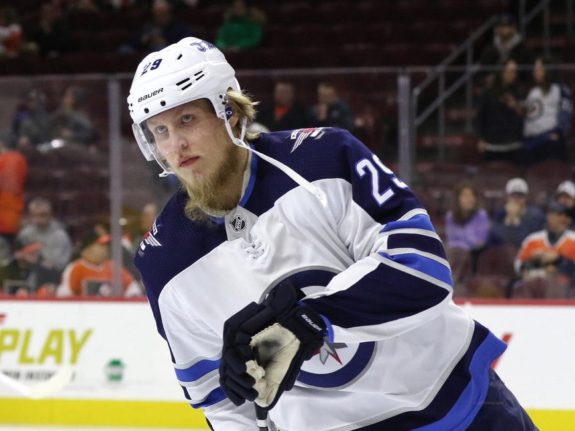 The referees were busy on this night, as there were 13 minor penalties called. The Jets converted on two of their six opportunities and the Panthers on one of their five.
Nov. 2 – Winnipeg Jets, 4-2 W
Roberto Luongo was back between the pipes for the Panthers for the first time since injuring his leg in the opening game of the season. He had been skating and had traveled with the team to Europe, but was not expected to make his next start until after they had returned.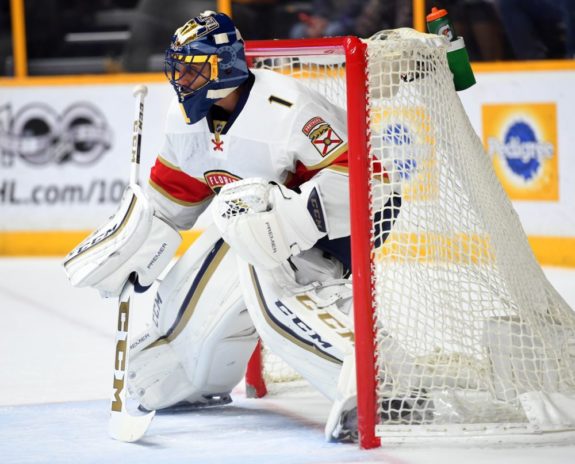 Jets goals consisted of a Nikolaj Ehlers breakaway in which he tucked home his own rebound and a Grade-A snipe from Laine on the power play. The Panthers power play was clicking as they converted on three of their five opportunities with goals from Evgenii Dadonov, Keith Yandle, and Mike Hoffman.
As the second period wound down, Jets forward Brendan Lemieux gave Vincent Trocheck a mouthful of shoulder as Lemieux skated by. It was late and just the type of hit the NHL is trying to eliminate. Lemieux was promptly challenged to a fight by Panthers defenseman Mackenzie Weegar, and he received a game misconduct in addition to a five minute major for his infractions. On Monday, he was suspended two games for the hit. Trocheck was down on the ice for a moment, but finished the game after he wiped the blood from his nose and mouth.
The Finns
Barkov and Laine spent plenty of time together once their teams arrived in Helsinki. They held joint media conferences, played EA Sports' NHL 19, and enjoyed hot wings. The two have become good friends since playing together on Team Finland at the IIHF World Championships.
Both of their paths to NHL stardom were strikingly similar. Both are from the town of Tampere, Finland, about a two-hour drive north of Helsinki. Both played junior hockey for Tappara, a team from Tampere in Finland's Liiga, and both were selected second overall in their respective drafts, Barkov in 2013 and Laine in 2016.
What happens when 2 young Finnish @NHL superstars and chicken wings collide #hotwings #FlaPanthers pic.twitter.com/iUu6n5ZEyP

— Randy Moller (@HeyRedDeer) October 30, 2018
On the ice, Laine stole the show. He recorded a hat trick in Game 1 and added another goal to his highlight reel in Game 2. Barkov played two strong games in terms of protecting the puck and driving possession, things we Panthers fans have grown accustomed to, and finished with one assist on the scoresheet to show for them. The only other Finn to play in these games was Panthers rookie forward Juho Lammikko who hails from Noorharkku, Finland. He has been a strong fourth line center for the Panthers all season and has become a mainstay on their penalty kill.
Takeaways From the Week
Special Teams
Special teams dominated the narrative of both games over the weekend. On Friday, Florida allowed Laine to remain far too open at the faceoff circle to James Reimer's right and he was able to wire two shots past Reimer with ease. On a rare four-on-three early in the second period, Keith Yandle released a one-time bomb from the blue line that whizzed past Connor Hellebuyck and went bar-down.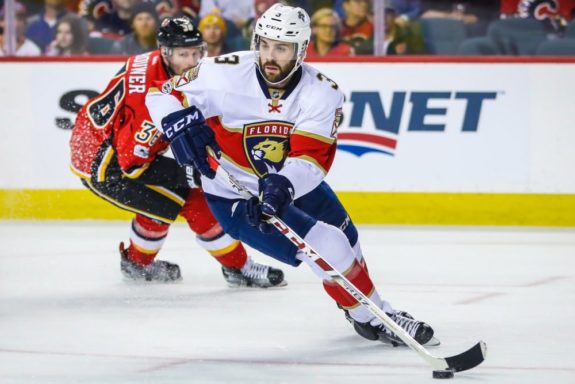 In Game 2, Laine scored one more beautiful power play goal from the opposite faceoff dot, but the Panthers had three power play tallies of their own. In particular, Yandle's point shot stood out. Although teams are rapidly working to decrease the amount of shots from defensemen on the man advantage, coach Bob Boughner did not give Yandle the memo. He scored his second power play goal in as many games.
Luongo Returns
Luongo made an unexpected return to the lineup in the Panthers' second game against the Jets and they hope it is just what the doctor ordered as the Panthers are currently in a desperate climb out of the league's basement. He challenged shooters and looked stellar in his return, stopping 34 of 36 shots on goal, including 17 in the third period alone.
Hoffman is Hot
For the third week in a row, Hoffman earns himself his own section of the week's takeaways. That is because he has recorded a point in every game since then. Over the past nine games, he has six goals and three assists. Over the weekend, both his goal and assist came on the power play which is an area the Panthers have relied on him to help improve.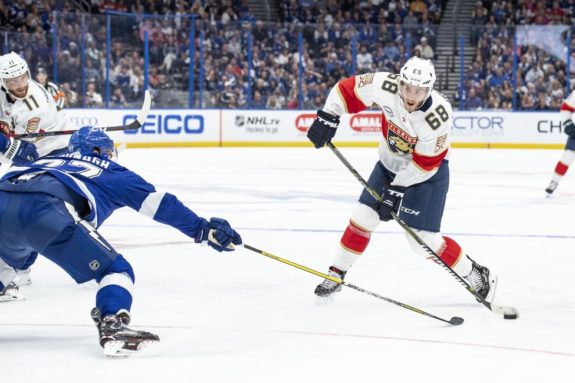 Third line center Jared McCann missed the second game of this Global Series and some lines were forced to be modified. Most notably was Hoffman being promoted to the first line with Barkov and Dadonov and he did not look out of place. Perhaps it is at the expense of Nick Bjugstad, but do not expect Hoffman to shuffle much more as long as McCann is out.
Final Bite
Luongo is back, and while it was only one game very far from home, maybe it's just the spark this team needs to get back on track. It is still early to look at the standings, but one can't help but notice when their team is all the way down at 30th in the league. The only team below them, the Los Angeles Kings, just fired their head coach. The Panthers are back in North America, but they do not play until Nov. 8 against Connor McDavid and the Edmonton Oilers. They will need to start piling up the points quickly if they wish to fulfill those preseason playoff aspirations.