The first month of the NHL season has come and gone. The clocks fell back an hour, and we're nearly a week into November and, still, William Nylander's blue and white Toronto Maple Leafs jersey sits untarnished somewhere in the depths of Scotiabank Arena. Now, with the Dec. 1 deadline looming less than a month away, the 22-year-old remains without a contract and is in jeopardy of losing the entire 2018-19 season.
While numbers are still the question mark in these negotiations, at one point in September, it was speculated that Nylander was asking for something in the range of $8-million per year or higher, according to TSN's Darren Dreger.
Related: Nylander vs. Shanahan – A Battle of "Me" First
Whether it'll be a bridge contract or something long-term, the young forward's future remains up in the air. And with the list of players earning $8-million per season or higher including players such as Brent Burns, Phil Kessel, Steven Stamkos and Sidney Crosby, it bears the question – how much is Nylander actually worth?
Comparing the Competition
While it's still rather early on in Nylander's career, finding comparable contracts that've been signed in recent years wasn't that difficult. Taking into account each player's age, contract signed and career numbers at the time they signed the contract, we'll be able to shed a little more light on just how much Nylander might be in line for when he finally signs his new contract.
Nikolaj Ehlers ($6M x 7 years)
Just over a year ago, on Oct. 4, 2017, the Winnipeg Jets signed Nikolaj Ehlers to a seven-year deal worth $42 million at the age of 22. At the time the contract was signed, Ehlers had 102 points in 154 career regular season games – an average of 0.66 points per game.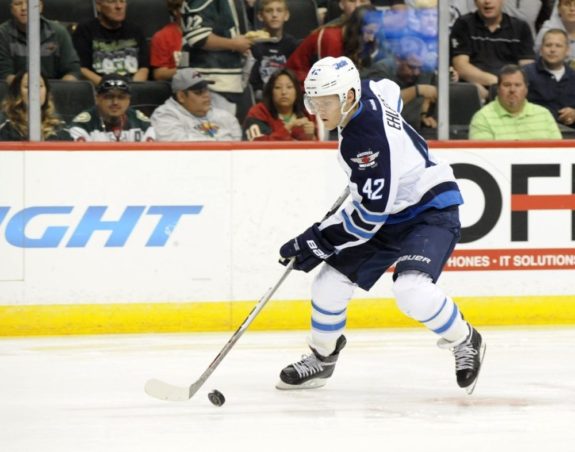 The new contract kicked in for the 2018-19 season and carries a cap hit and average annual value (AAV) of $6 million per season. It was signed with one year left on his entry-level deal following a 64-point season by the young forward in just his second year in the NHL. From that, he got a contract that made up for 8.0% of the team's cap at the time of signing. Since then, he tallied 60 points the following year and is on pace for just 30 points this season.
Filip Forsberg ($6M x 6 years)
Head on back to June 27, 2016. A 21-year-old Filip Forsberg signed a six-year deal worth $36 million with the Nashville Predators. Leading into the contract extension, Forsberg had 133 points in 182 regular season games through parts of four seasons – an average of 0.73 points per game.
He, like Ehlers, was coming off a 64-point seasons with the Predators which remains his career high. At the time, his $6-million cap hit became 8.22% of the team's cap. Now, two and a half years into the deal, Forsberg has seasons of 58 points and 64 points respectively and is on pace for a career-high 82 points this season.
Artemi Panarin ($6M x 2 years)
A couple months into the 2016-17 season, Artemi Panarin signed a two-year contract extension with the Chicago Blackhawks worth $12 million – a cap hit of $6 million per season. While he was 25 when he signed the extension, he was coming off a 77-point rookie season.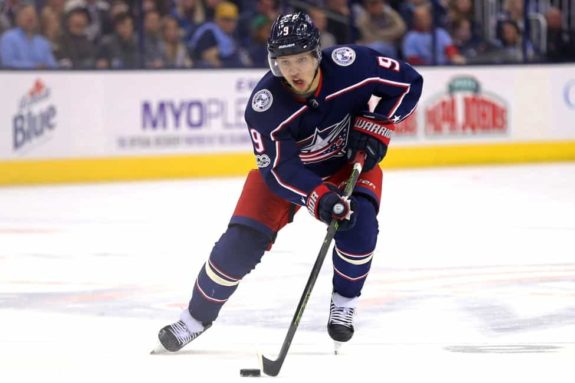 At the time of the extension, Panarin had 114 points in just 117 regular season games – an average of 0.97 points per game. His new contract made up for 8.22% of the team's cap when it was signed, but Panarin was eventually moved to the Columbus Blue Jackets. That said, he went on to finish the 2016-17 season with 74 points before tallying a career-high 82 points the following year with the Jackets. This year – the second year of his two-year deal – he's on pace for 88 points which would be a new career-high for the 27-year-old.
Dylan Larkin ($6.1M x 5 years)
Most recently, the Detroit Red Wings signed Dylan Larkin to a five-year deal worth $30.5 million on Aug. 10, 2018 – which meant at the time Larkin was just 21 years old. Leading into the extension this past summer, Larkin had 140 points in 242 career regular season games – averaging 0.58 points per game.
The extension also came on the heels of a 63-point season for the young forward in 2017-18 which gave Larkin a new career high in just his third NHL season. On top of that, unlike the other mentioned above, Larkin's extension only ate up 7.67% of the team's cap heading into the 2018-19 season.
David Pastrnak ($6.66M x 6 years)
Finally, possibly the most comparable in terms of the players' stats is the contract that David Pastrnak signed with the Boston Bruins on Sept. 14, 2017 as a 21-year-old. The deal was a six-year deal worth $40 million and it carried a cap hit of $6.66 million per season.
On top of that, Pastrnak's point-per-game average through his first few seasons was 0.72 as he had 123 points in 172 career games. Pastrnak was coming off a 70-point season in 2016-17 and set a career-high with 80 points the following season in 2017-18. While his numbers were more comparable to what Nylander has through his first few seasons, the fact that his extension ate up 8.89% of the team's cap might be what Nylander is using as his bargaining chip with the Maple Leafs.
Nylander Not the Star in Toronto
One major difference between Nylander and the players mentioned above is that he's competing for money on a team that has already paid John Tavares, Morgan Rielly and Frederik Andersen and one that will have to sign Mitch Marner and Auston Matthews this coming offseason.
Related: Nylander's Absence is Benefitting Maple Leafs
With those names on the board, that doesn't leave too much room to overpay Nylander – who has yet to prove how dominant he can be for the Maple Leafs. In no way should his offensive ability be brought into question – it's clear the young forward has the wherewithal to perform on that side of the puck. However, consistency and defensive responsibility haven't been strong points in Nylander's game.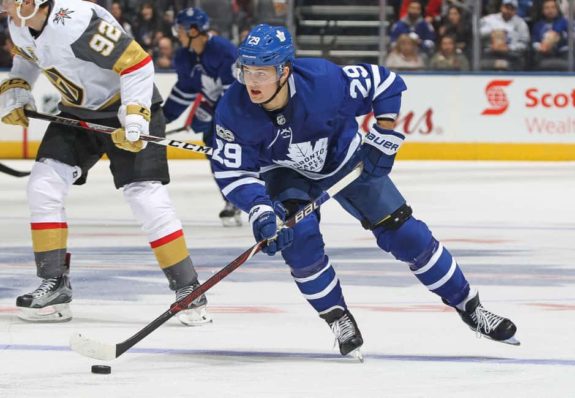 Whereas players like Marner and Matthews have shown growth on both sides of the puck, Nylander continues to be a one-dimensional player. Talented, without question, his defensive-zone coverage might be one of the reasons the Maple Leafs aren't fully committed to signing the young forward to a major deal – especially with a long term.
How Much is Nylander Worth?
With all of that taken into consideration, here's a quick look at what Nylander has done over his short career with the Maple Leafs. At 22, he's had back-to-back 61 point seasons with 135 total points in 185 regular season games. That's an average of 0.73 points per game – relatively comparable to Pastrnak's 0.72 point-per-game average when he signed his extension.
While some of the players listed above only took up 8.00% of the team's cap when they signed, Pastrnak's contract was valued at 8.89% of Boston's cap at the time he signed.
Now, according to Jared Clinton of The Hockey News, while Nylander is reportedly asking for north of $8 million, the Maple Leafs are looking more to the $6- to $6.5-million range. With this year's salary cap as a benchmark and using the percentages of the cap that the other players earned in their contract extensions, Nylander would get $6.36 million if he were to get 8.00% of the Maple Leafs cap and $7.07 million if he were to sign the Pastrnak-model of 8.89%.
That said, while the $7-million mark might be worth looking at for the team, Nylander's one-dimensional play and 61-point career-high might play in favour of the team. Considering the cap has gone up since Forsberg and Ehlers signed their extensions, and their career-highs in points were roughly the same as Nylander, a deal in the range of $6.25- to $6.5 million range might be exactly what Nylander is worth at this point in his career.
So whether it's a bridge contract or a long-term deal, expect the Maple Leafs to stay within that range based on contracts signed by previous players with comparable numbers over their careers.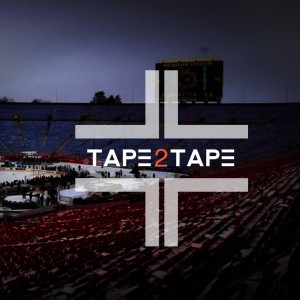 Have thoughts about the column? Let me know on Twitter at @AndrewGForbes or @Tape2TapeTHW.
Tape2Tape is a column looking at some of the biggest stories from around the world of hockey. Discussing different topics, it focuses on delivering some opinion to hockey's biggest fans. Whether you agree or disagree, we would love to hear your thoughts.