Yanni Gourde has a unique story. After putting up 124 points in junior, he didn't have the impact people expected. He nearly gave up professional hockey but decided to give it one more shot with the Kalamazoo Wings of the ECHL.
From there, Gourde was promoted to the Syracuse Crunch of the AHL and now, in his second full season with the Tampa Bay Lightning, he was signed to a six-year, $31 million contract extension.
Related: Tampa Bay Lightning's New Secret Weapon
Gourde has been one of the Lightning's best surprises over the last three seasons. After posting 25 goals and 64 points last season and seeing time on Tampa Bay's top line, it was a no-brainer for management to sign him to a comfortable extension, but it will leave the team in a tight situation over the next few years in terms of cap space.
Gourde Is a Shooters Best Friend
Gourde and Brayden Point are two of the Lightning's rising stars, and they have made magic together, like their overtime winner against the Ottawa Senators on Nov. 4:
Point is a gritty speedster and one of the best skaters in the NHL. While he can open up space and drive to the net, Gourde will be right there to clean up the loose pucks. Most of his goals come from rebounds, and when Steven Stamkos and Nikita Kucherov are denied, someone has to be there to bury the rebounds; Gourde does that to perfection.
Gourde's Success
To start the 2018-19 campaign, Gourde has posted six goals and eight assists for 14 points in 14 games. Through the first 14 games of last season, he only had eight points. After the 42-game mark last season, he had 10 multi-point games and solidified himself as one of the Lightning's most dangerous and underrated scorers.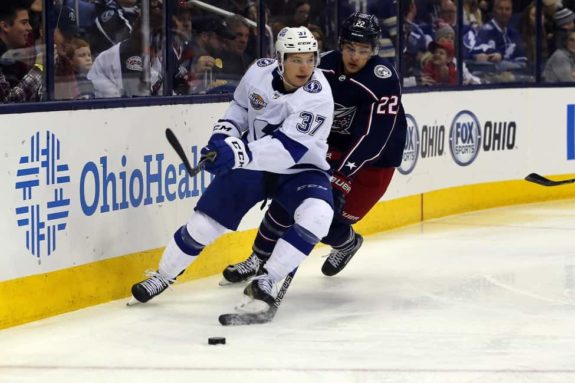 His pace for this season is remarkable. The Lightning already have Stamkos and Kucherov who are considered point-per-game players, and Point is making his way to becoming one of them as well. If you can throw Gourde into the mix, that's four of 12 forwards who can potentially produce 80-point seasons. Gourde is 26 and will turn 33 during the final season of his new contract. By that time, he will be nearing the end of his best years on the ice.
Cap Space Will Be a Problem
The salary cap in the NHL has increased the last few seasons, and many believe that $82 million will be the cap for the 2019-20 season. In 2019-20, three of the Lightning's top six defensemen will be unrestricted free agents (UFA) and Point, Adam Erne, Cedric Paquette and Slater Koekkoek will be restricted free agents (RFA). Since Gourde's contract kicks in next summer, general manager Julien BriseBois will have to work his magic to keep as many players as possible.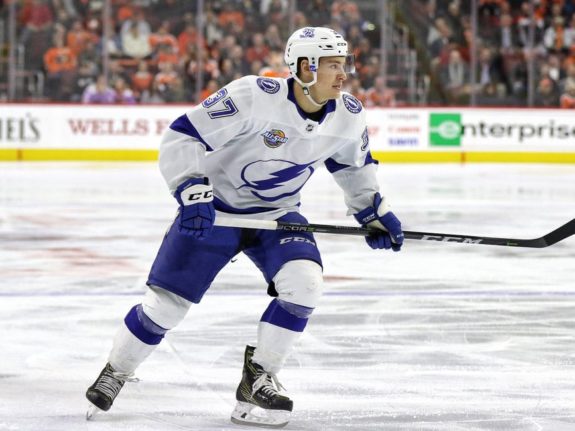 A lot can happen over the next year, especially with the Lightning prospects and possible trades to make another deep playoff run. However, one option should they need cap space is to buy out a player, namely Ryan Callahan. Injuries have diminished his contract value and while he's a great leader to have in the locker room, buying out his $5.8 million contract will reduce the cap hit to $2.67 million over the next two seasons. It seems far-fetched to be able to trade him given his injury history, but Callahan is the most likely candidate to get the team's cap space under control.
Gourde's contract seems like a win-win for this season, but it will give BriseBois a few problems to work through in upcoming seasons. However, it will be worth it if Gourde can continue to produce 50-60-point seasons as a top-six forward.