This week, notable sports anthropologist Jillian Fisher posted a video to Twitter that was captioned, "If every NHL team raised a banner." In it, she raised a banner for every team and the Florida Panthers earned themselves "Groundhog Day Champions." It was a sad acknowledgement for the Panthers and fans alike, as this was another week of disappointing performances despite pulling out their first win of the season.
Results From the Past Week
Oct. 16 – at Philadelphia Flyers, 6-5 (SO) L
The Panthers came out of the first period with a 12-5 shot advantage and 1-0 lead. It was a much different narrative in the second period, however, when the Flyers scored five times. The Panthers have had a knack for turning the puck over this year. Aaron Ekblad provided Claude Giroux with a beautiful tape-to-tape pass and he gave Philadelphia a 3-1 lead. Florida battled back in the third, but lost in the shootout after a fairly even overtime period.
Oct. 19 – at Washington Capitals, 6-5 (SO) W
The Panthers came out roaring in this one. Goals from Vincent Trocheck, Evgenii Dadonov, Colton Sceviour, and Jared McCann helped the Panthers to a 4-1 first period lead. This was the game to breakout and prove that the last four were flukes and it just took a minute to get their feet under them! Then, intermission ended and there were two more periods to play.
The Capitals scored three in the second and another in the third to send this game to overtime. Aleksander Barkov's shootout expertise helped the Panthers to their first victory of the year, but one bad bounce or chip in the ice and this result could have surely been different.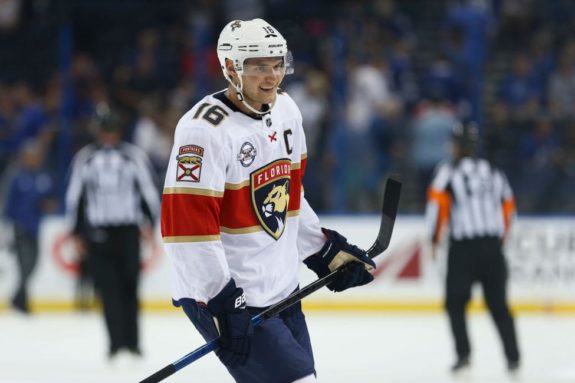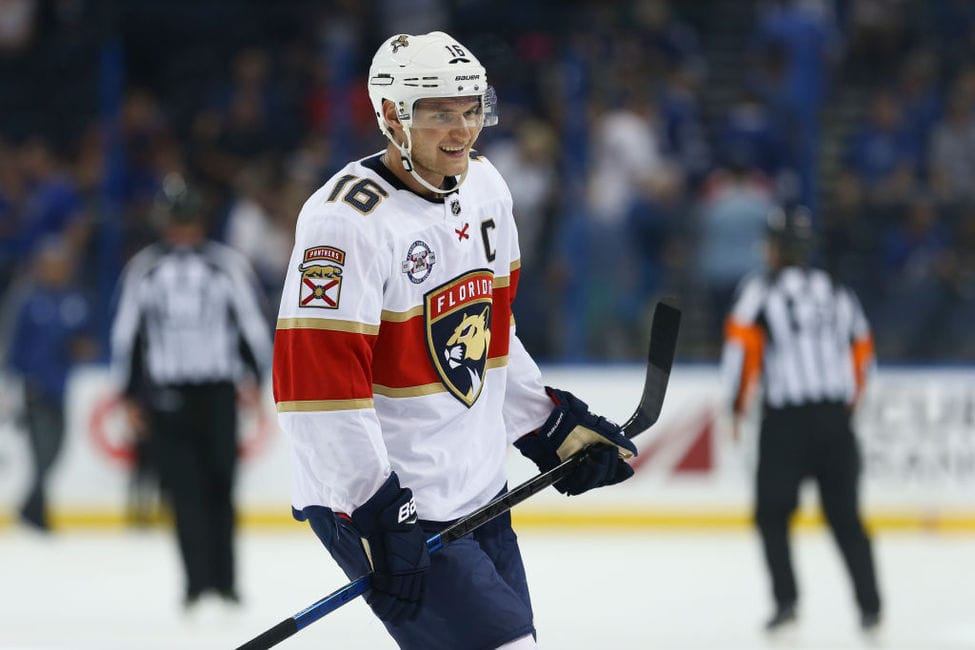 Oct. 20 – vs. Detroit Red Wings, 4-3 (OT) L
"Groundhog Day Champs?" you ask? Yes, the Panthers held a 2-0 lead in the early stages of this game before allowing three second period goals. It was another match full of offensive pressure and defensive breakdowns for the Panthers that ultimately resulted in an overtime loss. Goaltender Michael Hutchinson made his second start of the year for Florida and cannot not be held accountable for the number of turnovers and odd-man rushes given up by the defense.
Shootout magician Barkov was awarded a penalty shot in this game but whiffed on his shot as the puck skipped over a nick in the ice. It was an eerie reminder of just how close the Panthers were to blowing a 4-1 lead and losing to Washington the night prior.
Takeaways From the Week
Defensive Problems
Two paragraphs do not accurately describe how mightily the Panthers' defense has struggled this year. Not one player hasn't committed an egregious enough mistake that has resulted in a goal for the other team, including Giroux's goal above. Ekblad's turnover was not an isolated event.
Mark Pysyk manages to stay just far enough from his responsibility to give the other team a clear shot on goal and Keith Yandle was stripped of the puck that led to Detroit's overtime winner on Saturday. For as good a skater as Mike Matheson is, it's incredible how many opposing forwards can wander past him too.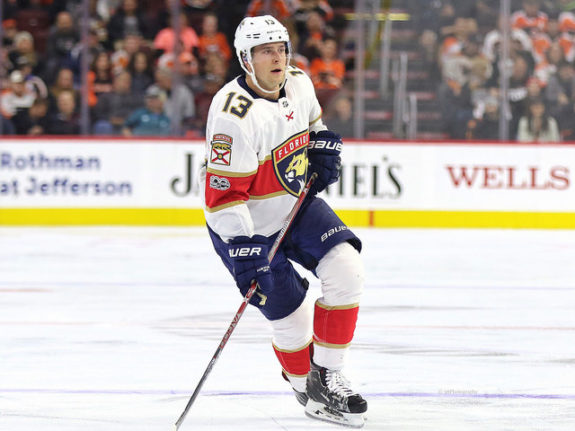 No one is exempt. It is truly painful to watch how many blown defensive assignments have resulted in goals from game to game. It's frustrating because the Panthers have not allowed too much extended pressure in their own zone. Their games have been close and largely controlled by them. There is not a lot of neutral zone play, and goals against are coming fast and in large quantities, primarily from plays that should not happen.
Power Play Struggles
Mike Hoffman scored the team's first power play goal of the season as well as his first as a Panther against the Flyers on Tuesday night. It was only a matter of time for him as he had been shooting from all angles, but the Panthers continue to struggle on the power play. They have had trouble maintaining any sort of possession in the offensive zone and, on 27 opportunities, they've converted just three times.
Bad Second Periods
The Panthers surrendered 11 second period goals in three games this week. As of Monday morning, their 14 goals allowed in the second period are the most allowed in the league, with two fewer games played than the second-place Red Wings.
Role Players
Usual fourth line winger Sceviour was moved up to the second line prior to the Panthers' game against the Capitals. He scored his first goal of the season and looked impressive in the two games with Jonathan Huberdeau and Trocheck. Going back to last season, he has been nothing but great when playing up with Barkov, and now, Trocheck.
I was skeptical when the Panthers offered Sceviour a three-year contract extension earlier this year, but he has proved over and over to be an important part of the team. Troy Brouwer has played surprisingly well on the Panthers' fourth line. He is a big presence and he's digging pucks out of corners and making good passes.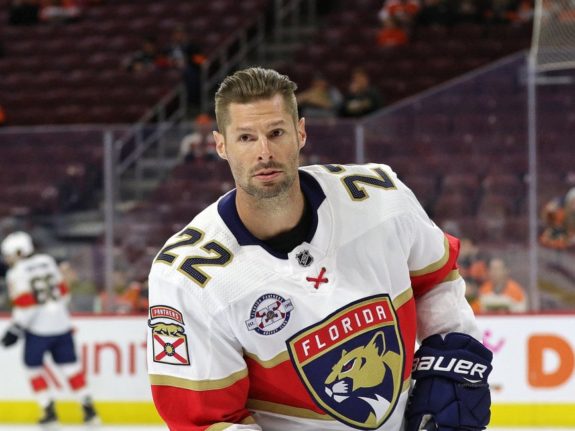 Mike Hoffman Not Fitting In
One cannot help but wonder though, "what are they to do with Hoffman?" He replaced Sceviour on the fourth line, and despite Brouwer's productivity, it's a bit uncomfortable seeing a potential 30-goal scorer play a fourth line role with Brouwer and Juho Lammikko.
It's difficult to slot Hoffman on the third line when that line is clicking so well, which is too bad, because he is exactly the type of player GM Dale Tallon should have targeted this summer. Tallon got him for pennies, but he really doesn't seem to be fitting in. Perhaps he is shuffled around a bit before finding some chemistry, has a breakout game, and this speculation looks silly. But for the time being, Hoffman has yet to find his groove.
Final Bite
The Panthers are on the road this week with back-to-back games against the New York Rangers and New York Islanders on Tuesday and Wednesday, then against the New Jersey Devils on Saturday. The good news is that many of the Cats' mistakes appear to be fixable. The bad news is that they have shown no signs of fixing them.
The crux of the Panthers' struggles so far are on defense. They show occasional promise on offense, but make too many mistakes on defense that lead to odd-man rushes or fast breaks for the opponent. Specifically, the second period has proven to be a huge problem as many of these mistakes occur in the middle frame.
"We just can't seem to get it done in the second period, and that's something we have to work on." -Coach Boughner pic.twitter.com/Vmu1Vt5Isf

— Florida Panthers (@FlaPanthers) October 21, 2018
Stop me if you've heard this before, but the Panthers have potential. This season is about putting it together and seeing what they can do after missing the playoffs by a point last year. While you can't clinch a playoff berth in the first month of the season, you can certainly play your way out of postseason contention, and Florida may be digging themselves a hole from which they cannot escape.
I enjoy traveling, new food, but most of all, hockey. I grew up in South Florida where I followed the Panthers. While the Panthers remain my primary focus, my love for hockey has expanded through the entire game. My background is in English and Communications, and I look forward to providing in-depth Panthers coverage.