It's been a very long time since there's been this much promise in the Edmonton Oilers pipeline that isn't limited to just who they've drafted out of the first round. With due respect. Edmonton's top two prospects Evan Bouchard and Kailer Yamamoto made the club out of camp to start the year, and it's looking like Yamamoto is going to stick.
The youngster was recently bumped up the lineup alongside Ryan Nugent-Hopkins and Connor McDavid. Soon enough Yamamoto will be considered graduated to the pro ranks which will move everyone behind him up a spot. A decision on Bouchard looks to be on the horizon soon as he's four games away from having to either go back to junior or stay in the NHL.
Related: Edmonton Oilers – Top 10 Prospects
But aside from them, there's something to be excited about with what's going on under the surface in the AHL. The Bakersfield Condors are icing a lineup that's better than anything they've had while the Oilers have been their affiliate. Some of that will provide early dividends for Edmonton with the re-call of Cooper Marody. Not to be outdone, Kirill Maksimov has been a scoring sensation in the OHL.
Let's take a look with the latest Oilers Prospects Update.
Edmonton Oilers – Top 10 Prospects

Rank
Player
2018-19 Team
GP

GP

G

W

A

GAA

PTS

SV%

1
Evan Bouchard (RD)
Edmonton (NHL)
5
0
0
0
2
Kailer Yamamoto (RW)
Edmonton (NHL)
6
1
0
0
3
Stuart Skinner (G)
Wichita (ECHL)
3
3
2.53
.928
4
Ethan Bear (RD)
Bakersfield (AHL)
2
0
0
0
5
Tyler Benson (LW)
Bakersfield (AHL)
5
1
4
5
6
Cooper Marody (C)
Bakersfield (AHL)
5
2
4
6
7
Ryan McLeod (C)
Mississauga (OHL)
9
1
11
12
8
Caleb Jones (LD)
Bakersfield (AHL)
5
1
1
2
9
Kirill Maksimov (RW)
Niagara (OHL)
12
11
8
19
10
Ostap Safin (RW)
Saint John (QMJHL)
5
1
4
5
Kirill Maksimov Continues Torrid Start in OHL
Drafted: 146th Overall, 2017 | Prospect Rank: 9th
2018-19 Team: Niagara IceDogs (OHL) | Stats: 12 GP – 11 G – 8 A – 19 PTS
Normally we would spread the prospects coverage around, and we will later in the week, but no Oilers prospect is hotter right now than Kirill Maksimov. The 19-year-old has produced points in 11 of 12 OHL games to start the year and sits tied for ninth in league scoring. Edmonton's fifth-round pick from 2017 now has 19 points with the Niagara IceDogs.
Related: Oilers Prospects Update: Benson, Maksimov, McLeod
What's most impressive about that point total is 11 of those are goals, so yes, he's averaging just under a goal-per-game right now. That's good enough to rank him fifth amongst OHL goal scorers, and he's well on his way to inching his way into Oilers lore. If he maintains this pace, he'll be the first Oilers prospect to score 50 goals in the OHL since Rob Schremp potted 57 in 57 games back in 2005-06.
The last Oilers prospect to do so in the CHL was Jordan Eberle when he scored 50 back in 2009-10 with the WHL's Regina Pats. It's been impressive to watch as he hasn't relied on one big offensive night to help cover the spread. Maksimov's been the mark of consistency, something that was a question mark back when he was drafted. He'd score in bunches, then go on a dry spell before getting back on track.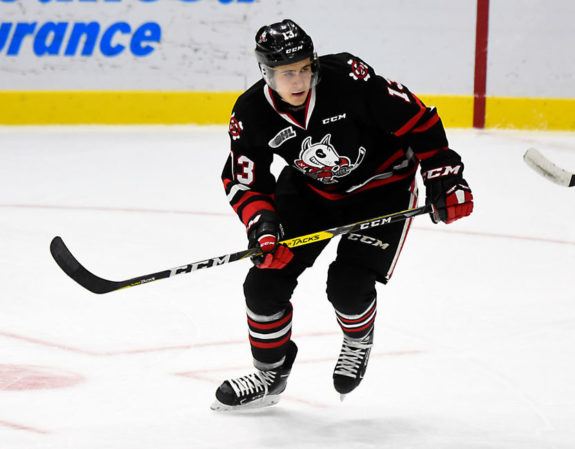 It's steadily improved over the past two seasons, and now all that's left is to enjoy the wild ride and see how many times he can tickle the twine for the IceDogs this season. He currently leads the OHL in power play goals as well and has scored most of those from his office above the left circle. His quick release and accuracy has made life hell for teams.
Now we should expect a potential slow down in his production as he's shooting well above his career shooting percentage in the OHL of 14%. Currently scoring at a 20.4% clip, he's on pace to score 62 goals this season. If he suddenly slows down and returns to his career clip of 14% over the projected large increase in shots (306), he'll dip to 42 goals.
The middle ground is likely where he falls and that puts him putting 52 pucks in the net by the end of the year. Now the question is if the Russian's are going to be foolish again by leaving him off the World Junior Championship (WJC) team. They struggled to score goals last year finishing fifth in goals for, with just two of their 19 goals coming during the medal round. Could Maksimov be the difference?
Cooper Marody Re-Called by Oilers
Acquired: Trade with Philadelphia Flyers (2018) | Prospect Rank: 6th
2018-19 Team: Bakersfield Condors (AHL) | Stats: 5 GP – 2 G – 4 A – 6 PTS
The Oilers have re-called Marody from Bakersfield over the weekend. He'll be filling in for Ty Rattie who was placed on injured reserve (IR) with a mid-body injury. Marody's been off on a torrid start to his pro career since joining the Condors late last season after his NCAA year finished up. Dating back to the end of the 2017-18 season, fans should be excited about this small, but promising, sample size.
Related: 5 Oilers Prospects to Watch in 2018-19
The 21-year-old has put up nine points in eight games since turning pro, with six of those points coming in five games this season. The Philadelphia Flyers' six-round pick from 2015 was centering the top line in Bakersfield most recently alongside Tyler Benson and Cameron Hebig. The trio has been a welcomed bolstering to the Condors offense that was abysmal last season.
In short, Marody has delivered excellent results since being acquired from the Flyers for that third-round pick the team received in the Patrick Maroon deal with the New Jersey Devils. Not only did he lead the NCAA's B1G in scoring, but he also finished sixth in NCAA scoring last season, and was one of many finalists for the Hobey Baker Award.
He's been a gem of a find for Edmonton and general manager Peter Chiarelli as the organization has had quite some luck over the past few years in what they've been able to pull out of the NCAA. Matt Benning, Drake Caggiula, Joe Gambardella, Patrick Russell, Shane Starrett, and Tyler Vesel have all transitioned into the pro ranks, with Benning and Caggiula already paying dividends at the NHL level.
He's quick, got good hands, and has a bit of power to his game, and he's smart with the puck. He's adapted to the pro game at the AHL level quite well already and has been heavily relied upon by Condors head coach Jay Woodcroft. So why'd the Flyers trade him? The belief was that Marody had little NHL upside, the flyers were loaded with young forwards, and were tight against the 50 player contract limit.
Philadelphia GM Ron Hextall essentially turned Marody into third-rounder in 2019, while unloading a future bottom-six forward. Well, so far the Flyers loss has been the Oilers gain. There's a lot to like about Marody who's been the Condors best player through the early parts of their season. He leads their club in scoring and now looks to help out in Edmonton.
Marody's coming off a great showing against the San Diego Gulls where he picked up three points in a 5-4 loss. Don't expect Marody to be thrown into a feature role in the Oilers top-six, but he should be a nice addition playing in the bottom-six alongside centers like Ryan Strome or Kyle Brodziak. It's a well-earned re-call and one that should give fans something to be excited about as the prospects pool in Bakersfield starts to round into form.
Edmonton Oilers regular contributor providing insight on all things Oilers including club history, prospect profiles, trade breakdowns, and everything else in between. Check back regularly for new and exciting content. Follow on Twitter @SanderTHW.