It was another rough week for the Florida Panthers. They collected two of six possible points. Though early, they remain at the bottom of the standings and show no hope of climbing if they continue performing as they have so far.
Results
Oct. 23 – at New York Rangers, 5-2 L
Michael Hutchinson got the nod to start in goal for the first part of a back-to-back set in New York. Vincent Trocheck scored on the power play late in the first period to give Florida a 1-0 lead going into the second. As they have all year, the Panthers collapsed following the first intermission. The New York Rangers scored three goals in the second period, two with a man-advantage and one shorthanded.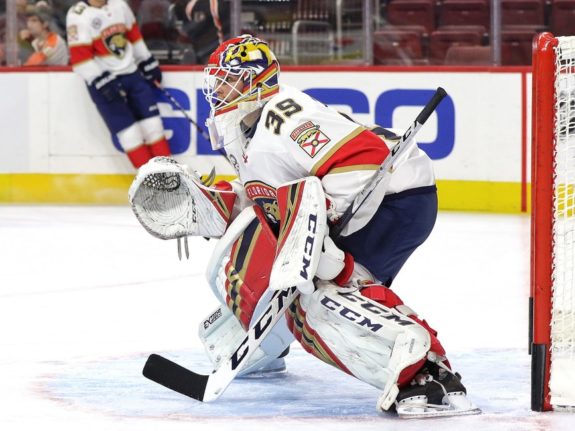 None of New York's four goals (the fifth was on an empty net) were especially pretty or challenging. They included a wrap-around and a puck to bounce off of Hutchinson and in– shots that most NHL goalies should stop on an average night. A very winnable game against one of the few teams below them in the standings was lost.
Oct. 24 – at New York Islanders, 3-2 (OT) W
The narrative was different against the New York Islanders the following night. James Reimer started in goal, and he was there to play. The Islanders' only goals came off a dismal turnover by Trocheck in the first and a beautiful power play by the Islanders in the second. Florida would score twice in the third before Mike Hoffman sealed the deal during a power play in overtime.
Oct. 27 – at New Jersey Devils, 3-2 L
The Panthers came out strong in this game as well. Reimer was in net once again and made some important stops early on. Florida had good looks on early power plays including a couple of posts during a five-on-three. With ten seconds left in the first period, New Jersey Devils defenseman Damon Severson released a slap shot from the point. Reimer, at the top of his crease, reached his blocker out to make the save but was run into by Kyle Palmieri skating by. Reimer toppled over, and the puck went in.
Florida challenged the called goal for goaltender interference and it looked as if it was coming back. Alas, the call on the ice was upheld, and the Panthers entered the first intermission down 1-0. Incidental contact was acknowledged, but Rule 69.4 states, "incidental contact will be permitted when the goalkeeper is in the act of playing the puck outside his goal crease provided the attacking player has made a reasonable effort to avoid such unnecessary contact."
Clearly, there is an amount of subjectivity to that explanation, but it looked like interference nonetheless. The usual underwhelming second period followed and the Panthers went into the third down 3-0. Goals from Mike Matheson and Hoffman with less than five minutes left were both pretty, but too little too late.
Takeaways From the Week
Mike Hoffman is Hot
After being bounced around the roster, Hoffman may have found a home on the Panthers' third line with Jared McCann and Frank Vatrano. He scored in every game this week, leads the team in goals with five, and is riding an active seven-game point streak. There is precedent for a move like this, such as Phil Kessel leading Pittsburgh's third line during their 2016 Stanley Cup run.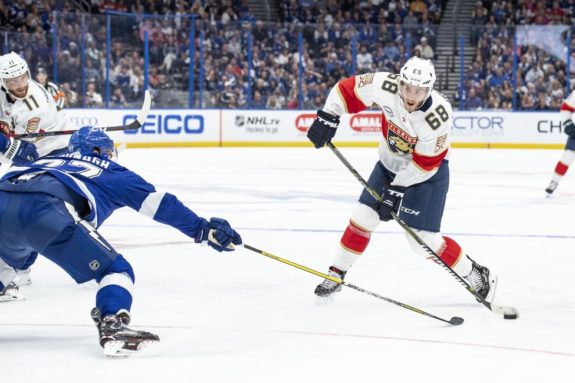 Aaron Ekblad…Average?
Aaron Ekblad is a player worth watching this year. He is only 22 years old, but this is his fifth season in the NHL. He is 18 games past the coveted "300 games" it takes for defensemen to develop, making him a veteran. His career offensive totals are decent: 136 points, but for a comparison, see Zach Werenski who has 92 points in half the games.
He has a history of head injuries, and his performance this season indicates that it is not a stretch to suggest they have affected his decision making. Panthers faithful hold him in high regard as he is one of two first overall draft picks the franchise has made, and though this may be sacrilegious, it appears there may be a gap between his perceived value and actual worth.
Mark Pysyk and Roberto Luongo Returning
Panthers defenseman Mark Pysyk has missed the last four games since being knocked out of the game against the Washington Capitals after taking a high hit from Alex Ovechkin. He participated in practice on Friday and in Finland on Sunday. If healthy, he should be back in the lineup on Nov. 1 when the Panthers play the Winnipeg Jets in Helsinki.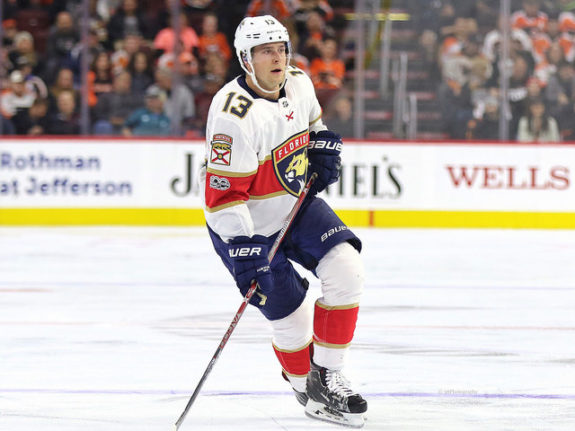 Roberto Luongo is skating and traveled with the team to Finland but is not expected to play until the Panthers return to North America and face the Edmonton Oilers at home on Nov. 8.
By the Numbers
Through nine games of the season, the Panthers' record is 2-4-3. While it is only nine games, Florida has been well rested for many of them and they include losses to the Detroit Red Wings, Vancouver Canucks, and Rangers. The Panthers have held a lead in seven of their nine games this season. In six games, they scored first.
They have allowed the most second period goals in the league with 20, three more than the second-place Anaheim Ducks who have played in three more games. Their goaltending is terrible with save percentages of .878 for Reimer and .839 for Hutchinson. Florida averages 35.4 shots-per-game and allows 27.7 shots-per-game, good for third-best in the league in both categories. These were areas that they focused on improving from last year, although they have allowed 3.67 goals-per-game– sixth-worst in the league.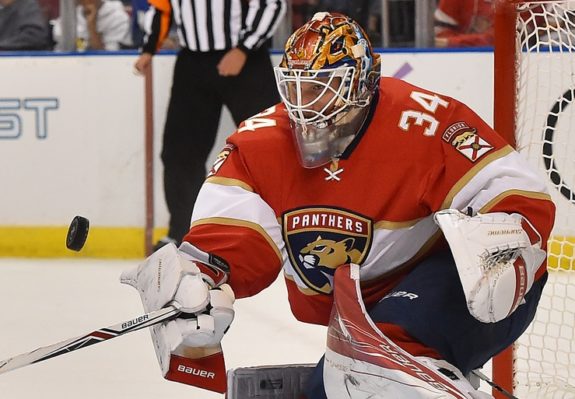 Final Bite
Perhaps Jillian Fisher was right to call the Panthers 'Groundhog Day Champions' last week. When given an opportunity to break through, they have fallen flat. It was another disappointing week to a slow start to the season. It's beginning to feel eerily similar to last year when they finally put it together in the last thirty games after an underwhelming start. If one thing is for certain in the NHL, it's that mediocrity will get you nowhere.
I enjoy traveling, new food, but most of all, hockey. I grew up in South Florida where I followed the Panthers. While the Panthers remain my primary focus, my love for hockey has expanded through the entire game. My background is in English and Communications, and I look forward to providing in-depth Panthers coverage.