With only 22 games in the books, it's becoming more and more obvious that the 2014-15 season is a lost one. Friday afternoon's 3-0 Rangers win over the Flyers handed Philadelphia their seventh loss in their last eight games. And with the tail end of their back-to-back coming up on Saturday in New York, the Flyers appear to be cooked.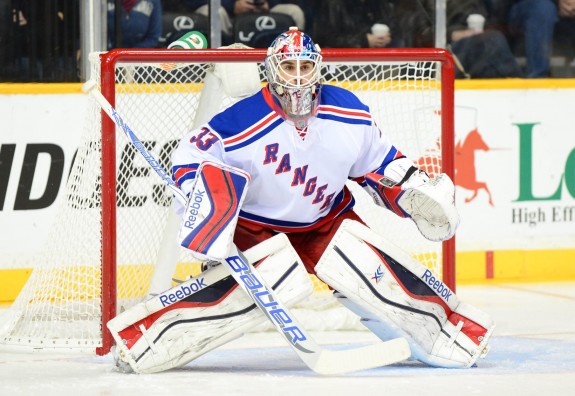 Talbot, Rangers Win Again
On the heels of Thanksgiving and his second consecutive shutout against the Flyers, Rangers backup goalie Cam Talbot is certainly thankful for the opportunity to suit up against the orange and black.
Talbot, who last started on Nov. 19th (against the Flyers), bettered his record to 2-2-1 on the season. And if Talbot isn't giving thanks for seeing Philly, he should. Not only were both of his wins on the season against the Flyers, they were both shutouts.
"It was more of a big team effort," said Talbot after his fifth career NHL shutout. "I was back there but a lot shots were from the outside, and the guys did a great job of boxing out and pretty much letting me see every puck."
Forget how the Flyers are 4-14-1 against the Rangers in their last 19 regular season games, they've now been shutout three times in the last 20 days. As for Talbot, the 27-year-old has now shunned the Flyers on their last 66 shots dating back to Oct. 24th of last season. That, of course, includes last season's relief for Henrik Lundqvist in Game 6 of the quarterfinal round.
"Our frustration level right now is high & we've got to find a way to flush that out." -Hextall on today's loss → http://t.co/y4dM9LFVXJ

— Philadelphia Flyers (@NHLFlyers) November 28, 2014
Saturday's cruise to victory, though, may have been Talbot's easiest effort against the orange and black. The Rangers continued to sniff out Philadelphia's out-of-sync offense by swarming the Flyers at their blue line, and staying in their back pocket for the duration of the game.
As for today's game, there were no more signs of life than previous outings. Philly only mustered 26 shots — including a mere 15 through the first two periods — and allowed another power play goal, marking the seventh time in the last eight games the league's worst PK unit has allowed at least one PPG. Unsurprisingly, Flyers were showered with boos by the disappointed home crowd. — Mike Halford, Pro Hockey Talk
Calling the Flyers a fragile team with no identity would be considered a drastic understatement. For the 16th time in 22 games, Craig Berube's team surrendered the game's first goal, dropping their record to 3-11-2 when doing so.
On the flip side, the Rangers improved to 8-2-2 when scoring the game's first goal. When Dan Boyle opened the scoring in the first period with his second goal in as many games, the Flyers may well have retreated to the dressing room to shower and leave.
https://twitter.com/__ZacTweets/status/538460741243002880
"I think the first period was all right and it seems like we came apart after that," said a composed Ron Hextall. "I think our frustration level right now is high and we've got to find a way to flush that out. You can play with emotion, and I actually thought we had some emotion tonight, but it's got to be controlled emotion or it doesn't do you any good."
Starting in his fourth straight game, Flyers goalie Steve Mason fell to 4-8-2, yielding goals to Boyle, Martin St. Louis, and a shorthanded mark to Rick Nash. But despite dropping his third straight, Mason was anything but the scapegoat. The third-year Flyer was ambushed early on with 21 shots through the first two periods. But while Mason was able to shrug off 19 of those attempts, his teammates answered with zero goals on 15 shots throughout that same span.
The Rangers followed up a number of their shot attempts by teeing off on rebounds off of Mason's initial stops. This, of course, was facilitated by a high volume of turnovers either in Philadelphia's own zone, or in the neutral zone, sending the puck back into the Flyers' zone.
Translation: It was an uncreative sequel to Nov. 19th's game at MSG with an extra goal as an added insult.
Special Teams Therapy
The Flyers, who can't seem to get anything right lately, have now been shutout for the third time this season. That's after being shutout a grand total of four times in 82 games last season. But with the epic struggles to areas such as the penalty kill unit and the power play alike, last year's mark looks as if it'll be easily eclipsed if the special teams units continue to wallow in futility.
The power play was bad. Full stop. The Rangers had seven shots shorthanded today, including one goal. The Flyers? Five shots in their 12 minutes of power play time. I've seen that top unit of Giroux-Voracek-Simmonds-(whoever)-(whoever) work through enough slumps over the last three-plus seasons to know that they'll probably turn it around soon, so I'm not exactly worried, per se, but man, the way this team is going, it'd really help if "soon" was "now". — Kurt R., Broad Street Hockey
The Flyers were not only blanked on all six of their power play chances on Friday, they were only able to muster up six total shots with the man advantage for the day. Adding more embarrassment to that statistic are the five shorthanded shots recorded for the Rangers, with one of the five beating Mason in the midst of a four minute double-minor.
https://www.youtube.com/watch?v=jYaXb4dLmzQ
With Philadelphia's o-for-6 power play performance in Friday's matinee, the Flyers are now one for their last 12 when skating five-on-four. And despite their past success on the power play at home, 7-for-16 in their previous four home games, their fruitless reward on Friday was the first time in five home games they were unable to convert on at least one power play.
"Obviously the effort could be a little better but I think the effort is not the issue right now," said Flyers captain Claude Giroux. "I think it's the way we are playing as a team. We are just not playing together. We've got to do a better job of sticking together. Chief [Craig Berube] said it before, when they score a goal we need to start changing our game. We need to start playing better and we will soon. We just need to figure it out."
How do you not get a goal with a man advantage for 4 MINUTES!!!!

— Kristie ❤ (@Kristie1077) November 28, 2014
Friday posed to be a golden opportunity to "figure it out." The Rangers entered the Wells Fargo Center as the 27th ranked road penalty killing team. After their 3-0 victory, though, that ranking improved to 17th.
"Obviously, on the power play, guys are going full force to score goals and sometimes the defensive part of it gets left behind," said Mason, who after giving up six shorthanded goals last season, gave up his first of the year on Saturday. "We have to do a better job of defending against it. That third goal was a killer."
Only the Flyers can allow a 3-on-1 shorthanded goal. Embarrassing.

— Tim Riday (@TimRiday) November 28, 2014
The penalty killing also continued to stumble, despite killing off five of their six penalties committed on the day. Friday's penalty killing still wasn't good enough to pull them out of the league's cellar, despite raising them to 73.7 percent – one percentage point below the 29th ranked New York Islanders.
And we haven't even mentioned the Flyers' penalty kill. Once a vaunted part of their overall defense, the Flyers' PK units these days have slipped so far below the Mendoza line, there's no scale to measure it.

The Flyers gave up their 11th power-play goal in eight games in this one. — Tim Panaccio, CSN Philly
Friday's loss keeps the Flyers at 19 points on the season through 22 games. That's four points ahead of Carolina and Edmonton, and five points better than Buffalo and Columbus. But it's not as if the Flyers have been without opportunity to keep pace with other teams within their own division.
In a span of 14 days, the Flyers collected only three of 16 possible points. And while it's somewhat unrealistic to expect any team to pull off eight straight – especially with the current team – it does little for the confidence moving forward since they've now failed to gain at least one point in six of their last eight games.
With a trip to MSG on deck for Saturday afternoon, it's back to the road for the first of five in road whites. And at 2-7-1 as the visiting team, things are looking uglier by the moment.
Tidbits from Another Rangers Win
Martin St. Louis' multi-point afternoon resulted in the 16-year-veteran becoming the fifth active member to reach 1,000 career points. After assisting Dan Boyle's first period goal, the former Lightning captain tallied his 1,000th point with a second period goal.
St. Louis now has 321 points since the 2010-11 season, which is second to only Claude Giroux's 329 points over the last five seasons.
No one wanted Martin St. Louis. Now he has 1,000 points. What a career.

— Аrpon Basu (@ArponBasu) November 28, 2014
After dishing out his ninth helper of the season, Chris Kreider will now miss Saturday's back end against the Flyers due to the passing of his grandfather. After missing 16 games last season, the Rangers forward will miss his first game of the current season. Through 22 games, Kreider has four goals and nine assists.
Sad #NYR news. Chris Kreider has lost his grandfather, will not be available tomorrow v. Flyers @ MSG. NY preparing to recall JT Miller.

— Larry Brooks (@NYP_Brooksie) November 28, 2014
Since notching a goal and two assists in Game 7 of last season's quarterfinal loss to the Rangers, Claude Giroux has now been held scoreless in both games against New York since. Despite owning 30 points in 34 regular season games against the Rangers, the captain hasn't been alone. After all, every Flyer has been held pointless through the first two tilts against New York. That's what happens when you get shutout.
https://twitter.com/K_Mac_14/status/538436062583222273
Saturday's turnaround at MSG brings the projected matchup of Henrik Lundqvist against Ray Emery. Perhaps that's good news for the Flyers, who have yet to figure out Lundqvist's understudy. But if the Flyers are to break their nine-game regular season losing streak at MSG, they'll have to beat New York's best, who is 27-13-3 all-time versus the Flyers.
#Flyers shut out for third time in 8 days, twice by the #Rangers. And Henrik Lundqvist did not play a single minute. #FlyersTalk

— Kevin Durso (@Kevin_Durso) November 28, 2014
Does it really matter, though? No matter who Alain Vigneault sends out, the Flyers need to first figure out how to score a goal. That in itself, against the Rangers anyway, looks and feels like a monumental task.
Andy is a contributor for The Hockey Writers, covering the Philadelphia Flyers. He holds a Bachelor's Degree in Communications from Walsh University. He enjoys spending time with his family, golfing, and reading. He is married with a daughter. You can follow Andy on Twitter @ADudones.