Did you think tonight's Flyers-Rangers preseason match up was going to be another boring preseason bout with the crowd as dead as a November night in Glendale? Think again. Monday's game here at the Wells Fargo Center had a regular season feel to it. The building was mostly full and the crowd was very loud early.
Zac Rinaldo got everyone off of their feet early when the 5'11" Rinaldo dropped 6'2″ Dale Weise in an early fight. The crowd loved every second of it. It was really loud inside the Wells Fargo Center. Unfortunately, that wouldn't be the last time fireworks struck during the game. Tom Sestito threw a cheap hit on Rangers forward Andre Deveaux, one that will almost certainly get him a lengthy suspension from the NHL's discipline head Brendan Shanahan. He probably threw away his chances at making the team, at least for now.
Sean Avery predictably jumped in on the action as well, throwing a sucker punch in the pile right after this hit. The first period was very chippy, and the crowd was extremely loud. It looks like the Winter Classic is going to shape up to be very interesting.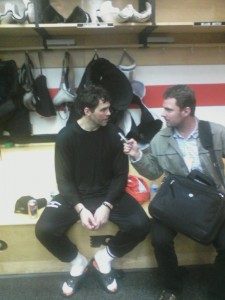 The story of the night however was none other than Jaromir Jagr. Jagr was the best player on the ice tonight. The once stone cold Flyers power play of 2010-11 looks to be a thing of the past. Jagr was his classic self on the power play tonight. He had two goals on the power play tonight and his puck possession reminded me a lot of the Jagr I saw in 2005 with the Rangers. Jagr is adjusting very quickly to life back in the NHL. "Tonight was a little bit easier because we had a lot of power plays. There were some 5-on-3's, 4-on-3's. The power play is the same everywhere. Big ice or small ice," Jagr said. "But it was definitely better than the first game."
Avery/Simmonds Exchange:
Sean Avery told reporters after the game Wayne Simmonds called him a homophobic word in a scrum on the ice. When reporters posed this to Wayne Simmonds, he issue a non-denial denial. "We got in a scrum," Simmonds said. "I fell down and he sucker punched me. We were going back and forth for the rest of the game. Emotions ran high and we both exchanged words with each other."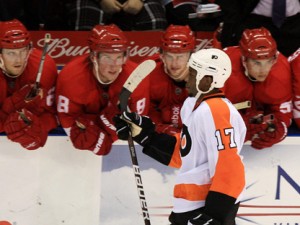 When the media continued to press him on the issue and told him it looked like he did make a slur on video, Simmonds still would not comment. "Obviously we were going back and forth for awhile and I don't recall everything I said. He said some things to me that I didn't like and I guess I said some things he didn't like but I can't recall every single word I said. Things get said out there that don't necessarily need to be repeated to the media so I'm not going to say what he said." A reporter followed up again saying that Avery very definitely said that he was called a homophobic slur and that Avery didn't think he said anything that would be a precursor. "It's Sean Avery. Come on now," Simmonds said.
I took a lot of heat on Twitter tonight for saying that I don't think Avery should be repeating what was said in a conversation on the ice to the media. However many people told me that it was prompted by what they saw on live video, and then asked Avery about it. If Avery offered the info, that usually isn't the kind of etiquette we see off the ice. Usually on ice conversations aren't repeated to the media. If they approached him on it, that's a different story. I do NOT condone any offensive or discriminatory language on the ice, but as several major media sources have stated, things get said all of the time on the ice and it's usually not a big story unless a player takes the route of telling the media about it.
Keep Doing:
* Keep this roll on the power play going. Jagr has breathed life into a power play that was abysmal toward the end of last season into the playoffs.
* Having guys in front of the net on the power play. We said this a billion times last year and they did it tonight and have this preseason. A lot of rebound opportunities are coming off of the power play.
Improve On:
* The penalty kill. They were a bit soft tonight and let the Rangers back in the game when they probably should have been out of it.
* Team defense. It seems like there's way too much open ice out there.
Overall the Flyers have looked better than many have expected this preseason and if they fine tune defensively (especially when Pronger gets back), this team could be really good and exceed expectations. The young guys have played well.
Other Flyers Notes/Tidbits:
* GM Paul Holmgren after the game told the media that Brayden Schenn is day-to-day with an upper body injury. Schenn left during the game. He also noted that he expects to hear from the league on the Sestito hit.
* Both the Flyers management was on hand with the Rangers Glen Sather to announce the 2012 Winter Classic at Citizens Bank Park earlier in the day, finally ending the worst kept secret to date this season.
* Matt Read had another strong game and Coach Peter Laviolette praised him for his versatility. Laviolette said he's not afraid to play him in any situation: 5-on-4, penalty kill, 5-on-5, with the exception of 5-on-3.
For Flyers and Hockey News/Discussion, Feel Free to Interact With and Follow me on Twitter: http://twitter.com/JustinTHW