For the first time in the past 5 years The New York Islanders approach a fresh season with renewed hopes that playoffs are within attainable reach. First, let's highlight both positive and negative aspects from the past off-season:
Positives:
While Jack Capuano's interim label was removed, his new role as permanent man behind the bench was obviously intended. Despite the fact that "obvious" and the Islanders have not always come as a packaged deal, no one can argue that whoever made this decision made the right call. Quickly after Capuano became a manager, the team – as well as the rest of the organization – firmly responded to his leadership. And it's a step in the right direction.
Michael Grabner, Kyle Okposo, John Tavares, and Josh Bailey were signed to multi-year contracts. Not only does this show the organizations faith in its players, but also faith that the team will return back to the top. If the team can't attract free agents to the island then they have to keep talented players within. Re-signing the core group shows a sign of stability between staff and players, and furthermore sets the standard that players who perform consistently will be rewarded with lucrative deals.
The move to sign Kirill Kabonov to a 3 year contract may not have generated popular headlines, but his skill set has potential to impact this season and/or future season's to come. Going into the 2010 draft he was thought to be a 1st round talent, but instead dropped to the 3rd round due to 'character concerns.' However, he was named a finalist for the QMJHL's Humanitarian Player of the Year which proves all hope is not yet lost for this competitor.
Negatives:
Failing to sign Christian Ehrhoff to a contract shows the degree of difficulty the Islanders face when luring potential free agents. There are two solutions to this problem: winning games and getting a new arena…which leads to my next point.
The failed attempt to renovate the Coliseum was a major setback to the team and surrounding area. Had the referendum passed, future ticket sales might have boosted resulting in the recruitment and/or signing of bigger name players. Fortunately, the team signed Tavares to a long-term deal so perhaps the outdated arena is an overrated concern.
The decision to not re-sign Zenon Konopka was a bit of a head scratcher; as the gritty player and quality face-off guy had the necessary flair a successful club needs to win. There were rumors of potential locker room feuds but that's pure speculation.
With all that said, the team is ready to move forward with expectations higher than they have been in years. Now, lets breakdown each phase of the team: offense, defense, and goaltending.
Offense: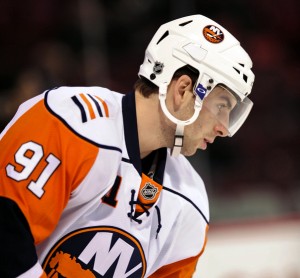 The potential top 6 forwards – Tavares, Matt Moulson, Nino Niederreiter, Okposo, Frans Nielsen, and Grabner – feature four 1st round draft picks, two 30 goal scorers, and a 25 goal scorer. The talent is strong; but more importantly is the players remain healthy and continue to improve as players of that pedigree often do. Tavares is the breadwinner of the group as he's coming off a 67 point season – I don't think a 40/40 season is out of the question this year. Moulson has shown his success two years ago was no fluke by producing a 30 goal season; he seems to have a knack at finding the back of the net. Niederreiter lit up the WHL last year for 97 points in 76 games (including playoffs). Let's see how that success transfers to the NHL. Okposo missed half of last season due to an injury but eventually got his legs back by the end of the year. To me, he's the best all-around player on the team and as long as he remains healthy he will prove to be a formidable opponent on the ice. Nielsen is a gritty two-way player who's great on the penalty kill and a steady player perfectly fit to center the 2nd line. Grabner, a finalist for the Calder trophy following a 34 goal season, is clearly the fastest player on the team. If he can convert and combine half the breakaway's he's missed, at least 5 more goals could be tallied. Also in the mix are former 1st round pick Bailey, former 20 goal scorer Blake Comeau, as well as Brian Rolston and Marty Reasoner, a pair that brings veteran leadership and attitude to a young team despite recent recruitment.
Defense: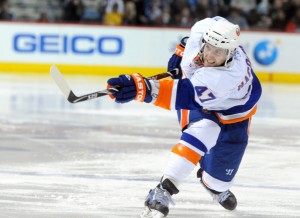 This is an interesting and promising group as there are both veterans returning and younger players hungry to make the team. Mark Streit, the newly named captain, returns after missing all of last year. He's a difference maker on the power-play – an essential aspect the Islanders need – and someone who brings stability to the blue line. All you need to know about Milan Jurcina is this: last year the Islanders were 24-15-7 with him, and 6-24-6 without him. Bottom line: STAY HEALTHY Jurcina. Travis Hamonic and Andrew MacDonald look like keepers contributing both offensively, 26 and 27 points in 62 and 60 games respectively, and more importantly defensively. If you're an Islander fan the thought of these two patrolling the blue-line for the next 10 years is very exciting. The last two spots are where it gets interesting, and I believe it's a fight between Mark Eaton, Mike Mottau, Ty Wishart, and Calvin de Haan. Eaton is similar to Jurcina in that he's successful while on the ice, but in three out of six seasons he's missed half his team's games. Mottau seems to be keeping a spot warm until one of the young guys can show they're man enough to handle the strain of being an NHL defenseman. Wishart, a former 1st round pick acquired for Dwayne Roloson last season, showed promising signs that he can contribute. He's a big body, 6-4 and weighing 218. If he can show consistency during camp I expect him on the ice opening night. De Haan, another former 1st round pick, is a club favorite and is expected to take the reigns along the blue line. The team showed their interest on draft night of '09, trading another player in order to add him to the roster. He reportedly put on over 15 lbs of muscle this off-season. If so, look for him to be the dark horse in this race.
Goaltending:
Let me roll out two scenarios.
The first: Rick DiPietro gets hurt again and misses significant time, Al Montoya regresses back to the 1st round bust he once was, Evgeni Nabokov eventually forces the Islanders hand and demands a trade, and Kevin Poulin struggles to round back into form following knee surgery that ended his season last year.
The second: DiPietro proves healthy enough to be a regular goalie if needed (although he shouldn't be counted on for that); Montoya continues his career resurgence and shows last year was no fluke; Nobokov remains a happy camper, says all the right things, starts the season with the Islanders where he can carry the load, and Poulin bounces back from surgery and plays well in camp before going down to Bridgeport where he continues to hone his craft and make the 2012 team.
Those are both ends of the spectrum so I'd say they things will fall somewhere in the middle. It could become a nice problem to have if the first three are all set to start the season. My prediction is Dipietro will miss the beginning of the season and come back around New Years, Montoya will play over 50 games for the team and perform well, Nabokov will get traded once D.P. is deemed healthy, and Poulin will continue his path as goaltender of the future.
Overall, the outlook for this team is positive. The Islanders are filled with 1st round picks, thus, most players have dealt with intense pressures individually. The only concern I have is how they will handle such high expectations for the first time as a team. Despite this, I believe they are very enjoyable to watch having the highest attendance ever since the Yashin-Peca days. My Prediction for the team they make the playoffs as the #7 seed before losing in the first round. They can build on this playoff experience and look to make their splash in the 2012 season.