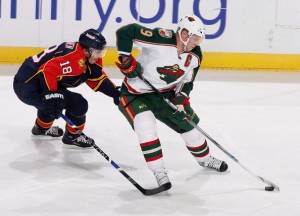 Every season is always different for every team. Different predictions are made, different expectations are set, different things always happen. It all starts in training camp, and the Minnesota Wild made some cuts yesterday, assigning them to Houston (AHL), while reducing their roster down to 28 players. Notables that were cut are Tyler Cuma, Matt Hackett, Darcy Kuemper, and Chad Rau among others.
The Wild should have a pretty solid roster this season. The additions of Dany Heatley and Devin Setoguchi will really boost the offense. They're two potential thirty goal scorers, and if they can either work together, or work with someone like Pierre-Marc Bouchard or Mikko Koivu, there could be a lot of goals being scored by Minnesota this year. Another forward to watch this season is Guillaume Latendresse. Having only played eleven games last season, Latendresse obviously wasn't able to put up good numbers. Expect a breakout year from Guillaume this season; it's about time he finally shows the Wild brass what they traded for in 2009. If Latendresse can't prove himself this season in Minnesota, expect a change of scenery for him at some point. He should be able to be a solid second line power forward for the Wild, so it wouldn't surprise me to see Latendresse come out firing this season.
Minnesota's defence is their glaring weakness. At this point their top defenceman is Nick Schultz, and I'm not saying Schultz isn't a good player, but is he really going to be the number one guy all year? Expect Wild GM Chuck Fletcher to make some sort of move with the defence fairly soon, because the Wild brass doesn't seem to think that Tyler Cuma is ready yet.
In net the Wild are all set. Niklas Backstrom is the obvious starter, and though Josh Harding isn't the greatest backup imaginable, he can still get the job done. Two of Minnesota's top prospects are goalies in Matt Hackett and Darcy Kuemper, and both will play for Houston this season. Both are future NHL goalies, likely even starters, so there aren't too many concerns between the pipes right now.
Overall, the Wild do have the potential to push for a playoff spot this season. Offense shouldn't be an issue, and though the loss of Brent Burns hurts, if the remaining defencemen can step up to the plate, this team could still be a playoff contender.