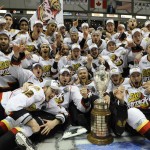 OHL Hockey is back and I believe it is better than it has ever been as the league welcomes plenty of NHL draftees from other leagues and some young new rookies that should excite OHL fans.
For the 2011-12 OHL season, I will be featuring a weekly article (released Monday or Tuesday) dubbed "Rossy's OHL Rundown" highlighting key moments and articles from around the OHL. 
Consider "Rossy's OHL Rundown" your one stop resource for OHL enthusiasts!
STAR POTENTIAL FLOCKING TO THE OHL
As mentioned above, the Ontario Hockey League welcomes several high profiled NHL prospects and their presence will surely bring a whole new level of excitment to the games this season.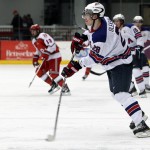 G John Gibson (Kitchener Rangers; ANA prospect)
F JT Miller (Plymouth Whalers; NYR prospect)
D Jamie Oleksiak (Saginaw Spirit; DAL prospect)
F Ludvig Rensfeldt (Sarnia Sting; CHI prospect)`
F Reid Boucher (Sarnia Sting; NJD prospect)
D Connor Murphy (Sarnia Sting; PHX prospect)
OHL PREVIEWS

New to the Ontario Hockey League? Has summer caused you to become out of the OHL loop?  Do not worry, check out my recent article previewing the OHL's Western Conference to catch up on who to watch this upcoming season.
MidWest Division Preview
West Division Preview
The OHL website also released their previews earlier in the week – the Western Conference and Eastern Conference.
The OHLProspects.blogspot.com website has an interesting interview with three CHL experts on their predictions within the OHL.  Dominic Tiano, Neate Sager and Patrick King weigh in with their thoughts on who is the OHL's Top Scorer this season, their top 2012 NHL prospect, and the most underated OHL teams.
OHL SOUNDBITES 
OHL News Radio Link to Download podcast featuring Commissioner David Branch and talks with 1st overall priority pick Aaron Ekblad of the Barrie Colts.
2012 DRAFT ELIGIBLE PLAYERS IN THE OHL 
The OHL is privileged to have the number of top notch 2012 NHL draft eligible players competing in their draft years in our own backyards.  These are some of the favourites entering the season along with a snippet of how their first few games have went.
Andreas Athanasious (London Knights) – The expectations of Athanasious have been raised after a strong summer and while he's notched 1 assist in two games, Andreas will become an offensive leader for the Knight's throughout the season.
Cody Ceci (Ottawa 67's) – Ceci has started the season very well as he's showing that he could be a force to be reckoned with.  After two games the 6'3" blueliner has a goal and two apples (a.k.a. assists).  
Nick Ebert (Windsor Spitfires) – The young American is showing why he could become a top ten pick as the reliable defender plays the game flawlessly.  Ebert replaces the departed Ryan Ellis as the team's defensive leader and has a couple of assists early in the season.
Matt Finn (Guelph Storm) – The Storm needs the next generation to step up and Matt Finn is one of those players.  Finn has great defensive awareness and is extremely dependable stopping the opponents best players but he has shown some offensive flare early on scoring a goal and adding three helpers for four points in three games.
Alex Galchenyuk (Sarnia Sting) – Currently nursing a sore knee, Galchenyuk missed the Sting's first two games but is expected back for the back-to-back home games and it's likely the young American will be itching to help his teammates get their next big win.
Brendan Gaunce (Belleville Bulls) – Gaunce is a personal favourite of mine to rise up the draft charts as each rankings are released.  The large 6-2, 212 pound forward is off to a great start scoring a goal and an assist in two games.
Scott Kosmachuk (Guelph Storm) – With the departure of several key veterans, the Storm need Kosmachuk to step up in his draft year to carry the load offensively.  To date, Kosmachuk has succeeded with that task notching three goals in three games.
Scott Laughton (Oshawa Generals) – Another personal favourite to rise throughout the season, Laughton brings nice package of skills to a deep Oshawa team.  Laughton has a couple of assists and has his first fight under his belt in only two games.
Jarrod Maidens (Owen Sound Attack) – Maidens is expected to become a player that NHL teams covet as his size and complete game is a rare combination.  Maidens enters week two with two points in his first three games (1G, 1A).
Matia Marcantuoni (Kitchener Rangers) – Expectations are high for the Toronto native entering this season.  Marcantuoni sits pointless after Kitchener's first game.
Chris Marchese (Erie Otters) – The smooth skating two way forward impressed me in Erie's first game versus Sarnia.  Marchese displayed good hockey sense and has tallied three points in his first two games of the season.
 Nail Yakupov (Sarnia Sting) – The high flying Russian impressed in his first game scoring a goal and adding two points but was shutdown by star goaltender Jack Campbell as Sarnia went scoreless Sunday.
Other notable 2012 NHL draft eligible players to watch:  Gianluca Curcuruto (Sault Ste. Marie Greyhounds), Slater Koekkoek (Peterborough Petes), Olli Maatta (London Knights), Adam Pelech (Erie Otters), Daniel Altshuller (Oshawa Generals) and Malcolm Subban (Belleville Bulls).
2013 DRAFT ELIGIBLE PLATERS IN THE OHL
There will be several 2013 eligible OHL players competing for the 2013 NHL Entry Draft's top spot in two years' time.  Nathan MacKinnon highlights the top talent from the QMJHL (currently has 2G, 10P in 6GP) and Seth Jones the best of the WHL but these following OHLers will be right there competing.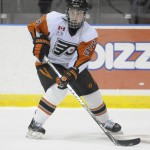 Max Domi (London Knights) – Domi impressed in his debut game where him and fellow first round pick Bo Horvat (9th overall one ahead of Max Domi) showed their amazing chemisty.  Horvat scored a hat trick (3 goals) and added an assist in his first game.
Sean Monahan (Ottawa 67's) – Monahan will miss the 2012 cut-off date, so the 6-2 center will become one of the favourites in the 2013 draft.  Already with two goals and five points in just two OHL games, Monahan currently leads the 67's in scoring.  The Brampton native is one of my personal favourites for the '13 NHL Entry Draft.  Bookmark this name.
Nicolas Ritchie (Peterborough Petes) – The big winger and brother of Sarnia's Brett has the scoring touch to compete for the OHL's top rookie.  The combination of size and skill makes him a prospect that many NHL teams will covet.  Ritchie has scored in both of his two OHL games and is off to a great start.
 Ritchie scores his first OHL goal in OHL debut.
Darnell Nurse (Sault Ste. Marie Greyhounds) – The Pronger-esque defenseman has only played in two OHL games but this kid has all the skills to become a top prospect for the '13 draft.
Jordan Maletta (Windsor Spitfires) – Maletta is a big pivot that really impressed me when watching Windsor's 2-0 win over Sarnia.  He has the ability to frustrate the opponent and does all the little things extremely well. Smart player.
BEN FANELLI DEFIES THE ODDS 
Almost two years ago, Ben Fanelli went through an almost fatal experience as he was hit awkwardly into the boards causing severe head trauma in just his ninth OHL career game.  Remarkably, Ben Fanelli rejoins the Kitchener Rangers to continue his OHL career. 

 
OHLers REMAINING WITH NHL CLUBS
Nicklas Jensen (Vancouver Canucks) – The smooth skating Oshawa Generals forward has not looked out of place.  Jensen is expected to travel with Vancouver for a few west coast games but it is expected that Jensen will be returned to Oshawa by the weekend.
Gabriel Landeskog (Colorado Avalanche) – With the Kitchener Rangers releasing Landeskog's rights, the OHL will not see the second overall selection back in the league this season.  Landeskog will be playing with the Colorado Avalanche this season.
Ryan Murphy (Carolina Hurricanes) – The offensive rearguard for the Kitchener Rangers is doing exactly what he is suppose to with the Carolina Hurricanes.  Murphy has played very well creating offensive chances and performing well defensively as well.  With the depth of the Hurricanes' defence, Murphy will likely return to Kitchener but do not completely right him off from playing in the NHL this season.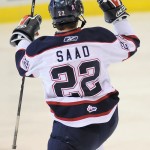 Brandon Saad (Chicago Blackhawks) – The Saginaw Spirit has outlasted first round picks Mark McNeil and Philip Danault and remains with the Blackhawks after impressing Hawks; coach Joel Quinneville.  Prospects writer and OHL guru, Brian Huddle, has reported hearing that Saad might just stick with the big club in Chicago.
Ryan Strome (New York Islanders) –  The Islanders have kept the Niagara Ice Dog center around for an extended look and it personally would not surprise me to see Ryan remain on the Island for at least nine NHL regular season games .  Do the New York Islanders need Ryan Strome this season?  Probably not but he certainly would not hurt their chances of success.
NHL CAMPS BOOSTING RETURNEES' PERFORMANCES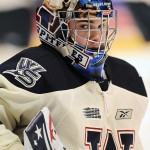 Windsor Spitfires goaltender Jack Campbell returned to the border city and stepped right into duty against the offensive Sarnia Sting.  Campbell continued his momentum from Dallas Stars camp and shut out star forward Nail Yakupov. 
Boston Bruins' prospect Alexander Khokhlachev also returned from NHL camp and performed admirably scoring both of Windsor's two goals en route to a 2-0 win over the Sarnia Sting.
Full story here.
AROUND THE CHL
Sportsnet's Patrick King has an excellent series "Who's hot, who's not" that highlights the performances that are standing out for different reasons.  Sudbury's Michael Sgarbossa, Mississauga's Stuart Percy, Owen Sound's Matt Petgrave, Majors' JP Anderson and Niagara's Freddie Hamilton are all featured – good or bad.
TOP OHL SCORERS (ending Sunday, September 25)
Tanner Pearson (Barrie Colts):  2GP-5G-3A-8P
Colin Behenna (Barrie Colts):  2GP-1G-6A-7P
Kerby Rychel (Windsor Spitfires): 3GP-2G-4A-6P
TOP OHL SCORERS – DEFENCEMEN
Jay Gilbert (Owen Sound Attack): 3GP-0G-5A-5P
Keevin Cutting (Owen Sound Attack): 3GP-1G-3A-4P
Matt Finn (Guelph Storm):  3GP-1G-3A-4P
Kyle Pereira (Guelph Storm):  3GP-1G-3A-4P
Matt Petgrave (Owen Sound Attack):  3GP-1G-3A-4P 
 TOP OHL SCORERS – ROOKIE
Max Domi (London Knights):  2GP-3G-1A-4P
Michael Clarke (Windsor Spitfires):  3GP-2G-1A-3P
Mitchell Dempsey (Plymouth Whalers): 3GP-1G-2A-3P
Josh Anderson (London Knights):  3GP-0G-3A-3P
GAMES TO WATCH THIS WEEK (September 26-October 2)
Thursday – September 29:  Owen Sound (2-1-0) @ Barrie (2-0-0), 7:30pm
The Attack and Colts are both off to a good start and this game has the potential to become a doozy.
Friday – September 30:  Ottawa (2-0-0) @ Plymouth (1-1-0), 7:05pm
The 67's and Whalers are expected to be top teams in each of their respective conferences and should match up nicely.
Saturday – October 1:  London (2-0-0) @ Plymouth (1-1-0), 7:00pm
Each team is a favourite to win their division and both will be competing for the top spot all season long in the Western Conference.  There is a lot of star players dressing in these two lineups.
OHL Player of the Week – Tanner Pearson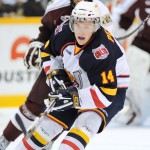 The Ontario Hockey League has announced that Tanner Pearson of the Barrie Colts is the first recipient of the 2011-2012 OHL Player of the Week Award.  The Colt forward notched an impressive five goals and eight points in two OHL games leading the Barrie Colts to a 2-0 record.
Congratulations Tanner!
My passion for the game has led me to writing about hockey, specifically dealing with the future of hockey and it's prospects.
You can find more of my work at DobberProspects.com, TheHockeyGuys.net and OHLWriters.com
Outside of the rink, I enjoy spending time with my friends, golfing, kayaking and fishing as well as competing in several of my own hockey leagues.
If you so do choose, please feel free to follow my thoughts and work on twitter @RossyYoungblood