After two seasons, the Pittsburgh Penguins are an undefeated 6-0 in preseason play at the Consol Energy Center.  Their flawless record will remain intact until at least next fall.
Three road exhibition games are all that remain for the Penguins and Tuesday's trip to Kansas City to face the Los Angeles Kings is a final opportunity for some players to impress the coaches and front office staff.
On Monday afternoon, coach Dan Bylsma laid out his plans for the next week as the final 23-man roster begins to take shape.
"I think you'll probably see two more cuts," Bylsma said. "[Exhibition] Game 4 is still a little bit of experimenting with lineups and line combinations, powerplays. Not completely setting in units because of the experimentation of the lineups and giving everyone an opportunity. Games 5 and 6 would be more along the lines of line combinations, powerplay units, treating those almost like regular season games and trying to get the team focused on the routine of how we play and how we prepare and also how we play as a group of 20 guys."
Thirty-nine players remain in training camp: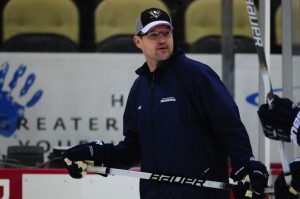 Goaltenders (4):
Marc-Andre Fleury, Brent Johnson, Scott Monroe, Brad Thiessen
Defenseman (13):
Robert Bortuzzo, Deryk Engelland, Scott Harrington, Kris Letang, Ben Lovejoy, Paul Martin, Zbynek Michalek, Joe Morrow, Matt Niskanen, Brooks Orpik (injured), Alexandre Picard, Brian Strait, Boris Valabik (injured)
Forwards (22):
Craig Adams (RW), Arron Asham (RW), Matt Cooke (LW), Ryan Craig (C), Sidney Crosby (C, injured), Pascal Dupuis (RW), Dustin Jeffrey (C, injured), Nick Johnson (RW), Tyler Kennedy (RW), Chris Kunitz (LW), Mark Letestu (C), Steve MacIntyre (LW), Evgeni Malkin (C), Colin McDonald (RW), James Neal (LW), Richard Park (RW), Nick Peterson (RW), Jordan Staal (C), Steve Sullivan (LW, injured), Eric Tangradi (LW), Joe Vitale (C), Jason Williams (C, injured)
Here are a handful of news, notes, and storylines that caught our eye in the first week of training camp:
_________________________________
On Tuesday the Penguins will be heading to Kansas City, the same city the team was rumored to relocate to almost a decade five years ago.  GM Ray Shero noted the irony of the situation at a 'Town Hall Meeting' with season ticket holders on Sunday.
"I think it's rather ironic that on Tuesday at 3:00 we're taking off to play in Kansas City," Shero said. "And I am happy to report that we'll be coming home Tuesday night to Pittsburgh where we belong. Thank you for your support."
The beautiful Sprint Center in Kansas City still lacks a professional sports team, but it hosts a number of college tournaments and big-name concerts and is widely recognized as one of the country's busiest arenas.
_________________________________
The Penguins had their sights set on Joe Morrow in the first round of June's draft and it looks like the team scouts identified a gem.  Morrow's play in camp has been nothing short of spectacular for an 18-year-old and some fans are starting to wonder if he could carve out a spot on the final 23-man roster.
The team could theoretically give Morrow a brief stint in the NHL before returning him to his junior team in Portland (WHL), as they did with Kris Letang six years ago.  Junior players like Morrow can appear in up to nine games at the NHL level before the clock starts to tick on their three-year entry-level contract.
But the Penguins roster looks a lot different than it did six years ago in the Letang era.  With Ben Lovejoy's contract moving from a two-way to one-way deal this season, the Penguins now have seven defensemen on one-way contracts.  This means these players will earn their NHL salaries even if they are demoted to Wilkes-Barre (AHL), making a demotion of one of them very unlikely.
Barring a salary-cap maneuver on opening day (discussed below), fans should be happy with what they've seen from Morrow and content he'll be headed back to juniors where he can log big minutes in important situations and polish his leadership abilities.
_________________________________
Simon Despres, the training camp surprise in previous years, was demoted to Wilkes-Barre last Thursday with little fanfare.  The demotion was not a surprise – Despres had already been penciled in to start the season at the AHL level – but the fact he never dressed an exhibition game was odd.
Despres suffered a shoulder injury in the Memorial Cup Championship last spring which quietly impacted his off-season training.  I did not have a chance to talk with Despres, but it's possible that the injury is still bothering him in some way and the team decided to play it safe.
Despres' physical abilities remain unquestioned, but he'll probably need at least a full season of experience at the AHL level to improve his decision-making.
_________________________________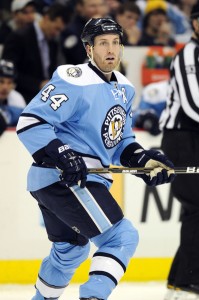 Staying on the injury front, the Penguins seem to have picked up where they left off last year with a number of players already nursing bumps, bruises and strains.  Steve Sullivan, Jason Williams, Boris Valabik, Arron Asham, Brooks Orpik, Alexandre Picard, Dustin Jeffrey, and Sidney Crosby are among the players who have missed practice and/or game time as of late.
Picard absorbed a slapshot in the hand/wrist area late in the third period of Saturday afternoon's game against Minnesota but was able to briefly return to play.
Bylsma seemed unsure about Orpik's status for the season opener when he was asked on Monday.  Orpik is recovering from offseason abdominal surgery but Bylsma says he is "still preparing like [Orpik] could be there for us at the start of the season."
Crosby has been an active participant in recent controlled scrimmages and has even begun to absorb some limited contact.   Steve Simmons of the Toronto Sun reports that "at least one NHL GM is saying Sidney Crosby is closer to being ready to play for the Pittsburgh Penguins than the Pens are letting on."  Games in October are relatively meaningless in the big picture and the team will certainly be overly cautious with Crosby's recovery, but all signs have been positive of late.
_________________________________
One situation that bears watching in the coming days is how the Penguins and salary cap specialist Jason Botterill manage the opening day roster.  Last season we detailed the team's curious demotion of Eric Tangradi which allowed them to take full advantage of Jordan Staal's long-term injury exception.
The variables in play this season have the potential to be far more complicated.  Waivers (Vitale and others), rehab stints (Jeffrey), performance bonuses (Morrow, Tangradi), and the possibility of Sullivan, Williams, Crosby, and Orpik beginning the season injured could give Botterill the opportunity to create his magnum opus.
The scenarios are too difficult to predict at this point, but we'll breakdown a few of the possibilities after the Penguins next round of roster cuts.
_________________________________
The departure of Max Talbot creates an opening on the Penguins top-ranked penalty kill unit from last season.  Ryan Craig, Joe Vitale, and Richard Park all received substantial penalty-kill time in Saturday's 4-1 victory over Minnesota.
Vitale played 6:45 shorthanded, and both he and Park won over 50% of their faceoffs – another void the Penguins desperately need to fill without Talbot.
Park didn't do himself any favors though on Saturday with three unnecessary penalties.
_________________________________
Bylsma has also quietly hinted at new schemes he plans to unveil at various points in the preseason and regular season.
"There is going to be at least five things that we will do differently for brief periods of time within games this year," Bylsma said last week. "Some of those things will show up for us in this training camp and with our exhibition games. It might be drastic, I guess, but it won't be for full periods of games. It won't be for the full 60 minutes. It might be for a period of hockey or the first timeout with that type of experimentation to try some of those things and give the players the experience of what we're talking about in a game situation before we start with Vancouver in game 1 and try to add points to the win column."
The team has worked on set faceoff plays in recent days and Bylsma also said he expects to add new wrinkles to the neutral-zone forecheck and defensive-zone coverage.
*Check back on Wednesday when we chat with Penguins forward Colin McDonald on his time in Edmonton and chances of making the Penguins' opening day roster.