Jim Neveau, Senior NHL Columnist
Over the life of the hockey renaissance that has taken over the city of Chicago in the past four years, there hasn't been a player who has both electrified fans with his skill set, and made people roll their eyes with his off the ice choices, the way Blackhawks winger Patrick Kane has.
The #1 overall pick in the 2007 NHL Entry Draft has had an excellent career so far, averaging nearly a point a game (103 G, 200 A in 317 games), and winning both a Stanley Cup and a silver medal with the 2010 US Olympic Team. He also steps up his game when it matters most, picking up 48 points (20 G, 28 A) in 45 playoff games, including one of the most memorable goals in Hawks history, his game-tying tally against the Nashville Predators in the first round in 2010.
While those numbers point to Kane as a veritable offensive stud, the Hawks' head coach Joel Quenneville may have something else up his sleeve as Kane enters his fifth NHL season. While he still hasn't seen any game action yet while recovering from off-season wrist surgery, Kane may be moved off the wing, his spot in the lineup during his career, and moved to the center position to address the need for a second-line center that the Hawks find themselves with. Patrick Sharp, who was widely viewed as a candidate for the spot, is recovering from an appendectomy earlier in the month, and Dave Bolland likely will find himself centering the third line, where his defensive prowess is more of a weapon. That slotting of players doesn't leave much in the cupboard to fill that center spot, and if Quenneville is to be believed, then Kane very well might be that guy.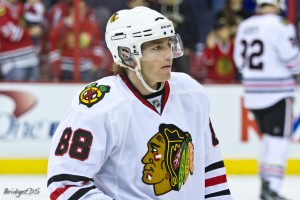 "He played center most of his career and I think defensively he got better down low and along the wall," Quenneville told the media on Sunday. "It's something we are going to take a look at."
When asked if Kane was warm to the idea, Quenneville said "he was not complaining." Kane also verified on Monday that General Manager Stan Bowman approached him during the off-season with the idea of moving him to the middle, and Jesse Rogers of ESPN Chicago described Kane's reaction to yesterday's revelation by Quenneville as "so-so."
Just in case anyone were to think that this was some sort of one-day pipe dream caused by the drinking water, Kane was centering a line with Andrew Brunette and Marian Hossa at Monday's practice, and even took some face-offs against Jonathan Toews. There are reports that he could potentially play in the team's game on Wednesday against the Detroit Red Wings, but if he doesn't suit up then the team does have another home game on Friday against the Pittsburgh Penguins.
Aside from the sheer shock of Quenneville's revelation, there is a big question that needs to be answered: assuming that Kane is healthy to begin the season (and there's nothing suggesting that he won't be), should the Blackhawks play him at the center position, or should they leave him on the wing?
Contrary to the snarkiness in the hockey world that followed the statement by Quenneville, there are actually some positives that could be had for the Blackhawks by moving Kane to center. The most notable among those is the fact that it will play into one of Kane's biggest strengths: his passing ability. Some of the best passers in the game, including guys like Nicklas Backstrom, Henrik Sedin, and Ryan Getzlaf are centerman, and Kane has averaged a respectable 50 assists per season, so he definitely would fit right in with those guys. He does have the ability to score 30-35 goals a season, but it is his passing that is more of an integral part of his game.
Another potential benefit of moving Kane to the middle would the aforementioned shift of Bolland to the third line center's spot. That would ensure that the Hawks would have a very solid two-way guy in a spot that is tailor-made for it, and Bolland can be a difference maker there, as we saw during the playoffs the past two seasons. While defense is an important component for any center, the top-two center spots are geared more toward facilitating the offense, and while Bolland is capable of doing that, Kane is obviously far better in that category.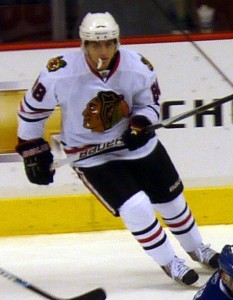 Unfortunately for Kane and the Hawks, the potential negatives are fairly daunting. The top issue among those is Kane's size. Yes, he has gained a good amount of weight since getting drafted weighing about as much as a sheet of postage stamps, but he is still only listed at 5'10" and 175 pounds, and both of those numbers could be a little generous. That puts him at a slight disadvantage (no pun intended) to some of the other centers that he will face, and even guys who are similar in height to him like Pavel Datsyuk and Sidney Crosby have obviously been playing the position in the NHL much longer than he has, and Crosby is more physically aggressive than Kane is. Both of those factors together do not bode well for Patrick.
The other big factor going against Kane being a successful center is his defensive ability. While he isn't completely inept in that area, and Quenneville has praised his improvements on that side of the puck, Kane hasn't shown a penchant for two-way play like his cohort Toews. While of course it isn't fair to compare a winger whose primary mission is to create and score goals to a Selke Award finalist, the point is a valid one. Kane hasn't shown that he can play the type of defense required for a second line center to play, so if the Hawks are going to put him in a position where another team, especially on the road, can put their best playmaking center against him, that line will be at a distinct disadvantage against opponents. Kane may very well have improved his defense enough that this point will be void, but that hasn't been demonstrated on the ice in game situations, and that will be the ultimate test.
So is Quenneville out of his gourd to think that the Kane experiment at center will work? It may be considered borderline blasphemous to even broach such a subject about someone who's as revered in Chicago as anyone, but the reality is that Quenneville isn't crazy, but he's likely wrong. Moving Kane away from the wing spot where he's had all this career success is going to be a challenging adjustment, and to make him do that when he hasn't had a full off-season to practice there and isn't even at 100% operating capacity is not the right thing to do.
Of course, if Quenneville does decide to go this route and it doesn't work out, he can easily shift Kane back to the wing and chalk the experience up to setting up an insurance policy should something happen to one of the team's centers. Kane is an incredibly talented hockey player, and if Quenneville puts him in the middle of the ice, you can bet that he is going to make a good go at it. The reality of the matter is that this move is probably not the right one, and while time will tell whether or not that statement is valid, one thing is certain: this experiment is probably going to be the defining decision that Quenneville will make coming out of the preseason. For the sake of his team, they have to hope it will be the right one.