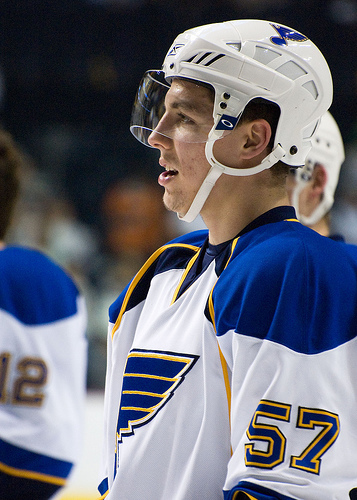 The St. Louis Blues held a press conference on Monday, September 26 to announce that David Perron is rejoining the team. Perron has been sidelined since November of 2010 with post-concussion syndrome that has kept him out of hockey for nearly an entire year. The talented young forward has been doing some workouts and light skating for the past few weeks but now will be cleared to start pushing things forward.
To be clear, the road to recovery is still a long one for Perron. He hasn't practiced with his team nor done any serious hockey activity since the injury occurred. Just recently he's been allowed to begin skating again but it remains to be seen how his body will hold up under a more intensive practice, let alone how it might hold up in a real game.
Currently, it's still impossible to put a timetable on his return. After nearly a year of slow to almost no improvement, Perron is finally taking some steps forward but no one can safely guess how things will go once he starts pushing himself a bit further. You can bet that the team will be cautious in how they bring Perron back up to speed.
This is some pretty positive news for fans of the Blues. For the most part, fans have been preparing for the worst while hoping for the best. Granted that Perron's recovery still has a long road ahead of it, one that could still have twists and turns, fans now are imagining a roster that could feature Perron at some stage in 2011-12.
This news also is extremely positive for the neutral NHL fan that has been surrounded with mixed news from other post-concussion cases. In Boston, Marc Savard might have skated in his last NHL game due to a similar injury. In Pittsburgh, Sidney Crosby is in roughly the same place as Perron in his road to recovery and has yet to have any issues when practicing. Still Crosby, like Perron, has yet to face any contact – the true test to see how the recovery will hold up.
Perron's news is beyond encouraging. For months, his recovery was stagnant. Now there is at least progress moving forward which is a major positive given how fickle this specific type of injury can be. Perron and the club must now move ahead slowly and cautiously to make sure Perron doesn't suffer any unneeded setbacks. With a little luck, Perron will continue to progress and might play a significant role in the 2011-12 season.
Other Stories:
Blues Allegedly Reject $167 Million Offer