Earlier today, the OHL West Division Preview was released here.  Endulge yourself and then check out the MidWest Division as we wrap up the OHL's Western Conference Previews.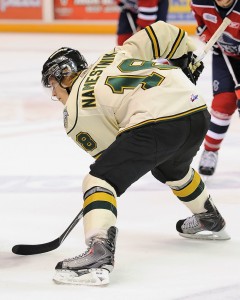 MIDWEST DIVISION
The MidWest is a division that has taken a step back compared to recent years as teams go through a slight rebuild which is inevitable at the junior hockey level.  The MidWest Division features the London Knights (favourites), Kitchener Rangers, Erie Otters, Guelph Storm and defending OHL Champions, Owen Sound Attack.
London Knights
2010-11 Regular Season Record:  34-29-4-1 (5rd in MidWest; 8th in Conference)
2010-11 Season Farewell Story:  London finished the season in 8th place eventually losing to the Owen Sound Attack in the opening series.
Projected 2011-12 Finish:  1st in West; 2nd in Conference
Notable Players:
C – Vladislav Namestnikov – The London Knights received a lot of help from rookie Namestnikov who finished two points behind Jared Knight for the team scoring lead.  Vladislav finished his rookie season tallying 30 goals and 68 points to finish at a point per game pace.  (Tampa Bay Lightning, 1st Rd 2011)
RW – Jared Knight – The eighteen-year old was the Knights offensive leader on and off the ice and has powered his way up the prospect charts over at the Boston Bruins as well.  The hard working winger played well enough to earn a call up to the AHLs Providence Bruins for three games (registered 2 assists). (Boston Bruins, 2nd Round, 2010)
RW – Seth Griffith – In his first full season with the Knights, Griffith showed flashes of offensive upside and logged important minutes.  London will lean on Griffith more as he takes on more responsibility entering his second eligible NHL draft year.
C – Max Domi – The long rumoured trade for Max Domi was finalized late in August and the son of former NHLer Tie Domi will finally join the London Knights.  Max is a creative skilled centre that has a ton of offensive potential and will become a staple of the Knights over the next few years.  The undersized forward scored 27 goals and 57 points in only 30 games for the Don Mills Flyers minor midget team.  (2013 NHL Draft Eligible)
D – Jared Tinordi – The first round pick of the Montreal Canadiens (2010) was the leader on London's backend and with some fresh faces in the lineup, Tinordi will be relied upon (as will Scott Harrington) to show these newer players the way in the OHL.
Season Snapshot:  In addition to the players mentioned above, London added 1st overall import pick Olli Maatta (Defenseman) and 9th overall selection, forward Bo Horvat, in the Priority Draft.  The Knights have appeared to fast track their rebuild and should be a team that competes hard icing an exciting lineup over the next few seasons.
Kitchener Rangers
2010-11 Regular Season Record:  38-21-4-5 (2nd in MidWest; 3rd in Conference)
2010-11 Season Farewell Story:  The Rangers fell to the Plymouth Whalers in a tough 7 game opening series (4-3)
Projected 2011-12 Finish:  2nd in MidWest; 5th in Conference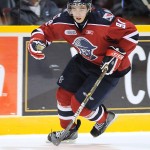 Notable Players:
C Matia Marcantuoni – Among the top forwards available for the 2012 NHL Draft, Matia will become the go-to player after the Rangers forfeited Landeskog's OHL rights in anticipation of Gabriel's NHL debut.  The 16 year old is coming of a strong rookie appearance (11G, 27 points) and had a strong showing at Team Canadas World Junior development camp this past summer.  (2012 NHL Draft Eligible)
D Ryan Murphy – The offensive defenseman's return is unknown but there is a good chance that Murphy returns to the Rangers. Murphy's presence will surely be welcomed but the Kitchener Rangers.  In 63 regular season games last year, Murphy scored 26 goals and posted 79 points to finish among the league's top defenseman.  (Carolina Hurricanes, 1st Round 2011)
D Max Iafrate – The son of former NHL great Al Iafrate, Max has a fresh start with his new team in Kitchener.  Max was held to limited ice time with the Plymouth Whalers last season but he should see a role with more responsibility in Kitchener.
G John Gibson – The Rangers were successful in luring one of the 2011 Drafts top goaltender picks from his University of Michigan commitment and Gibson will join the Kitchener Rangers this season.  Gibson gives Kitchener a bonafide starting goaltender after Maxwell was shipped out after struggling in the Rangers playoff run. (Anaheim Ducks, 2nd Round 2011)
Season Snapshot:  The Kitchener Rangers lost a lot of offensive talent over the summer as Gabriel Landeskog, Jerry DAmigo, Jason Akeson, and possibly Andrew Crescenzi aren't expected back.  Look for second year Marcantuoni, the newly acquired Brandon Francisco (Sarnia Sting) and Tobias Reider to carry the offensive load. 
Erie Otters
2010-11 Regular Season Record:  40-26-1-1 (3rd in MidWest; 5th in Conference)
2010-11 Season Farewell Story:  The Otter's season was ended by the Windsor Spitfires in the opening rounds (4-3)
Projected 2011-12 Finish:  3rd in MidWest; 6th in Conference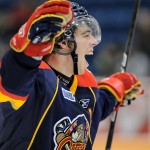 Notable Players:
C Greg McKegg – The Maple Leafs 2010 3rd round selection and 2010-11 leading scorer for the Erie Otters will certainly be the face of the franchise once again this season.  McKeggs 49 goals and 92 points earned him a two-game call up to the AHLs Toronto Marlies where he registered a goal and his offense will dictate the Otter's success this season as well.
LW Sondre Olden  – All eyes will be on another Leaf draft pick as Olden (Import pick) joins the Otters and likely lines up next to McKegg on the top line.  Erie is getting a big body that excels at both ends of the rink and has good offensive skills.  (Toronto Maple Leafs, 3rd Round 2011)
G Tyson Teichmann – The Otters acquired Teichmann from Belleville to challenge as their starting netminder.  Tyson was previously stuck behind Belleville Bull's Malcolm Subban after the young Subban upped his game.  Last season, Teichmann played in 42 games for the Bulls registering an unimpressive record of 11-26-2.  Teichmann will be up against some tough competition in veteran Ramis Sadikov and hopes to improve his numbers as he gets a fresh start..
D Adam Pelech – The future of the Otters blueline is in the hands of Pelech and he should learn well under the wings of veteran defenders Brett Cook and Derek Holden.  Pelech doesn't need to be great, he just needs to learn the ins and outs of the OHL.
Season Snapshot:  The Erie Otters don't have a lot of sexy stars but through hard work and depth scoring (Marchese and Cazzola expected to step up) the Otters should be in contention for one of the final three or four playoff births.
Owen Sound Attack
2010-11 Regular Season Record:  46-17-1-4 (1st in MidWest; 1st in Conference)
2010-11 Season Farewell Story:  Won the J.Ross Robertson Trophy (OHL Champions)
Projected 2011-12 Finish:  4th in MidWest; 9th in Conference
Notable Players:
C Daniel Catenacci – The feisty hard working skilled forward made NHL teams notice as Buffalo selected the undersized speedy center in the 3rd round.  Catenacci joins a new team after a mid-summer trade from Sault Ste. Marie.
C Jarrod Maidens – The big pivot with great hockey sense is entering his NHL Draft year and has a lot to play for.  Last season, Maidens recorded 10 goals and 21 points in 47 regular seasons but provided a great two way game throughout the Attacks Championship run.  Look for Maidens to have a breakout season (2012 NHL Draft Eligible)
G Jordan Binnington – The Attack are going to need Binnington to have another repeat performance from last year if they are to make the playoffs.  Binnington posted an impressive 27-12-5 recorded with a 3.05 GAA and .899 save performance last season on his way to becoming an NHL prospect (St.Louis Blues, 3rd Round 2011)
Season Snapshot:   The success for the Attack relies heavily on the play of the three players mentioned above.  The Championship Attack will be in tough defending their title after losing several key members of that team including Joey Hishon, Jesse Blacker, Garrett Wilson, Bobby Mignardi and Andrew Fritsch (to SSM). 
Guelph Storm
2010-11 Regular Season Record:  34-27-4-3 (4th in MidWest; 7th in Conference)
2010-11 Season Farewell Story:  Eliminated by Saginaw in the opening series (4-2)
Projected 2011-12 Finish:  5th in MidWest; 10th in Conference
Notable Players:
RW Cody McNaughton  – The fourth year veteran will look to improve upon his previous season numbers (15G, 36P).  The feisty winger will surely get more opportunity with several key forwards not returning.
C Hunter Garlent – The tenth overall pick in the 2011 OHL Priority Draft should give the Storm fans lots to cheer about.  Garlent is an undersized skilled forward capable of highlight real goals as he racked up 54 goals and 98 points in 57 minor midget games for the Welland Tigers last season.  Garlent offers plenty of potential for Guelph over the next few seasons.
D Andrey Pedan – Last season, the Storm brought in import pick and recent New York Islanders 3rd Round pick (2011) and he will be relied upon more in his sophomore season.
G Garrett Sparks – The Toronto Maple Leafs' 7th Round pick (2011) has played well in the NHL rookie camp and Sparks will surely be tested playing in front of a rebuilding Storm team.  Last season, Sparks posted a respectable 8-6-1 record and he will surely get more starts this season as he becomes the future starting netminder.
 Season Snapshot:  The consensus by most experts is that the Guelph Storm will have trouble winning many games this season as they lose their top three scorers (Taylor Beck, Michael Latta and Peter Holland).  The story of the year will be how their youngsters Matt Finn, Hunter Garlent and Scott Kosmachuk perform with more responsibilities.
My passion for the game has led me to writing about hockey, specifically dealing with the future of hockey and it's prospects.
You can find more of my work at DobberProspects.com, TheHockeyGuys.net and OHLWriters.com
Outside of the rink, I enjoy spending time with my friends, golfing, kayaking and fishing as well as competing in several of my own hockey leagues.
If you so do choose, please feel free to follow my thoughts and work on twitter @RossyYoungblood