Jim Neveau, Senior NHL Columnist
The last time the Columbus Blue Jackets took to the ice in an actual game, things were looking bleak for a franchise that was struggling both financially and hockey-wise. They finished last season 16 points out of a playoff spot, and lost their final six games of the campaign to leave a sour taste in their fans' mouths as they headed into yet another off-season without a playoff berth. In fact, Blue Jackets fans have had to deal with that sour taste of missing the playoffs in every campaign except one in their team's history, and even in that 2009 season that saw playoff hockey make its way to Ohio, the dream only lasted four games as the hated Detroit Red Wings came, saw, and conquered the purveyors of the loudest goal celebration in the league.
Instead of resigning themselves to their fate while they wait for some of their talented prospects to make their way through the system, the Jackets got busy this off-season and went about reshaping their team.They started the process of restocking and locking up their squad when they resigned popular defenseman Grant Clitsome to a two-year contract extension. He made a big time impact on offense for the Jackets in 2010-11, playing in only 31 games but racking up 19 points (4G, 19A) in the process, and giving them a great defense-stretching option on the blue line for years to come.
After that opening salvo, their next move was one that shook the hockey world, as they acquired center Jeff Carter from the Philadelphia Flyers for Jakub Voracek, their 8th overall pick in the 2011 Draft, and their 3rd round pick as well. Then, as if that wasn't enough seismic change for one week, they also dealt oft-unhappy winger Nikita Filatov to the Ottawa Senators in exchange for a 3rd round pick in 2011. While this trade certainly gave the Jackets an infusion of offensive talent to pair alongside team captain Rick Nash, General Manager Scott Howson was not done.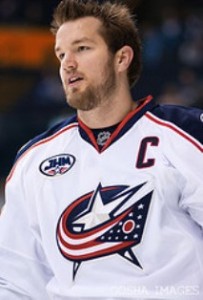 On July 1st, the Blue Jackets took the best player remaining on the free agent market off the board when they signed defenseman James Wisniewski to a six-year contract. Having traded for his rights on June 29th, the team worked quickly to convince him to come to Columbus, and he seemed to really buy into what Howson was constructing. "What really intrigued me is being part of a team that's trying to go on a rise," Wisniewski told the media after being signed. "In and around the city, they (the fans) want the Blue Jackets to succeed, and I want to be part of that."
The $33 million that the Jackets gave the defenseman shows just how big a part of their team they feel like he is. For years they have been looking for a franchise-caliber blue liner to build around, and with the pickings slim this season, they got a very good value on a guy who has the potential to be a formidable two-way player in this league. Long known for his physical play, Wisniewski showed a penchant for making things on offense last season as well. In 75 games for the Islanders and Canadiens last year, Wiz scored 10 goals and dished out 41 assists. The Jackets will look to him to provide that same level of production and then some, and he will look to fit into a division that features stellar offensive talents like Shea Weber and Duncan Keith.
Even with the acquisitions of Carter and Wisniewski, the team was not done. On July 5th, they continued to get guys locked up to long-term deals, as they re-signed defenseman Marc Methot to a new four-year contract. He doesn't have the offensive pedigree of Clitsome or Wisniewski, but he did manage 15 assists last season and is certainly one of Columbus' best defensive weapons.
To round out their spree of re-shaping and locking in their defensive core, the Jackets also signed veteran defenseman Radek Martinek on July 6th. On a blue line that has a ton of youth on it, he will be looked to for veteran guidance and will likely fill a second or third pairing role for this club.
After things had quieted down in Columbus over the summer, the team made a splash again on August 31st when they re-signed Fedor Tyutin to a new six year contract. With a cap hit of slightly over $4 million per season, Tyutin will be paired up with Wisniewski on the team's top defensive unit, and he will certainly provide a good defensive presence on the line so that Wiz can focus on his offense. That top pairing could end up being a thorn in the side for offenses all season, and you have to imagine Howson and head coach Scott Arniel licking their chops at the possibilities that those two provide.
All of those signings bring us to today, with the team re-signing winger RJ Umberger to a five-year contract extension, with a cap hit of $4.6 million. Umberger joined the Jackets in the 2008-09 season (their last playoff appearance), and he hasn't missed a single game since then. He consistently scores over 20 goals a season, and last year he had 57 points (25 G, 32 A) for the 11th place club. He will go into this season on the second line, which will be centered by Derrick Brassard. Their line will likely feature Vinny Prospal, another new free agent signing from the summer, and it will give Columbus a very respectable top-six forward group.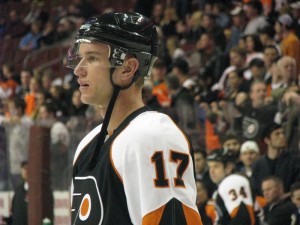 With all of these wheelings and dealings in the off-season, there are several questions that inevitably come up. The first one is a question of whether or not the moves will allow them to cut through a tough Central Division to reach the playoffs, and to a lesser degree, there's also the intriguing question of Howson's motives behind this spree of moves. Was this some type of directive from an ownership group that has acknowledged that the team is losing quite a bit of money, or was this a logical extension of the moves that Howson and Arniel have orchestrated since their reign in Columbus began?
To answer the second question first, there is quite a bit of logic to these moves, and that is not likely the product of a mandate to transform the team into a winner quickly, or else. Teams have tried those kind of get rich quick schemes in the past, and while some have met with good results (think the Chicago Blackhawks with players like Brian Campbell and Marian Hossa being brought in via free agency), there are an equal if not bigger number of teams that have seen those efforts fail, such as the New York Rangers and others. Signing a bunch of high profile guys doesn't always equal a championship, so in examining Howson's moves, there is nothing scattershot or desperate about them.
Carter may have worn out his welcome in Philadelphia, but he will thrive in the laid-back style that Columbus will encourage. He will also benefit greatly from having the face of the franchise alongside him in Nash, and that will free him up to do what he does best: score goals. It will be interesting to see whether or not Nash's goal totals take a hit from having such a talented center with him, but knowing the way Arniel runs his system, they'll make it work.
As for Wisniewski, he may have trumped up expectations in the city with his excited rhetoric following his signing, but those comments don't just convey a heightened expectation; they also show a hunger that Wisniewski has been known for throughout his career. During his early years in the league, Wiz has never really been "the guy" in any of his stops, but with his move to the Jackets, the target will squarely be on his back every night. Judging by his comments and attitude toward this opportunity, things are looking positive on that front.
Another thing to keep in mind is that the core of the team is now locked up long-term, so this building process has been one with an eye on a very long period of time. In fact, the only real free agents of significance who will come up for this team in the next two years are Steve Mason (contract up after next season), and Derek Dorsett, who will be a restricted free agent after this year. The team has 11 pieces in all locked into contracts next year, and those are all key components to their building project. This has been a long-term approach that Howson has taken, and it will be interesting to see if they will become a perennial playoff team.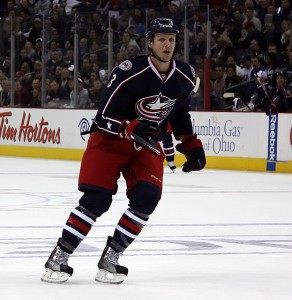 That is the real question in all of this: the flash and pizazz of the team's off-season has been great for the team's notoriety in the region, but will it translate to success on the ice? Obviously 82 games will answer that question better than any speculation will, but on a positive note for the team, they will have time to really gel before their season begins in earnest. Five of their first eight games are against teams who missed the playoffs in 2011, and two of their three toughest games (against Nashville and Vancouver) are on home ice at Nationwide Arena. Lots of new acquisitions usually results in time being needed to get acquainted with the team's system, and the Jackets will have the luxury of having a bit of a cushion in their schedule to allow that to happen.
A great litmus test for this team will come in the middle of December, as the Jackets have a critical five game homestand against some very solid opposition. The Predators, Bruins, Canucks, Kings, and Lightning will all make their way to Columbus, and all five teams have legitimate hopes of being a title contender this season. If there is a better five-game window into a team's potential, this will be it.
Ultimately, this team's greatest asset will be the guy manning their bench. Perhaps better than anyone in the league not named Dave Tippett, Scott Arniel is able to get his team to play extremely responsible defense, and with the new weapons that this team has on that front this season, he has to be salivating at the opportunity to turn those blue liners loose. In addition, he has new offensive weapons to deploy, and he should expect plenty of goal support for Mason this year. He may not have the longest tenure of a coach in this league, but his players respect him, and that is a trait that cannot be under-estimated.
In addition to the team's playing style and respect for their coach, another valuable characteristic of this bunch is the veteran leadership they have to surround Nash. Carter and Wisniewski are by no means old men, but they have been around the block a few times, and their guidance will be critical for guys like Brassard and Methot, who are still finding their way through this league. Leadership is one of those intangibles that hockey talking heads love to bring up when discussing a team's chances, but none of them will be able to discount the Jackets' strength in that area any more.
Ultimately, those things are all excellent positives to point to, but this team's fortunes will come down to two things. The first of those is how well all of these guys play together, especially now that so many of them have gotten their paydays. Occasionally a new contract can really whet the appetite that guys have to prove themselves, and so the guys with more dollar signs in their bank accounts than they're used to have to guard against that.
The other key ingredient to this team's success will be whether or not Mason can recapture the excellent play that he displayed in winning the Calder Trophy as a rookie. Will he be the impenetrable wall that he was during that campaign, or will he be the easily flustered and beatable goaltender that he has been as of late. The improved defense and more scoring should help, but ultimately the team's fate rests on the skill of their netminder.
Even if they don't make the playoffs this season, no one can accuse the Blue Jackets of resting on their laurels and letting things happen for them. Howson has been extremely proactive this off-season, and things are definitely looking up for this club. The road will be tough, especially with three playoff teams and a team on the rise in St. Louis to contend with in their own division, but at least now they are properly armed for the fight. It is going to be a heck of a season in the Central, and the Jackets figure to be part of the discussion all year, and that is welcome news for a fanbase starving to hear that cannon blast signifying a goal deeper into the spring than they're used to.
James started out for The Hockey Writers covering the Atlanta Thrashers in 2009, and has also covered the Chicago Blackhawks, served as NHL Correspondent, and is now a Managing Editor and the site's NHL Central Blogger. He also writes for The Golf Writers.