The Flyers defensive corps which has had many downs this season isn't as horrid as it may seem. Really, it's not. Just look at how things shake out on paper.
Kimmo Timonen, Matt Carle, Andrej Meszaros, Braydon Coburn. The Flyers top four defensemen. Those are four names that could crack the top 4 of almost any team in the NHL. Matt Carle will likely command a pretty high salary on the free agent market this summer.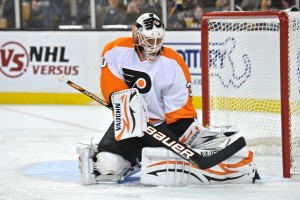 If it looks good on paper, how could this Flyers D be this poor? How can they be this bad? It's simple: they're not. The overall play of the Flyers back end has just been consistently degrading ever since the 24/7 cameras left the team it seems (who ever thought things would get worse after that). That's not one of the reasons for the poor play, of course.
However, here's a few:
1. Lack of Confidence: Ilya Bryzgalov and Sergei Bobrovsky have had their share of really bad games this season. It doesn't make Andrej Meszaros or Braydon Coburn a worse defenseman when Bryzgalov lets in a 5 spot every other night, but it sure looks like it messes with them mentally. Confidence is the silent killer among pro athletes. Whether they admit it or not, it's not hard to figure out there's not a lot of confidence in that locker room in Ilya Bryzgalov right now. It's Bryz's job to earn that back.
2. Leadership Issues: Kimmo Timonen is no slouch in the locker room, but historically whenever you take a dominant personality like Chris Pronger out of a locker room the guys aren't listening as much. Look at the history and fates of the teams in the past where Pronger has been absent from the lineup due to injury. The sad thing is he may never play again. Let's hope that isn't the case.
3. Lack of Overall Team Consistency: Lack of consistency puts a strain on a defense like no other. The Flyers have trademarked this problem. One night, the Flyers score 6 goals, but the goaltending was brutal, and they lose 7-6. The next night, the offense sits back, Bryz plays a strong game and the Flyers lose 2-0. The third night, we can't even tell who's fault it is between Bryz and the D because there were so many gaps. Sound like the Flyers to you? It strains a team physically and mentally. Ultimately the head coach has to have the boys ready to play from top to bottom night in and night out, and I don't think Flyers head coach Peter Laviolette would pass any blame. He has to do a better job as well.
Confidence plays a big part for any position on any team. The players will try to play it down and deny it, but there's no doubt it's huge. Look at how well Flyers forward Brayden Schenn started playing after he scored his first goal this season. We're only human, and I'm sure most of the people reading this article right now have had confidence issues at some point in their lives.
The Flyers rumors floating around for additional forwards seem silly. The Flyers have scored 198 goals, second in the NHL to only the Vancouver Canucks. The Flyers do not need a player like Rick Nash, or any other high price low reward forward who may be out there. If the Flyers give up defense for more scoring, Paul Holmgren is going to have a lot more time on his hands soon. But it won't happen, so don't believe it.
While it may look doom and gloom now for the Flyers, we've seen teams get hot at the right time. Very rarely does the pre-season favorite win it all. Here's what we're looking at:
Flyers Best Case Scenario: The Flyers new additions of Pavel Kubina and Nick Grossman gel with the defensive corps, Ilya Bryzgalov turns in some strong performances in March and April and hits his stride at the best possible time, propelling the Flyers into a strong playoff run.
Odds of Happening: 35%
Flyers Worst Case Scenario: Ilya Bryzgalov continues to play mind games with the media and the fans, the Flyers new additions on defense do not bolster the overall performance, Jagr pulls his groin every other week, and the confidence continues to sink. The Flyers end up in a low playoff seed with an early exit.
Odds of Happening: 65%
It's just too tough to see the Flyers turning it around in every facet of their game before the playoffs, but stranger things have happened. After 2010, I'll never say never. Hey, 35% isn't that bad considering what we've seen here in recent weeks. There's always a chance when you have the talent the Flyers do.
Stay tuned, because within the next couple of months either the train will pick up steam or will run off the tracks crashing and burning into mediocrity. The Flyers hope it's the first scenario.