Painting a Picture with Shooting Percentages
Shooting percentage is often a key determinant when evaluating a player's production or lack thereof. It is often overlooked, as in fantasy leagues, one would routinely gather potential by looking at goals, assists, shots and the line combinations rather than analyzing percentages of what is making one's numbers increase or decrease. This is also helpful for keeper leagues as if a manager sees his shooting percentage down considerably from years past, he is likely a buy-low candidate for the following season. Follow me on twitter @thelandshock.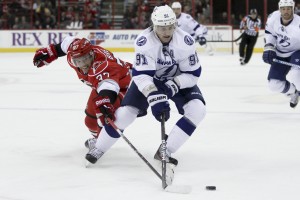 The top 300 players in the NHL have scored on average 11.3% of their shots this season and last year they also hovered around the 11% mark. The top five scorers this season with a shooting percentage over 16%: Stamkos (20%), Vrbata (16.9%), Hartnell (17.2%), Eberle (19.3%) and Ryder (16.1%). The top five scorers this season with a shooting percentage under 9%: Nash (8.7% for 20 goals), E. Staal (8.8% for 18 goals), Landeskog (7.7% for 15 goals), Brown (8.4% for 14 goals), P. Kane (6.9% for 13 goals).
It's hard to understand why some players are far above any expectations we set for them prior to this season, but the shooting percentages could at least answer a portion of the question. Here are the greatest differences, both positive and negative, in shooting percentages from this year compared to last year: Hudler (+11.9%), J. Staal (+10%), Zubrus (+9%), Vrbata (+8.9%), Eberle (+8.3%), Stafford (-11%), Kulemin (-10.4%), Getzlaf (-9.9%), Stewart/Kunitz/Hemsky (-7.7%).
Waiver Wire Potential
Hundreds of players sit on free agents and it's difficult to determine who will rise, maintain or decline in production to end the regular season. Here are some players to keep an eye on under 25% owned on Yahoo!:
Jiri Tlusty (Carolina Hurricanes – C,LW) – Seven offseasons ago, the Toronto Maple Leafs took a chance on Czech-born Jiri Tlusty with their first-round pick. The Leafs haven't found much success over the past decade with draft picks, but Tlusty may finally be forming into the player Toronto saw many moons ago. Jiri is playing on the top line for the 'Canes these days with Toronto in his rear view mirror, and has posted nine points in his last eight matches. He may only be on pace for a 36 point year, but these promising signs make for an interesting pickup for the remainder of this season and also one to keep an eye on for next year's hockey pool draft. Tlusty sits at 6% owned on Yahoo.

Teddy Purcell (Tampa Bay Lightning – RW) – Former-Manchester Monarch standout is finding an incredible scoring touch of late. In his last ten contests, Purcell has fourteen points and a plus-four rating. He's on the top of the depth chart for the Lightning while playing a regular shift with Maurice Richard leader Steven Stamkos and former Art Ross winner, Martin St. Louis. The departure of Steve Downie will also give him even more of chance to excel at the NHL level. Teddy is only 22% owned on Yahoo!
Bobby Butler (Ottawa Senators – RW) – This former-New Hampshire standout turned pro following his team leading 53 point season for the Wildcats back in 2010. In his professional hockey career, he has been bounced up and down from both sets of Sens' and this season he has averaged over 11 minutes of ice time a night while seeing minimal powerplay time. Fortunately for fantasy managers, Maclean has tossed him on the top line with Milan Michalek and Jason Spezza to provide a variety of offense while the young Senators go through some up's and down's. Butler has six points in his last six contests and even rolled a four-game point-streak. Although he still is only playing eleven minutes a night, he's at least making the most of it. Butler sits at 3% owned on Yahoo!
Jeff Petry (Edmonton Oilers – D) – Like an absentee father, in Petry's short NHL career he has been all over the scoresheet at times, and nowhere to be found at others. Petry plays the majority of time while even strength and with the Oilers firing on all cylinders, he has taken advantage. This former second-rounder by Edmonton back in 2006 has proved his worth of late with six points in his last eight games from the backend. He may not be worthy of a flyer in a shallow pool, but he sits on Yahoo unowned in 99% of leagues.
Derick Brassard (Columbus Blue Jackets – C) – Derick Brassard's agent had his wish granted from months back with the departure of offseason acquisition Jeff Carter and former Senator Antoine Vermette. With the goodbyes said in Columbus, Brassard now appears to be the only option available for the top line center position. This former first-round pick will have the rest of his year set as long as the Jackets hold onto Rick Nash and no one emerges to steal the top spot. He sits a 13% owned on Yahoo! despite having ten points in his last ten contests.
Filip Kuba (Ottawa Senators – D) – Kuba has come a long way from being jeered by the Sens' army not so long ago. He has re-established himself as a top four defenseman this season with a plus-19 rating which is 45 more pluses than he received last season. The Czech-native has been attached by the hip with Erik Karlsson and has fed off his exceptional offensive play. He has 13 points in his last 23 games along with six points coming on the powerplay. Kuba sits at 14% owned on Yahoo!
According to various news outlets, numerous goaltenders are being scouted on a nightly basis in hopes teams could find a quality number-one for the remainder of this season or even for a long term basis. Some intriguing cases involve the goaltending situations in Tampa Bay, Columbus, Washington, Toronto, Ottawa (pending Anderson's injury) and Philadelphia. At the deadline, names like Schneider, Bernier, Harding, Clemmensen and Montoya could benefit greatly personally from a trade and especially in the fantasy hockey world. If desperate for goaltending, it might be wise to add one or two of these players in hopes they are dealt to another squad where they will have a better chance to start more often than not.
Honourable Mentions (under 10% owned): Artem Anisimov (lined up with Gaborik/Stepan); Mikael Samuelsson (top powerplay unit); Kyle Wellwood & Alex Burmistrov (lined up with Evander Kane); Steve Sullivan (shifts with Staal, top powerplay unit); Justin Faulk (above average powerplay time); and Tim Brent (top powerplay).
Honourable Mentions (under 25% owned): Bryan Little (six points in last three); RJ Umberger (will receive an upgrade in ice time after the departure of Carter and Vermette); David Booth (lined up with Ryan Kesler and second powerplay time); David Desharnais (top powerplay and even strength time); Devin Setoguchi (seven points in last seven); Patrik Berglund (ten points in last thirteen) and Tyler Bozak (between Kessel and Lupul).