Common sense says that offensive zone starts are a good thing. In the midst of a five-game point streak, the Philadelphia Flyers have seen quite the increase in that department. But who would've held out hope that this Flyers defense would be a major factor in aiding those numbers?
A Collective Effort
Saturday's 5-1 win over the Carolina Hurricanes marked the third straight game the Flyers were over 50 percent in their fraction of offensive versus defensive zone starts. And while that threshold itself doesn't exclusively lead to an automatic victory, it's a positive trend for a team that still sits tied at 23rd in the league in that statistic.
Truth be told, it's been an overall collective effort. Solid forechecking has allowed the opportunistic offense to produce an on-ice shooting percentage above 10 percent in four of their last five games. Given the recent results, the Flyers are seeing the benefits of committing to Craig Berube's "defense-first" mentality.
"We had to become a better defensive hockey team, and when I say that, it doesn't mean just sitting back and defending," said Berube. "Defending starts in the offensive zone, and in my opinion, your forecheck, your reloads, your forwards, all that, your D's gaps. It's getting better and better."
The sudden improvement can be directly correlated with the emergence of Philly's third line, centered by Sean Couturier. The 22-year-old shutdown forward's six-game point streak has him oozing with confidence, which is growing with every opportunity.
"As a line, we started to find each other out there on the West Coast trip," said Couturier. "We're supporting each other more and creating turnovers on the forecheck. I think as a line, we're playing a lot better. We're creating a lot more."
https://twitter.com/TravisSBN/status/543833119380733953
Philly's third line was rewarded on Saturday with seven offensive zone starts, which in turn, rewarded the Flyers. Couturier added his second goal in as many games, while Matt Read added another helper – his third point in his last two games.
Couturier's recent spark has come despite facing the league's stiffest competition. The fourth-year veteran's career plus-11 rating in 234 NHL games demonstrates just how effective he's been on the defensive side. With an added emphasis on scoring heading into the season, though, Couturier's 15 points on the year is a significant step in the right direction considering he's taken 279 of his 573 faceoffs in the defensive zone.
While much of the Flyers' recent success can be attributed to their increase in secondary scoring, it's been their defensive approach that has led to the splurge in added scoring.
"It's a process that takes a while," Berube recently said. "We want to shoot the puck from everywhere. Again, it's part of playing defense. You make the team face their net. It's an important part of the game. It really is."
Matching Personnel
Berube has been consistent in this approach. Saturday's domination of Carolina marked the second straight healthy scratch for offensive defenseman Michael Del Zotto, and the sixth straight game teammate Vinny Lecavalier shared the same fate. And since it's defense that Berube wants, the numbers back the head coach's recent decisions.
Although Del Zotto has appeared in more games than those shown, we see multiple things that factor into past trends for these skaters. For starters, we see the value in Scott Laughton, who has replaced Lecavalier on the Flyers' second line. And even though Lecavalier is considered a power play specialist, his overall drop in production makes dressing Laughton in his place a no-brainer.
"With (Matt) Read and (Sean) Couturier and (R.J.) Umberger playing the way they have been and (Scott) Laughton and (Brayden) Schenn and (Wayne) Simmonds are always a threat out there for me," Berube added. "Laughton, to me, is getting better and better. I like the way the lines are right now."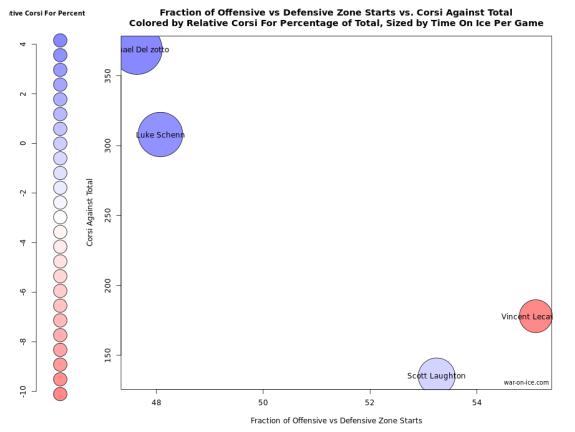 Based off the chart above, it's easy to see why. Not only is Laughton taking fewer offensive zone starts than Lecavalier has in 16 games, the 20-year-old rookie's relative Corsi-for percentage is better as well. Add in Laughton's growing chemistry with Simmonds (six points in last five games) and Brayden Schenn (five points in last five games), and the thought of tinkering with the second line seems absurd.
The problem for Lecavalier isn't necessarily the lack of need for his services on the second line. At this rate, it's apparent he'd be satisfied skating with Zac Rinaldo and Chris VandeVelde on the fourth line. If it means dressing, it's safe to assume Lecavalier would take it. But given the fact that Pierre-Edouard Bellemare plays against better competition with a better relative Corsi-for percentage, and sees more defensive zone starts, the fourth line is clearly not a match for Lecavalier either.
Lecavalier's minus-10.1 relative Corsi-for percentage this season further demonstrates how he doesn't fit into a lineup that is predicated on playing defense. And since much of the team's attention is, again, locked on defense, it comes as no surprise to see Luke Schenn back in the mix. It's a move that's split among popular opinion, despite the results of the past two games.
Berube was raving about Luke Schenn's play the last few games after #Flyers practice today.

— Randy Miller (@RandyJMiller) December 15, 2014
In addition to two straight wins with Schenn in the lineup, the 25-year-old blue liner has blocked 10 shots since returning from his brief hiatus. Those team-leading totals over the past two games are part of the team's 45 blocked shots. And while Del Zotto has been asked to carry a heavier workload than Schenn, it's a trade-off that seems to be benefitting the entire defensive unit.
The defensive pairing of Braydon Coburn and Nick Schultz finished at plus-three. Nicklas Grossmann shared a game-high four credited hits with forward Zac Rinaldo and blocked four shots in 20:25 of ice time. Luke Schenn had a game-high six blocks among 24 for the team.

The Flyers attempted 48 shots in the game. Twenty-three made it on net, 12 got blocked, and 13 missed the net. Carolina attempted 66 shots — heavily weighted to the latter part of the game, when they were getting blown out on the scoreboard — and got 26 on net with 24 getting blocked and 16 missing the net. — Bill Meltzer, Hockey Buzz
The Flyers have effectively gone about this "defense-first" approach against a pair of subpar teams, of course, in New Jersey and Carolina. A better measuring stick waits ahead in the 19-9-3 Tampa Bay Lightning. But with confidence in hand, the popular saying by Richard Bach could prove to be true with the Flyers.
"Sooner or later, those who win are those who think they can."
Andy is a contributor for The Hockey Writers, covering the Philadelphia Flyers. He holds a Bachelor's Degree in Communications from Walsh University. He enjoys spending time with his family, golfing, and reading. He is married with a daughter. You can follow Andy on Twitter @ADudones.