Don't believe everything you hear, see, or read a wise old man once said. That age old expression does a lot of justice to the Ilya Bryzgalov bashing that is taking place in newspapers and on websites internationally following the Flyers 4-1 series loss to the Devils.
A lot of these rumblings would have you believe that Bryzgalov is the worst thing to happen to the Flyers in ages and that he single handedly cost the Flyers the playoffs. Here's the problem: These claims are dead wrong. They're not even close to being right. The sad part is some of these mistruths are coming from well respected national columnists.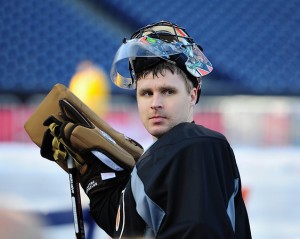 Was Ilya Bryzgalov a great goaltender this postseason? No. Did Bryzgalov end up stealing a game for the Flyers? Nope. Was losing the series against New Jersey his fault? Absolutely not.
Let's examine one of the many inaccurate stances out there:
"Bryzgalov cost the Flyers tonight in Game 5. That Clarkson goal can't happen!"
Yes, the Clarkson goal can't happen. But that wasn't the reason the Flyers lost Game 5. The Flyers once again succumbed to the Devils forecheck and got nothing going after their first goal of the game. They scored 1 goal. One. That is nowhere near acceptable when trying to win a playoff game at home. As former Flyer Rod Brind'Amour once told me, "You'll never see me complain about goaltending when we put one goal on the board."
Also, the Clarkson goal was probably Bryzgalov's first "bad" goal since Game 1. He was outstanding in Games 2-4 when the team was horrible in front of him. If 1 soft goal in 4 games was forecasted you'd probably predict the Flyers would be 3-1 or 4-0.
The Clarkson goal woke up a bunch of writers and fans that couldn't figure out who to make their scapegoat in Games 2-4 so when Bryz finally let in a bad one out came the old tired jokes about outer space again.
After Bryzgalov let up a goal that tied the game, the bashers were all over him. You had a feeling Bryzgalov would be attacked for any goal, no matter what. Even TSN's Bob McKenzie, who I have much respect for, said he felt it wasn't a great goal, using the term "flutter ball" to describe it. Obviously, I'd have to respectfully disagree there. How can you blame Bryzgalov on this clear redirection off of Wayne Simmonds' stick?
Bryce Salvador's Game 5 Goal

Second Popular Stance:
"Ilya Bryzgalov didn't steal a game."
Yes, Ilya Bryzgalov didn't steal a game. Correct. But he sure as hell put the Flyers into a position to steal one. His teammates gave him virtually no support for the majority of these games. He was outstanding in Games 2, 3, and 4. Go watch Game 4 over again in its entirety and let me know if you think that game should have been 4-2 Devils or 10-2 Devils.
The bottom line is the Flyers had a chance to win every game in this series and they just didn't get it done. They couldn't figure out the Devils forecheck and they couldn't figure out how to get more chances on Martin Brodeur who looked far from comfortable during the series.
Bryzgalov's save percentage in the series against New Jersey was .902, which is not where you need your goalie to be. However, with the way the Flyers played in this series, they are lucky the series wasn't a complete blowout. He was hung out to dry in Games 2-4 and at times in Game 5. Bryzgalov was by far the only reason the Flyers had any chance to win Games 3 and 4 in New Jersey.
As for the people that like to blame Bryzgalov for everything under the sun including the cold they may wake up with tomorrow, they will have you believe Bryzgalov truly is the guy who had a save percentage closer to .800 than .900 in the Pittsburgh series. However, do you believe Marc-Andre Fleury was that bad? I'm guessing the answer is no. And if it is, it's highly likely that Bryz's play was strongly affected by that crazy weird pond hockey style both teams were playing with in that series.
After a very inconsistent chunk of the season, Bryzgalov finished the regular season strong and overall played well in the New Jersey series. Following the Flyers Game 1 win where Bryzgalov let up a couple of questionable goals, Bryzgalov really only let in 1 soft goal which was the Clarkson goal in Game 5.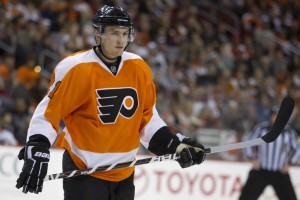 The scapegoat should be the Flyers team that seemed to quit after the bad Clarkson goal made it 2-1. The effort was extremely poor, and when the Flyers still had a chance to come back and tie the game, forward James van Riemsdyk (who had an abysmal performance resulting in a -2 and only 10 minutes of ice time) took an incredibly lazy penalty that resulted in the killer goal that made the score 3-1 New Jersey.
Van Riemsdyk wasn't alone. The reason the Flyers were eliminated against New Jersey was because the team played absolutely horrible and couldn't adjust to the Devils forecheck and defensive scheme. They were totally outworked every game except for Game 1. Give a lot of credit to Devils head coach Pete DeBoer. Whatever the Devils were doing neither the Flyers nor head coach Peter Laviolette could figure out how to counter it at all.
Don't mistake this article for tooting Ilya Bryzgalov's horn. We have been very critical of Bryzgalov on this site and in our articles during the year when he deserved it. But it's not bright to take the coward's way out and use Bryz as a scapegoat just because it's funny or cute to mock him while throwing in snide and clever remarks about the universe, thermoses, or his humongous strange sense of humor. It's just flat out embarrassing "journalism," and it's lazy.
Overall, Bryzgalov gets a bad grade for the season. He failed to end the Flyers goalie questions due to inconsistency. However, I was wrong in my series preview article. I said if Bryz played well the Flyers would win the series. He did, and they didn't. Ilya Bryzgalov had almost nothing to do with the outcome of this series against New Jersey. We never thought that'd be the case, but it was.
Bryzgalov will get another crack at it with the Flyers next year. 2012-13 should be a very telling year and a year that Bryzgalov deserves to try to prove everyone wrong. The last time Bryzgalov had a bad year in 2008-09, he bounced back with two pretty darn good years in a row where the Coyotes made the playoffs and he had a regular season save percentage over .920% each year.
The facts are now out there. Believe at your own risk. You can continue to feed into the propaganda that goes along with the Ilya Bryzgalov smear campaign, or you can say, "To the moon, Alice!" to all of those bad and inaccurate outer space Bryzgalov stories. It's up to you.