Halloween is only a month away, but the Philadelphia Flyers scared the snot of out most of the hockey world early Monday morning. The team welcomed their new mascot, Gritty, a seven-foot tall, fuzzy, orange creature at the city's Please Touch Museum in front of 600 students, the majority of which feared for their lives.
Join us in welcoming the newest member of the #Flyers Family, @GrittyNHL!!

Learn more about Gritty: https://t.co/eQRwTtD54w pic.twitter.com/njHQO1824b

— Philadelphia Flyers (@NHLFlyers) September 24, 2018
The nightmare-inducing mascot is a mashup of Animal from The Muppets, Flyer forward Jakub Voracek, Brent Burns of the San Jose Sharks and Youppi, the Montreal Canadiens' mascot. On one hand, Gritty is friendly, with a rotund, jolly belly and squeaky belly button. However, his gangly free-flowing locks, playoff-ready hipster beard and googly Cookie Monster eyes are equal parts oddly hypnotic and scary. He'll be a living "Nightmare on Broad Street."
Some believe the furry Godzilla is the child of Animal and the McDonald's character Grimace. Other's believe he's the offspring of Sasquatch and The Hamburglar. There's also a theory that Gritty's parents are the Abominable Snowman and the Heat Miser. Regardless, it appears he's been swimming in a pool of liquefied Doritos and Cheetos. Nothing else can explain his vibrant orange color or perma-smile. Sources say Gritty can not only skate and play hockey, but also has the ability to blow smoke out of his ears. With a generous chin rug like his, one could also expect him to jam with ZZ Top.
Gritty's Evolution
The Flyers say Gritty was uncovered during the construction project that is currently taking place at the Wells Fargo Center. He was forced from his secret hideout and decided to join civilian life again. Witnesses have seen the creepy hairball eating snow directly from the arena's Zamboni. Apparently, he can also eat hot dogs by the handful, faster than noted dog-lovin' Pittsburgh Penguins forward Phil Kessel.
According to his web site: His father was a "bully," so naturally he has some of those tendencies – talented but feisty, a fierce competitor, known for his agility given his size. He's loyal but mischievous; the ultimate Flyers fan who loves the orange and black, but is unwelcoming to anyone who opposes his team. Legend has it he earned the name "Gritty" for possessing an attitude so similar to the team he follows.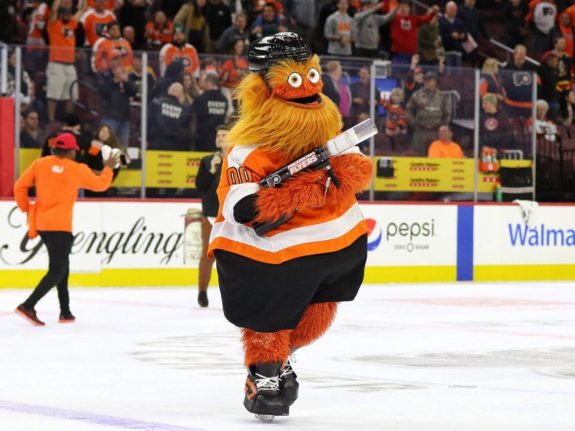 One theory of Gritty's evolution states that the vibrant orange-haired monstrosity was born on Sesame Street and failed his ABCs. Homeless and alone, he began experimenting with drugs. After attending a rehab facility for nearly a year, the fur ball is now clean and ready to re-enter mainstream life again. However, his eyes remain that of an addict, the result of countless ragers that cannot be undone. When General Manager Ron Hextall reached out and offered him the position, he couldn't turn it down.
Gettin' Gritty in the Community
Gritty made his game debut Monday night when the Flyers hosted the Boston Bruins at the Wells Fargo Center. The night started rough as he took a tumble to the ice, but eventually the mascot got Gritty Wit It. He wasn't enough to help rally his team as the Flyers fell 4-3 to the Bruins. It was a busy day for the big… thing. He quickly posted a message before heading to bed. From here on out, he'll be a fixture in the greater Philadelphia region, embracing the Flyers community.
friend: "cheesesteaks are overrated"

me: pic.twitter.com/VbIZxdXyTh

— NHL on NBC Sports (@NHLonNBCSports) September 24, 2018
"We are proud to introduce Gritty and welcome a full-time mascot program to our community engagement initiatives," said Shawn Tilger, chief operating officer for the Flyers. "First and foremost, the Flyers [added] a mascot specifically for our young fans, and we're excited to add value to their experience both at games and in their communities. We see this as a natural progression to keep us active year-round in and outside of our sport."
The Flyers organization claimed that they worked with character branding consultant Dave Raymond, the original Phillies Phanatic, while developing ideas for a mascot during the 2017-18 regular season. More than 100 different designs were considered for Gritty before deciding on the one that looks like Los Angeles Dodgers' third baseman, Justin Turner. No doubt the gnarly-haired Gritty will scare countless innocent youth at hospitals, charity events and schools wherever he attends. They'll forever sleep with one eye open.
Philly's History of Characters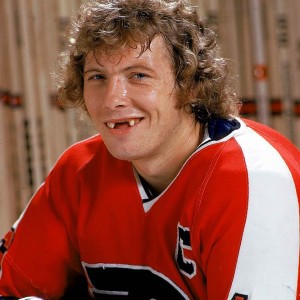 The Flyers have a history of toughness, with players like Dave "The Hammer" Schultz, Bob Kelly, Bobby Clarke and Andre "Moose" Dupont. Gritty should fit right in.
The shaggy, ginger-colored freak also joins an entire family of Philadelphia mascots. There's baseball's "Phillie Phanatic," football's "Swoop," basketball's "Franklin," soccer's "Phang" and arena football's "Soul Man."
"If you look around the league, 29 of the 31 teams have mascots," Tilger told Deadspin at the event. "We realized how important it is to have an extra voice in the community—especially one that can have an attachment to kids. Looking at the smiles on these kids' faces, I know we did the right thing."
In 1976, the Flyers had a mascot by the name of Slapshot. He lasted less than one year. Those in the know know better than to mention his name.
Jeff has been covering the NHL for over a decade for various sites. He's been with The Hockey Writers as a lead Sabres writer three years, while also writing a satire column called "Off the Crossbar."