After losing Brian Elliott for five to six weeks with an injury, the Flyers faced a goalie gap. That gap grew when Michal Neuvirth was taken out of the game after giving up three goals in the first period to the New York Rangers. He suffered a lower-body injury and it is uncertain how much time he will miss.
The Flyers were down to their No. 3 goaltender in Alex Lyon, who was very good against the Rangers in relief for Neuvirth. He allowed only one goal and earned his first NHL victory in the 7-4 victory. The Flyers were in desperate need of goaltender depth.
Depth and talent is what general manager Ron Hextall got late Monday night on the team's off day. After expecting to be quiet around the trade deadline, Hextall's hand was forced to deal for a goaltender. The Flyers acquired Red Wings goaltender Petr Mrazek in exchange for a conditional 4th Round pick in 2018 and a conditional 3rd Round pick in 2019.
The #Flyers have acquired G Petr Mrazek from the @DetroitRedWings in exchange for a conditional 4th round draft pick in the 2018 NHL Draft and a conditional 3rd round draft pick in 2019. https://t.co/h3rlewulta

— Philadelphia Flyers (@NHLFlyers) February 20, 2018
The Flyers have their goaltender for the stretch run.
Hextall Deals for Petr Mrazek
Ron Hextall has made some excellent moves as GM of the Flyers. He did trade away Brayden Schenn, which is a hot topic of debate among fans and hockey enthusiasts, but overall he has been good through his first three years with the team. This is another move that will boost Hextall's resume and status with the fanbase.
While Alex Lyon has shown signs of promise, relying on him as the No.1 goaltender down the stretch without a reliable backup was not practical, so Hextall made the deal for a young, veteran goaltender who has playoff experience. This, reportedly, comes after the Flyers turned down a deal with the Red Wings for Mrazek because Detroit wanted a third-round pick. Getting Petr Mrazek for two draft picks in different years is a great move by Hextall, especially considering the team's situation.
Mrazek played a career-high 54 games in the 2015-16 season but has been a backup to Jimmy Howard for most of his career. He has started 145 games, winning 72 of them. He has a career goal against average of 2.60 and a save percentage of .912. This season he is 8-7-3 in 22 games played with a 2.89 GAA and .910 Sv%.
He provides security for the Flyers as a stable goaltender who will play consistently and keep them in games while Elliott and Neuvirth get healthy. He has 13 shutouts for his career, so he is more than capable of dazzling the crowd and saving the defense with exceptional play. Playing at or above the level of Brian Elliott is what the Flyers are looking for, and Mrazek can provide that.
Mrazek's Future With the Flyers
Currently, the new member of the Orange and Black is viewed as a rental player as the Flyers are in a good position to make the playoffs. Mrazek comes into Philly making $2 million this season and will be a restricted free agent in the summer. With Elliott and Neuvirth both under contract next season and Carter Hart waiting in the Flyers system, it's logical to think that Mrazek will be with another team next year.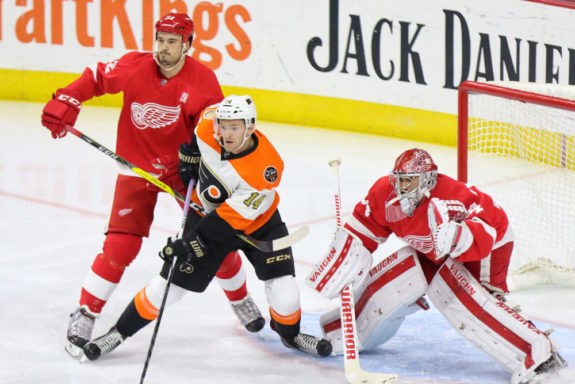 Carrying three goaltenders is a possibility for the Flyers. Given the injury history of both Elliott and Neuvirth, having a solidified backup for one of them would be a smart safety net to have. Mrazek is a quality goaltender more than capable of competing for a No.1 spot on this team. Do the Flyers want to sign him and have a goaltender battle to begin next season? Do they try to trade one of the other goalies to make room on the roster for Mrazek? Is Mrazek truly a rental for this season because Hextall believes this team can win now?
Ultimately, it will come down to how well he plays in the final month and a half of the regular season and, potentially, in the postseason. His immediate future with the team is being the top goaltender who handles the bulk of the starts. From there, it will be up to the newest Flyer to keep this team on the path toward the playoffs. They have been rolling as of late and need a quality netminder that spews confidence to keep the pace.
Alex Lyon Still a Key Player
It was a great night for Lyon after the 7-4 victory over the Rangers in New York Sunday afternoon. He picked up his first NHL win and was viewed as the new No.1 on the depth chart after Neuvirth's injury. Before the puck drops again, he is back to being a backup.
His role with the team is still crucial. Being a backup does not mean he won't play, especially early on. The Flyers play the Canadiens Wednesday and it would be very surprising if Lyon was not the starting goaltender for that game. The Flyers will still need him to play with consistency and grow from that Rangers game.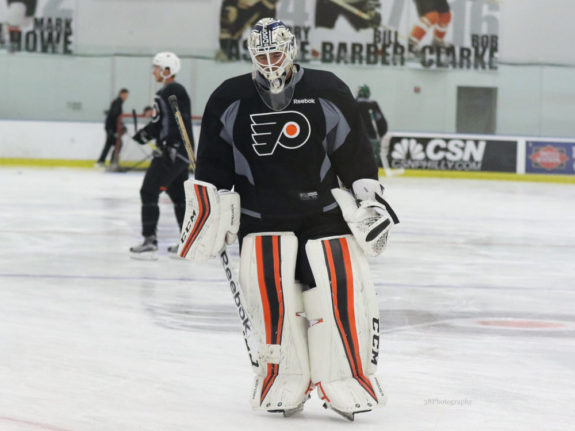 Lyon has had a great attitude this season through all the goaltender uncertainty. He takes each game and each day one at a time. He recognizes that in the NHL, anything can happen. Before the trade was made, he was asked about being relied on moving forward. His response was one of an intelligent and realistic young man — he said he would do whatever the Flyers need him to do. If that is to play every game, then he will be ready. He also mentioned that the team could trade for two new goalies and send him back down to the minors. That's why he takes it one day at a time.
Lyon is also in a contract year. He will be a restricted free agent this summer, too. The Flyers have will have some more questions to answer at goaltender, but right now they are at least solidified.
Two healthy goaltenders are wearing Orange and Black. A new No.1 has arrived in Philadelphia.