There were a handful of players who made their NHL debuts last season for the Philadelphia Flyers.
Some of the rookies proved they deserved to stick around and developed into regular contributors. Meanwhile, others showed they still required extra seasoning with the Lehigh Valley Phantoms in the American Hockey League and had short stints with the parent club.
The guys that left lasting first impressions are ready to take the next step in their careers. With the rookie label officially removed, they will look to solidify themselves as bonafide NHL players.
Let's take a look at three second-year players who are expected to have a big impact this season for the Flyers. We will review each player's 2019-20 season and then give a preview of where they fit this season.
Philippe Myers
The tall and physical defenseman arrived on the scene with much anticipation from the organization and fan base. Ever since he was signed as an undrafted free agent in 2015, the Moncton, New Brunswick, native left the front office drooling over his potential.
When Myers finally arrived in the second half of the 2018-19 season, he didn't disappoint. In 21 games, Myers had a goal, an assist, and was a minus-5 while logging 15 minutes a game. Although it was a small sample size, he established himself as a future starter and impact player on the blue line.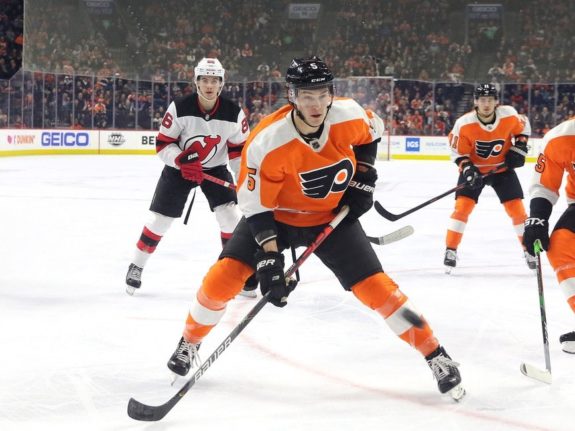 Myers, who was considered a rookie in 2019-20 because he didn't meet the minimum threshold of playing 25 games to qualify as a second-year player, opened the season with the Phantoms due to a numbers crunch. However, he was called up on Halloween – and never looked back.
He started on the third defense pairing and midway through the season was bumped to the second pair alongside Travis Sanheim. At 6-foot-5, 212 pounds, Myers exhibits deceptive speed, is sound defensively, has a heavy right-handed shot, and plays with a nastiness the team has recently lacked. In 50 games, he finished with four goals, 12 assists and was a plus-17.
He would have missed most of the Stanley Cup Playoffs had the league not shut down due to the COVID-19 pandemic. Myers suffered a fractured patella in the second-to-last game before play was suspended.    He returned fully recovered and had three goals, an assist, and was a plus-2 in 16 postseason games.
With the sudden announcement of Matt Niskanen's retirement in October, Myers is a candidate to join Ivan Provorov on the top pairing this season. Despite having just 71 NHL games on his resume, He could be a good fit and strong complement to Provorov.
Regardless of what line he lands on, the Flyers see a bright and long future for him.
Joel Farabee
The 2018 first-round draft pick quickly found his way to the Flyers. After spending one year playing for Boston University, Farabee nearly made the Flyers out of training camp last season.
Instead, he began his professional career with the Phantoms. It lasted five games.
He was called up to the Flyers on Oct. 21 and remained with the team for the rest of the season except for 10 days in late February due to roster constraints after the trade deadline. Make no mistake, though, Farabee's days in the AHL appear over for good.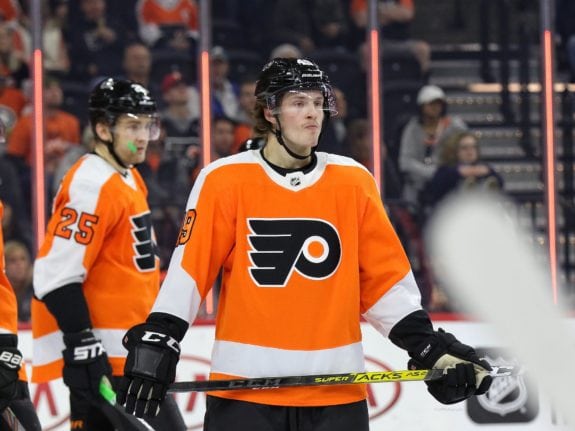 While he was inconsistent on the stat sheet – there were two 13-game goalless streaks – Farabee earned the trust of coach Alain Vigneault at both ends of the ice. The winger is crafty with the puck, has an above-average shot, and can hold his own in the defensive end.
Despite his offensive droughts, the 14th overall pick finished with eight goals and 13 assists in 52 games. He was a plus-6 and averaged about 14 minutes a night playing on the second, third, and fourth lines.
This season, he should find a home on the second or third line. Farabee has a left-handed shot but is versatile enough to play on either side of the ice.
If the 20-year-old continues to progress as the Flyers hope and is more consistent offensively, Farabee could crack the 20-goal mark in his sophomore season and find a spot on one of the penalty kill units.
Nicolas Aube-Kubel
Known as NAK, the 5-foot-11 right-winger quietly emerged as a reliable bottom-six player last season. After joining the Flyers in December, his quickness, tenacity, and physicality, especially in the corners, earned him regular playing time on the third and fourth lines.
A gifted scorer in the minors and juniors, NAK had seven goals and eight assists in 36 games in 2019-20. In 13 playoff contests, he tallied two goals and an assist in nearly 12 minutes of ice time.
His spot on the roster is safe this season. The second-round draft pick in 2014 is likely penciled in on the fourth line.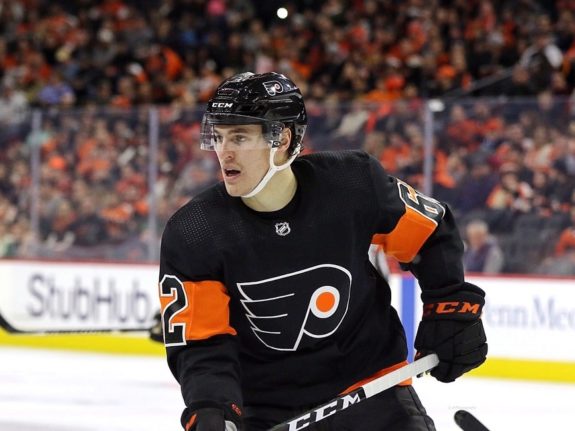 The team wouldn't mind extra offensive production (15 goals would be considered more than acceptable), but Vigneault is looking for more of the same from last season from Aube-Kubel. As long as he continues to wreak havoc along the boards, win 50-50 battles, throw his body around, contribute on the penalty kill, and add in a sprinkle of offense, he will stay in the lineup on a nightly basis.
The Flyers have a promising stable of young players who got their first taste, albeit a small one, of the NHL last year. A couple of them, including Morgan Frost, Connor Bunnaman, and Mark Friedman, may make a giant leap this season.
However, Myers, Farabee, and Aube-Kubel are ahead of that group and have already established themselves as either rising stars or as a legitimate NHL player.
---
---