The Philadelphia Flyers lost their fourth game in five tries on Thursday night and their second straight game against their former head coach Dave Hakstol and the Seattle Kraken. The longshot playoff hopes in the first season of the John Tortorella era now seem even more unrealistic than they did before the All-Star Break, and the Flyers will likely deal with some moving parts in the lineup as the 2023 Trade Deadline approaches.
Trade Rumors: van Riemsdyk, Konecny, Seeler
Only two weeks remain before the 2023 Trade Deadline, and rumors are swirling. Elliotte Friedman and Jeff Marek spoke on the 32 Thoughts podcast about potential moves the Flyers could make. James van Riemsdyk still looks like the likeliest player to leave Philadelphia. Friedman mentioned the 33-year-old winger as a possible consolation option for teams who miss out on top available players like Timo Meier or Patrick Kane.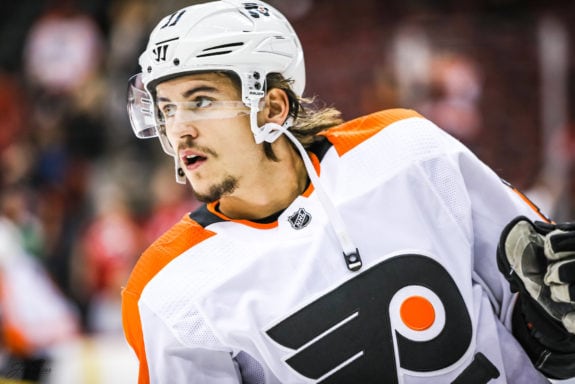 Kelly McCrimmon and the always-aggressive Vegas Golden Knights will look for any and every way to utilize their remaining cap space. The Winnipeg Jets also make sense as a trade destination because they have a preference for acquiring players on expiring contracts who don't command as much in return. Charlie O'Connor estimates that a return package would include a second-round pick at best and a fourth-round pick with additional sweeteners at worst (from The Athletic, What's a realistic return for Flyers in a James van Riemsdyk trade?, 2/16/23).
The Flyers will not trade Travis Konecny without an exorbitant offer. The seventh-year winger has grown into a key part of the leadership group under Tortorella, and the organization values his competitive spirit and effort on the penalty kill. Whether they have a true need for him or not while they're years away from legitimate contention, the Flyers will use Konecny as a top-line player for the foreseeable future.
Related: Tortorella, Fletcher Developing Complicated Power Dynamic with Flyers
---
Latest News & Highlights
---
Friedman and Marek also threw the lesser-known Nick Seeler into the trade rumor mill. The 29-year-old blueliner has found a solid rhythm as a lineup regular in 2022-23 on the third defensive pair. He is one of only three Flyers with a positive share of the expected goals at 5-on-5, and he makes only $775,000 in average annual value through 2023-24.
His physicality in board battles in the defensive zone could be more appealing to a playoff contender than an option like Justin Braun who has played just three games since New Year's Day. Tortorella has acknowledged the reality that neither defenseman factors into the long-term plans of the organization. While Seeler makes sense as a depth option for a contender, the Flyers cannot expect to receive a substantial return package.
Travis Konecny Slump
Konecny scored a hat trick against the Washington Capitals on Jan. 11 at the Wells Fargo Center. The dynamic performance gave him 20 points in a 10-game stretch spanning back to Dec. 20. He took a crashing fall back to Earth with no goals and three assists in his next 13 games. His drought became more noticeable in the team's recent offensive rough patch with eight goals in their last five games.
He finally broke through with two goals in the third period of a 6-2 blowout loss to the Kraken. The first goal was his 25th of the season, which set a new career high.
"You can tell TK's (Konecny is) trying. He had some chances. When he went on that streak the puck was following him around. Right now, it's a little bit difficult for him," Tortorella said after a loss against the Nashville Predators on Feb. 11. "I think that's all TK needs is for something to bounce off him and I think he'll feel better. We certainly need him and a couple of other guys, but until then we can't get frustrated and that's my worry. At this time of year, guys getting frustrated because they want to help the team so badly offensively."
The stroke of good fortune might push Konecny into a better rhythm. He looked frustrated and ineffective on the ice at points during the 2020-21 and 2021-22 seasons when he struggled to score, and positive momentum is important for him as a player. A reasonable level of confidence should help him return to a more sustainable scoring pace.
While Konecny plays an aggressive game and an effective shorthanded style, he was due for regression offensively. His underwhelming 44.80 xGF% isn't characteristic of a superstar scorer on the top line of a contending NHL team, and his shooting percentage (SH%) was north of 20% at the height of his scoring surge. The rate has dropped to 15.5 for the season. 
Comcast Shake-up
Comcast Spectacor named Dan Hilferty their new Chief Executive Officer (CEO) on Feb. 14. Dave Scott, who previously held the title, is now the company's chairman.
"It's an honor to have this opportunity to be a part of Comcast Spectacor. As a longtime Philadelphian who has admired the company for decades and is a tenacious Flyers fan, I'm excited about Comcast Spectacor and its future. I look forward to working with Dave (Scott) and (President & CEO of Spectacor Sports & Entertainment) Valerie (Camillo) and the many other talented leaders of this storied organization," Hilferty said.

Hilferty will likely have more impact on other sports ventures of the company than the short-term operations of the Flyers. However, he is a renowned businessman in the Philadelphia area who formerly served as the CEO of Independence Blue Cross. He has been prominent in the advancement of Saint Joseph's University and Jesuit initiatives while maintaining an excellent reputation in the local community throughout his long career. 
The morale of the fan base in Philadelphia has never been lower, and many have called for major changes to the front office and within the ownership group. While Hilferty might not be the immediate change fans are demanding, adding a reputable leader to the top of a struggling organization is never a bad thing.
Tortorella, Goaltenders
Philadelphia is made for goaltending controversy. The Flyers recalled Sam Ersson for their trip to the West Coast despite the fact that Felix Sandström is still on the active roster. It's unusual for an NHL team to carry three goalies, but Tortorella doesn't usually worry about following the norm.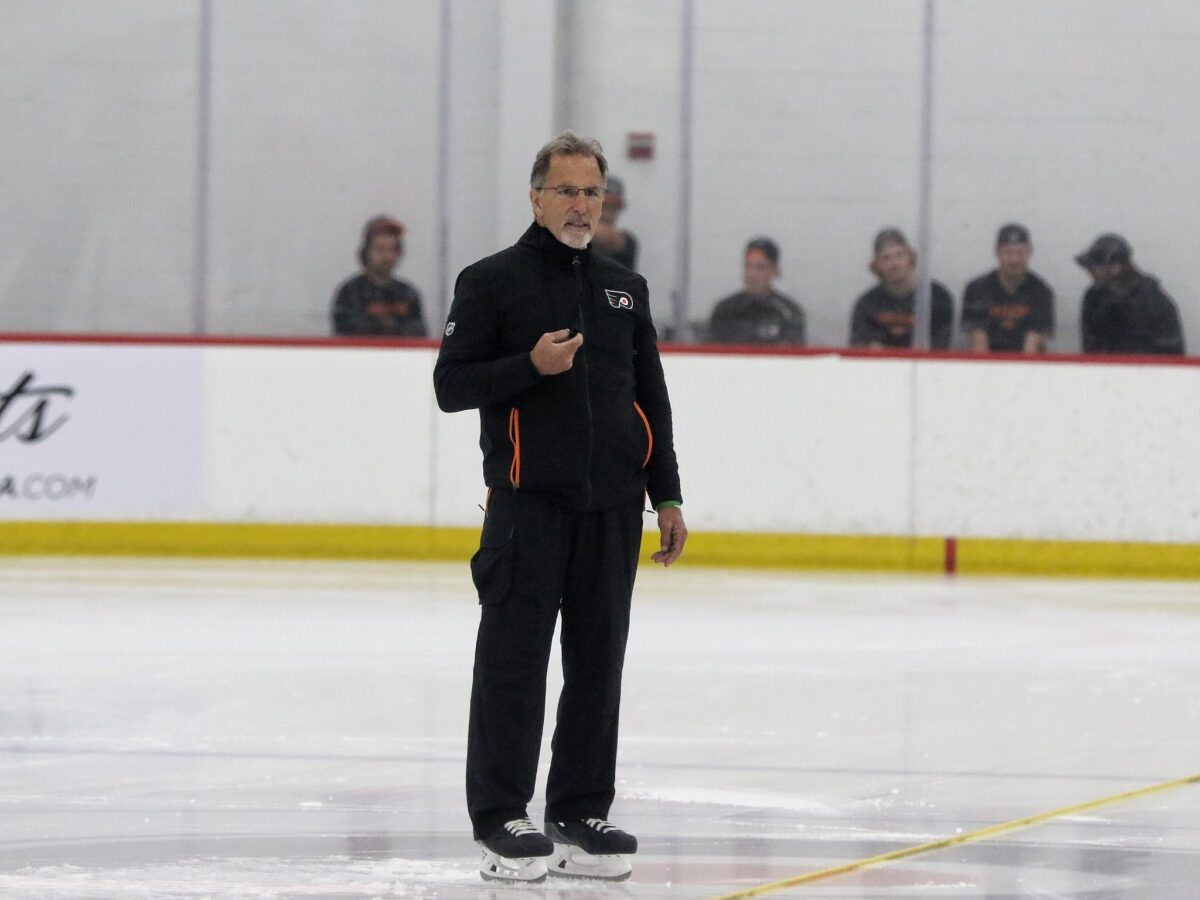 "If I don't play Carter (Hart), Ers(son) will be the guy. I consider him our backup. I think he's been our best goalie quite honestly right on through camp. Now, we've got some health going on down there (in the American Hockey League) with (Troy) Grosenick coming back. With Sandy (Sandström), I just don't think he's played well enough. I think Ers(son) deserves to be the number two guy. He will be the number two guy," Tortorella said.
The Flyers sent Ersson to Lehigh Valley on Jan. 20 largely because the organization didn't want to risk optioning Sandström, who would've had to pass through waivers, instead. Tortorella essentially overrode general manager (GM) Chuck Fletcher by using the "rebuild" terminology in a power struggle coming out of the All-Star Break. He will now get what he wished for in his backup goaltender. He is gaining more autonomy in the organization as he accumulates more time in Philadelphia.
Tortorella gave Carter Hart the hook midway through the loss against the Kraken. Ersson saved nine of the 11 shots he faced in relief.
All advanced stats apply to 5-on-5 play, courtesy of Natural Stat Trick.