case with Christian Folin
, the Flyers were one of the teams that were highly interested in the defenseman's services.  They weren't willing to offer the contract Folin wanted, so the Umass-Lowell product
signed a deal with Minnesota
instead.
Where one door closes, another door opens.
The city of Philadelphia hosted the NCAA's Frozen Four tournament that saw Union College win the National Championship.  While the talk of the town was Flyers' prospect Shayne Gostisbehere, there was another defenseman on the Dutchmen that really stood out.  Senior Mat Bodie had a very impressive showing and has been Gostisbehere's defensive partner all season long.
In the two games he played in Philadelphia, Bodie almost never made a mistake and was completely poised with the puck.  Rarely, if at all, was he caught out of position even against top opponents like Boston College and Minnesota.  A cerebral player, Bodie likely isn't ever going to become a top pairing defenseman, but he has all the tools to be a reliable 2nd or 3rd pairing blueliner.  After speaking to him, you can tell by the way he carries himself on and off the ice, he's mature far beyond his years.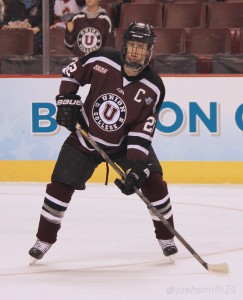 Ken Schott is a hockey writer for the Daily Gazette in Schenectady, NY who has covered Bodie during his time at Union College.  He had this to say about Bodie's game:
"Mat is a very good offensive defenseman.  He has a hard slap shot and he is very patient when it comes to moving the puck. He seems to see the ice very well.  I don't think he is the greatest of skaters, but he makes up for that in smarts and knowing when to make the right moves.

He has been Union's captain the last two years, and he matured into that role. That was one of the keys to Union's success this season.  The one thing that I would be concerned with is sometimes he does tend to get too cute with the puck in the defensive zone when he has plenty of time to move the puck."
With Shayne Gostisbehere already drafted by the Flyers, Philadelphia may have an upper hand in recruiting Shayne's better half.

Right now, Bodie is probably having a grand ol' time up in Schenectady with his teammates and fans, but he's likely going to be a hot commodity for NHL teams looking for a young, promising, smart defender.  Philadelphia should (and likely is) one of the teams that will come calling for Bodie's services.

Follow Shawn on Twitter: @ShawnTHW

Whenever there is a big-name college player available to be signed right out of the NCAA, the Philadelphia Flyers always seem to be buzzing around as favorites to land the coveted prospects.  As was the