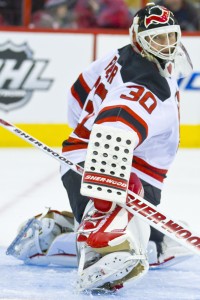 The name is synonymous with goaltending. Brodeur. As Martin Brodeur reaches the twilight of his NHL career, another one may just be ready to take his place. His son, Anthony Brodeur, is a high school goaltender up in Minnesota and he is draft eligible this year. What other fitting places would Anthony Brodeur hear his name be called than the place the elder Brodeur has called home for 21 NHL seasons.
However, is he ready for the big stage? Does he even want to play in the NHL right now?
Anthony, who just turned 18 on June 8, just completed his senior season at Shattuck-St. Mary's Prep in Minnesota. Brodeur went 21-5-2 with a GAA of 2.48 and a .923 save percentage while sharing time with another goaltender. Brodeur almost led his team to the Tier 1 Under-18 national title, but lost in the semifinals.
When asked about the comparison between he and his father, Anthony said,
"I think we have the same style. I look a lot like him when I am in net, but I might play a little more butterfly than he does. I think the most common thing for me is how we're both pretty composed in net. I've worked on that a lot lately and it has helped my game a ton.

"I am starting to work on playing the puck more and more and hope to one day be as good as he is with that."
That's also one thing that could hinder Anthony's growth, the desire to emulate his father. No one can emulate Martin Brodeur. He is arguably the greatest goaltender in the history of the NHL and Anthony has to forge his own road to the NHL.
Brodeur's high school coach Tom Ward said,
"Brodeur's sons have grown up watching him on TV, so they don't know any different. He's just 'Dad' to them, and that's good. There's no extra pressure. Only when Marty is in the stands watching does Anthony feel as though he has to be Jacques Plante. That's the only hitch in his armor, but he'll get over that."
Ward also said that Anthony was offered a chance to play in the Quebec Major Junior Hockey League, but turned it down because he wants to play college hockey. Unlike his father, who took the Quebec Major Junior Hockey League route that was offered to Anthony, but college could be the best place for him at this time.
Anthony is still a very young goaltender with plenty of time to work on his craft. There really isn't much known about Anthony other than he Martin's son. I did however find this video exhibiting his goaltending skills.
Scouts say he could fall between the fourth and sixth rounds. It is completely possible that he goes undrafted, but the Devils last pick is in the sixth round and the team could just draft him for the name, like teams in the MLB Draft do.
That doesn't mean that Anthony won't be successful, not at all, but might not be ready at the pro level as of yet. Playing college hockey could do a world of wonders for him. If he plays like many expect him to in the NCAA, he could raise his stock and become a higher draft pick down the road.
If he jumps into the pro ranks too fast, it could be a story on what could've been rather than what is to come. Anthony needs to take his time and be patient and I believe he will do just that. Anthony has a good head on his shoulders and guidance from one of the greats, I'm sure he'll make the right decision and go to college.
Anthony has said that he will attend the NHL Draft with his family and some friends from Shattuck-St. Mary's in hopes that could witness his name being heard and enjoy his potentially special day.
Anthony said that he has a few different options on where to play next season. Whether that's college, overseas, or the NHL, Marty's son has a bright future and looks to give the New York Rangers some more Brodeur nightmares for years to come.