It's easy to forget at times that Aaron Ekblad is only 18 years old and is in his first NHL, let alone professional hockey, season. A year ago, Ekblad was suiting up against teenagers and now he his staring down the likes of Steven Stamkos and Phil Kessel in the Atlantic Division.
Yet, here is this 18 year old kid averaging 21:45 minutes a game on a traditionally weaker Florida Panthers squad. Ekblad has stiff competition in Nashville Predator forward Filip Forsberg for the coveted Calder Tropy, but Ekblad might also be putting his name into the ring of another prestigious award: the Norris Trophy.
The competition for that award is even stiffer, with Calgary's Mark Giordano playing out of his mind and perennial contenders in Shea Weber, Duncan Keith and Drew Doughty all having stellar seasons. But a Norris win for Aaron Ekblad isn't entirely out of the realm of possibility if he continues to perform as he has so far this season.
A Boy Playing a Man's Game
Young NHL defensemen usually take longer than forwards to get accustomed to the professional game. Not so for Aaron Ekblad as the budding superstar has found a home on Florida's top defensive pairing with Brian Campbell.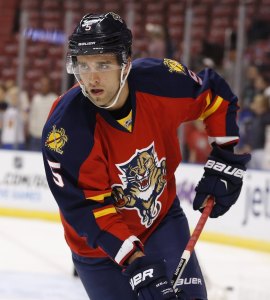 THW's own Shawn Reznik gave Ekblad a glowing scouting report coming out of junior.
He has the imposing physical frame, the poise a defenseman needs to move the puck up ice, and his vision and positioning are second to none. Ekblad's game is a perfect balance of offensive instinct and defensive awareness. Rarely will you find him out of position and is one of the toughest opponents to beat along the boards or in the front of the crease. – Shawn Reznik, THW
Size and defensive awareness are usually the common stumbling blocks for young defensemen coming from the more open game of major junior. But Ekblad, while with the Barrie Colts of the OHL, exhibited hockey IQ and physical ability beyond his years. In that sense then, it might not be as much a surprise that Ekblad has transitioned so well over to the professional game.
Despite his seeming maturity as a youngster, Ekblad's performance thus far is nonetheless impressive.
The All Important Point Production
Aaron Ekblad hasn't necessarily scored like a Norris Trophy candidate but is still putting up impressive numbers. Ekblad has 18 points this season, which places him tied for 10th in the NHL for defensemen and tied for first in scoring on the Florida Panthers.
Ekblad is also a plus 6 for second on the Panthers, a team which has a goal differential of -10. Ekblad is outpacing his teammates and is right up there with his fellow defensemen in overall scoring.
THIRD STAR: Rookie @Ekblad5FLA led all defensemen & tied for 4th in the NHL with six points (2-4—6) last week for the @FlaPanthers.

— NHL Public Relations (@PR_NHL) December 8, 2014
The fancy stats also tell us a very positive tale of Ekblad's performance thus far. He boasts a 5 on 5 corsi for percentage of 52.3. Compare that to Norris front-runners Mark Giordano, who has a corsi for of 47.5, as well as Shea Weber, with 49.3, and Ekblad is pacing the perennial top defensemen of the league.
The difference between those players and Ekblad, however, is that Giordano and Weber play more for their team in every situation. Giordano and Weber have played 525 and 490 minutes respectively so far, against Ekblad's 428. Ekblad does get some special teams opportunities, and I would expect Head Coach Gerard Gallant's reliance on the young defenseman to grow as the season progresses.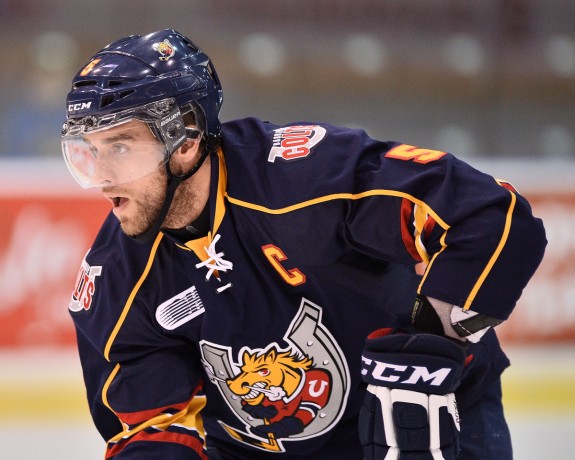 Part of the reason Giordano is almost unanimously seen as the Norris front-runner is that his Calgary Flames have surprised many so far with their play. Don't forget that as of writing this the Florida Panthers sit as the eight seed in the Eastern Conference.  Ekblad's Norris opportunity will definitely be boosted if the Panthers can make the playoffs for the first time since 2012.
Does Aaron Ekblad have a Legitimate Shot?
I'm not saying Aaron Ekblad will win the Norris Trophy. Mark Giordano probably has that award all wrapped up. Ekblad might not even come home with Calder.
But the way the teenager is playing right now and if he can continue his production all the way through to April, which is a tough ask mind you, he has to at least be in the conversation.
Andrew Jow is an English student at Simon Fraser University where he covered the SFU Men's Hockey team. Andrew is a Vancouver native and covers all things NHL for The Hockey Writers. Follow him on Twitter @MadJowDisease