Normally, a little over one month into an NHL season is an absurdly insufficient amount of time to start making bold proclamations about end-of-season individual awards.
However, in the case of the this year's James Norris Memorial Trophy, given annually to the league's top defenceman, there's already a clear front-runner for the award. At this point it's not even close.
Mark Giordano, the 31 year-old captain of the Calgary Flames, is enjoying a storybook start to his 2014-2015 season. The two-way defender already has 21 points in only 19 games played, which currently ties him for 5th in the league. No, that's not 5th among defencemen, that's 5th among all players, ahead of big names like Steven Stamkos, Joe Thornton, Evgeni Malkin and John Tavares.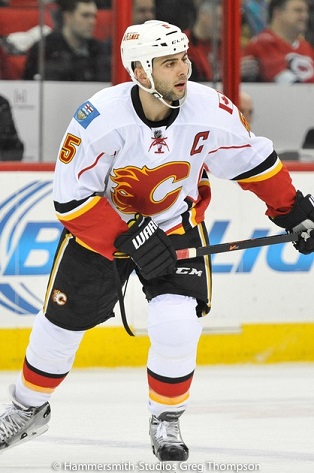 It's not like Giordano is some kind of sheltered offensive defenceman, either. Giordano absorbs the toughest minutes on the Flames, usually head-to-head against the top lines from opposing squads, and plays the most penalty kill minutes on his team, averaging 2:33 per night. Suffice to say, Giordano plays in all situations and does anything and everything that Flames head coach Bob Hartley asks of him.
The most important number of all related to Giordano, however, is 24. That's the number of points that the Flames have right now, thanks to their very surprising 11-6-2 record, which currently puts them 5th in the Western Conference. Considering the Flames finished 13th in the West last year, and were predicted by almost everyone to finish in the conference's basement again this year, the importance of this early success cannot be understated. And, with all due respect to Jonas Hiller (who's been a revelation in net for Calgary) and T.J. Brodie (the other consistent member of the team's top defensive pair), it's no secret that Giordano is the linchpin to the Flames' success up to this point.
Despite how well he's performing as an individual, Giordano, in true hockey captain trope, is humble about the attention and quick to pass on the kudos to others on his team.
"I mean, it's obviously great when you hear good stuff about yourself, but there's a lot of great defencemen in the league," he said in this recent article with ESPN. "I don't know if I'm, whatever, top five, top 10, top 20. I really believe if you look around at top pairs in the NHL, there's a lot of good top pairs in the league, but together me and Brodes, I think we're both better players playing together than separate from each other. That's just the way, the fact that it's been like this for the last year and a bit."
Hartley isn't so unabashed when it comes to discussing his team's best player.
"He's a good person; he's an unbelievable person," as Hartley recently told NHL.com. "He cares about everything. If I'd ask Gio for a list to rate the players as importance on the team, I'm sure Gio's name would be at the bottom of that sheet. He's all about team. It's all about taking care of the teammates, about the organization, and that's what we want to create.
"We want to be more than a team. We want to be a family. He's the best big brother that we can have in the locker room."
All that being said, there's still a lot of hockey left to play this season. Giordano's Cinderalla start has been fantastic, but is it sustainable? His possession stats aren't pretty, the one thing that can really be held against him, even though the argument could be made that they are mostly a product of his team's overall struggles in that area. And with elite-level defencemen like Duncan Keith, P.K. Subban, Shea Weber, Erik Karlsson and Drew Doughty in the league there is always going to be stiff competition for the Norris.
One thing is for sure, though, and it's that Giordano is going to continue being given every opportunity to keep his torrid pace going. If he can sustain it over the course of the entire 82-game season, and the Flames can miraculously make the playoffs, then every other defender in the league is sure to be left in the dust.