If there is one thing Columbus Blue Jackets fans are good at it's supporting their team no matter what happens. They line the glass with smiles and signs of support, even if the Jackets are on a lose streak. When something is wrong with a player or their family the fans send well wishes through social media and the mail. If a player has a foundation or cause close to their hearts, the fans give their time, talents, and money to help make the foundation a success.
Last season when a Nick Foligno fan twitter account, @folignos_flock , reached 1,000 followers the creator decided to use that platform to create something good.
I felt there has to be a way to turn this platform I've been given into something positive. The logical place to focus the efforts was the Janis Foligno Foundation.

– creator of @folignos_flock
The opportunity to give back arose when people starting calling for the NHL to get rid of fighting during games. Fans pledged money for any fight a Blue Jackets player was involved in and used the hashtag #FightsForACure.
There is a lot of debate on if the NHL should get rid of fighting or not, so I wanted to use the campaign to show that good things come out of it.

– creator of @Folignos_Flock
The idea was a big hit throughout Columbus and spawned another fundraiser for the Janis Foligno Foundation.
A man emailed Foligno's Flock saying he would also like to donate money for every Blue Jackets win. The hashtag #MoreHugsMoreFUNds was created and the money came rolling in. Not only did fans donate but corporations around the USA and Canada began to partner with Foligno's Flock to support the Foundation.
NiceRink, Papa John's of Central Ohio, and Flip Flop Shops of Easton all took part in helping make last season a huge success, all of which seem to be on-board with working with us going forward.

– creator of @Folignos_Flock

 
Through the #FightsForACureCampaign and #MoreHugsForFUNds Foligno's Flock was able to raise over $7,000 for the Janis Foligno Foundation last season.
What's Next
Foligno's Flock will be doing the #FightsForACure and #MoreHugsMoreFUNds fundraisers again for the 2015-16 season. The hope is Buffalo Sabres fans will join in on the fun and have a friendly competition between the two brothers' fan bases.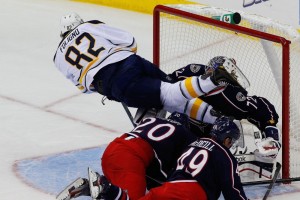 To kick off the season of giving there will be a watch party in Mt. Gilead, Ohio on September 26th from 2-8 pm entitled "Flock Fest". There will be items raffled off as well as a NHL 16 tournament and croquet tournament. Why croquet you ask?
It's a game that not too many people play on a regular basis, thus giving everyone a better chance to win. Also, it has "goals" you have to get through in order to win. That's kind of hockey related right?

-creator of @Folignos_Flock
Since this is the first time for the event they ask that you RSVP to folignosflock@gmail.com so they have an idea of how many people are attending the event.
All proceeds will go to the Janis Foligno Foundation and the CBJ Foundation.
Who Is Janis Foligno?
Janis Foligno was the mother of Nick (Columbus Blue Jackets) and Marcus (Buffalo Sabres). She was also the wife of New Jersey Devil's coach, Mike Foligno. In July of 2009, she lost her battle with breast cancer and in her honor a foundation was made.
While alive, Foligno had a bleeding heart for those in need. She loved openly and deeply. She met every situation with compassion, caring not only for her own family but those in the most need of understanding. Foligno helped deliver meals to shutins and those recovering from ailments through "Meals on Wheels".
While battling breast cancer she decided to help raise money and awareness to fight the hideous disease that was taking over her body. She even became a shoulder to lean on for other women who just discovered their cancerous fate. Her calming presence helped ease the minds and lighten the hearts of those who were battling the same disease. She gave until the very end.
Today the Janis Foligno Foundation supports a variety of organizations such as Meals on Wheels, Sudbury Regional Hospital Foundation's Breast Cancer Equipment Fund, and the Vale Hospice. Thanks to the fundraising efforts of Foligno's Flock the foundation will be able to fund more organizations.
Elaine is in her first year writing for The Hockey Writers. She will mostly be covering the Columbus Blue Jackets, Lake Erie Monsters, NWHL, and the charitable works all hockey players partake in.
She just ended a two season internship with the Ohio AAA Blue Jackets.