There has been a relative lack of articles from writers covering San Jose Sharks. The main reason is a relative state of depression among all those who follow the team wearing teal colors. It has been a disastrous period for Joe Thornton and company. Similar phrase to 'Fire Ron Wilson!' –started to circulate around the stadium and the online blogosphere last week. This time with a little different name – Todd McLellan's name. The debate on whether to fire Todd McLellan or to keep him as the team's head coach deserves another article, but the fact that the fan base is now seriously starting to make various speculations – signifies the fact that McLellan is on the hot seat, and he no longer has a 'new coach' excuse to fall back on. The main reason behind these talks is an awful record the Sharks have posted in the month of February and March. The Sharks only have four wins in the last seventeen games.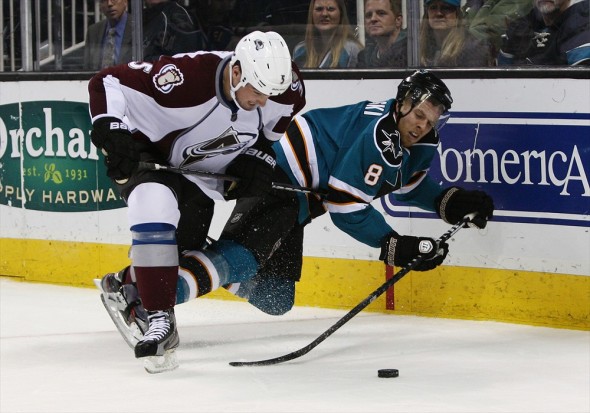 The offense is almost nowhere to be seen – just like every spring, come playoff time. The situation is becoming worrying even for the most patient and optimistic fans. Doug Wilson – the general manager of the Sharks – is hesitant to make any changes to the line-up, and is willing to ride it out. It now becomes a question of 'how long would the management be willing to wait for things to turn around'. The patience has already been stretched long enough (in the light of recent playoff shortcomings as well as current performance), so it will be interesting to see whether the tandem of Wilson-McLellan will last past March.
The Sharks still have a playoff spot, but the outlook looks pretty dark especially comparing to other teams. For example, the Kings had a rough start this season, but have managed to get over the 'Stanley Cup hangover', and are now looking more and more like the team that went all the way to win the cup. The consensus is – the Kings found their winning ways and are only heating up for the second half of the regular season and the playoffs. The Sharks on the other hand are regressing – the scoring in particular is disappearing at times. The teams is ranked 29th in goals scored per game with 2.17. Being ranked 5th in goals allowed per game is what keeps them afloat, but even that doesn't justify the stretch of underperformance the Sharks have been showing lately. The Sharks have to wake up until it is too late.
As the team reached the halfway mark of the regular season – the leadership has to take a close look in the mirror and really step it up. The fans are still behind the team, even though we are hearing those familiar phrases ever so louder.