I don't know Montreal Canadiens GM Marc Bergevin personally. So I don't really know what makes him tick.
But I suspect that he likes movies (most of us do) and I'm going to go out on a limb here that one of his all-time favourites must be "Back to the Future." You remember? Michael J. Fox's classic tale of a guy time-traveling to the past to fix things that got all messed up then fights to get back to the future to see how it all panned out??
Well after getting the GM spot, Bergevin basically did the same when he reached back into the past to push the Canadiens into the future by hiring former Habs coach Michel Therrien for a second time. Then he went out and promptly signed the veteran UFA rearguard and former Hab Francis Bouillon to a one-year contract.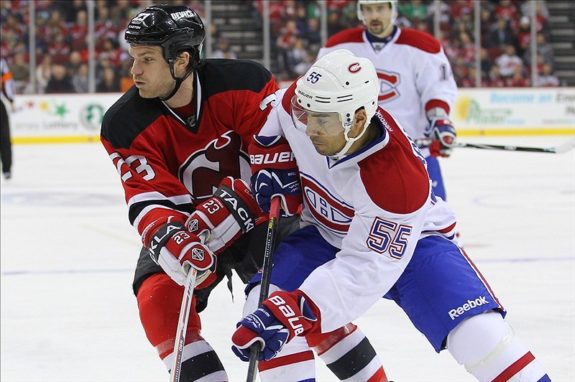 I think it's fair to say that Habs Nation, after last year's cluster you-know-what of a year, was hoping for some real, substantial changes. Hiring Bergevin was a good start, but with the return of Therrien and then the signing of Bouillon, fans rightly wondered whether they were going to be treated to more of the same!?
That's why fans aren't NHL GMs, folks.
"Frankie the Bull" Bouillon has provided the Canadiens with the kind of consistent and dependable workman-like efforts every team needs on the backend. Nothing fancy, nothing special — just solid performances game in and out. He goes about his business, never complains, is always there for his teammates and adapts to whoever he's paired with. In the team's recent auditions for its sixth defenseman, he's played with rookies Greg Pateryn, Jarred Tinordi and Nathan Beaulieu. Now he's suiting up with newest acquisition Davis Drewiske who has been unspectacular in that good, defensive kind of way.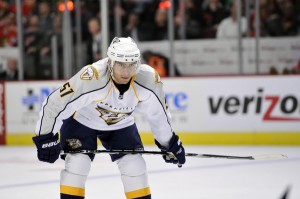 Bouillon is what the Canadiens sorely needed (among other things). Not only someone that Therrien could count on in a variety of situations, but someone who truly wanted to be a Montreal Canadien. And it's why Bergevin signed him to a one year extension a few weeks back.
Back in Bleu-Blanc-et-Rouge
It's no secret Bouillon never wanted to leave Montreal in the first place and was happy to be back with the blue-blanc-et-rouge. Born in New York City to a French Canadian mother and Haitian father, Bouillon's heart and soul has always been in la belle province, where he's lived since the age of three. His refrain has been steady and consistent, just like his play:
"The important thing for me was to stay in Montreal… I always said I want to finish my career here."
The community has embraced Frankie B. in kind – there's even a Francis Bouillon Arena in Montreal's east end.
Bouillon has quietly gone about his business and has helped solidify Montreal's backend, allowing more offensively talented blueliners like Andrei Markov, P.K. Subban and Raphael Diaz to strut their stuff. So far he's suited up for every game this year and is a solid +6 while logging an average of 17:54 minutes per game.
Coming into this season, the status of Markov was still very much up in the air. Yes he had his knee surgically repaired. Yes he played in the KHL during the lockout and everything held up well. But last year's strategy of waiting for Mr. Markov to return then everything will work out wouldn't cut it this year. So the Canadiens needed to shore up the backend and ensure they had a veteran presence to keep things in check while adding a little grit too. He may only be 5"8, but in that "Mats Naslund kind-of-way" Francis Bouillon is built like a truck and plays much bigger than his size. He never backs away from the rough stuff which should serve the team well in the playoffs.
That doesn't mean to say Bouillon won't join the rush when he sees the opportunity. Check out this goal against the Florida Panthers from earlier this season.
He even scored two on this night. The problem was one was against his own goalie.  But we can forgive him. The Canadiens won the game and it gave the guy a bit of national notoriety, which he deserves – even if it technically was for the wrong reason. At least we know he can pick the top shelf.
Bouillon Gives Therrien More Options
Bouillon penalty kills and is called upon for other key situations which gives Therrien more options on the Habs blueline. Bouillon has even played on the second unit of the powerplay. And although he's healthy, Markov just isn't the same skater he once was and is better to keep out of some of the physical aspects of the game. He's too important to the other areas of the Canadiens' overall gameplan. Which makes a guy like Bouillon key; someone who can kill penalties and log enough minutes to ensure Markov's use can be maximized where he's needed — and where he can succeed.
Looks like taking some cues from "Back to le Futur" seems to be working for Habs GM Marc Bergevin. So much so that he went out and traded for Michael Ryder. I wonder if he also likes the film "Groundhog Day"? That wouldn't be so bad. Things worked out for Bill Murray's character in the end.
Hey did you hear the news? I'm on twitter!!! @HabsFanLeafLand
I'm a goalie — apparently that says a lot. Writer, producer and bon vivant I'm from Montreal but live in Toronto and write from that perspective on HabsFanInLeafLand.com. Young enough to be hip; old enough to remember where I was when Guy Lafleur scored against the Bruins in the infamous "too many men" game in the '79 playoffs. Can you say that?
You can contact Ari Grief on Facebook or on twitter @habsfanleafland