Over the years, there have been hockey teams who have found themselves laden with a roster that does not garner as much fanfare as others.  In the OHL, the Guelph Storm has found themselves in this situation for years, especially playing in a division with teams such as the London Knights and the Kitchener Rangers.  While there have been some superlative players emerge from the Storm organization in recent memory, such as Drew Doughty, Ryan Callahan and Craig Anderson, the team has been relatively overshadowed by the talents and renown of players on other teams in the Western Conference. It seemed only fitting that a team such as this would have a coach like Scott Walker, a former NHL player long considered to be underrated during his career, and it seems even more fitting that he would be the one to guide players who are not given praise like others are around the OHL.
Francis Menard can be added to that list.
A native of Embrun, Ontario, Menard left his small hometown at 15 to play for the Notre Dame Midget AAA Hounds in Wilcox, Saskatchewan.  In his rookie season, 2007-08, he found himself playing with three future NHL first-round draft picks: Jaden Schwartz, Brandon Gormley and Sean Couturier.   He finished the season with 37 points (19 goals, 18 assists) and 39 penalty minutes in 36 games.  The Guelph Storm took notice and they chose him 113th overall in the 2008 OHL Priority Selection in one of their team's deepest drafts; also selected by the Storm that year were current OHL players Cody McNaughton, JP Labardo, Joel Vienneau and Carlos Amestoy, as well as Anaheim Ducks forward Kyle Palmieri.  Menard returned to Notre Dame for a second season in 2008-09, where he played with the likes of Christopher Gibson and Justin Sefton.  He tallied 47 points (20 goals, 27 assists) and 97 penalty minutes in 37 games, third in team scoring, and he tied for the team lead in shorthanded goals with three.  That season, the Hounds won the Telus Cup as national midget hockey champions.
Menard made his OHL début in September 2009 and he did not waste time in showing that he was a gritty player despite his 6′, 186-pound frame.  In only his second career game, Menard was in his first OHL fight, a tilt with then-Colts forward Dean Pawlaczyk after the final buzzer in a game against Barrie.  Three days later, in a home game against the Kitchener Rangers, he scored his first OHL career goal against Brandon Maxwell, Guelph's first goal in an eventual 6-5 shootout victory.  The next three months, however, would find him rarely on the scoresheet, as he only managed to tally four points (one goal, three assists) in 32 games from October 2 to December 29, 2009.
In 2010, however, Menard's point production began to improve.  He tallied a point in four consecutive games, five points (one goal, four assists) in six games overall in January.  He also scored four goals in 13 games in February and, after no penalties in January, he also recorded 15 penalty minutes that month, too.  Menard also managed to record an assist in March during the last few games of the 2009-10 regular season, as well as three more in a five-game playoff series against the London Knights, which included a two-assist game on March 25, 2010.  He finished the season with 15 points (seven goals, eight assists) and 36 penalty minutes in 65 games as a rookie.
After not being chosen in the 2010 NHL Entry Draft, Menard returned to Guelph for his sophomore OHL season, hoping to build upon a solid finish to his rookie year.  In the first three games of the 2010-11 season, he had two assists.  Although somewhat sporadic in terms of point production, he did have a solid October, capped by a three-point night (one goal, two assists) against the Brampton Battalion on October 24, 2010, a game in which he was named second star.  That game ignited a spark in Menard.  He recorded four points (one goal, three assists) in November and five points (one goal, four assists) in December. On December 23, 2010, former NHL player Scott Walker was named the Storm's new head coach after spending some time after his retirement as an assistant to Jason Brooks.  The switch behind the bench had a truly positive impact upon Menard, especially since his two-way grinder style was identical to that of Walker.  In January of 2011, he scored six points, including four goals; he followed that with seven points, including three goals, in February.  He even managed to score a goal on March 3, 2011, against Barrie, the day after his 19th birthday.  He finished the season with 31 points, 11 goals and 20 assists, as well as 32 penalty minutes in 66 games.  His stellar play followed him into the playoffs where he scored four goals in six games against Saginaw, including two goals in Game 4 on March 31, 2011.
Going into the 2011-12 season, Menard found himself as one of the veteran voices on the Storm roster, something noticed by head coach Walker, who named Menard an alternate captain during road games.  A lot of eyes were to be on the Storm, especially with forward Scott Kosmachuk and defenceman Matt Finn on the radar for the 2012 NHL Entry Draft.  He joined five other players who would be alternate captains throughout the year, as Guelph opted not to name a permanent captain; the others were Finn, McNaughton, Brock McGinn, Kyle Pereira and Stephen Gaskin.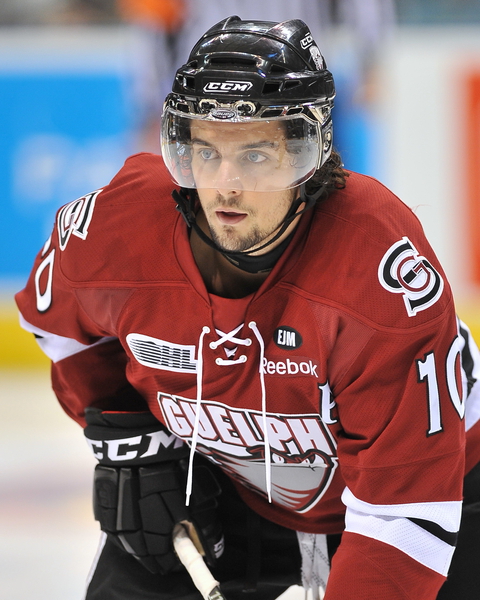 In the first game of the new season, on September 22, 2011, Menard scored two goals and one assist against the Windsor Spitfires, his first two-goal regular season game, and he was named the game's second star.  Eight days later, on September 30 against the Erie Otters, Menard had a goal and three assists in a 10-2 Storm victory; he was also a +5.  He began to show that he was becoming a more consistent point scorer, a title that had eluded him since he had come into the OHL.  Menard tallied six points (three goals, three assists) in October, nine points (two goals, seven assists) in November and six points (three goals, three assists) in December.
2012, however, would prove to be the beginning of a different level of Menard's point production.
On January 7, against the Sault Ste. Marie Greyhounds, he scored his first OHL career hat trick and added an assist in a four-point performance which garnered him first star honours.  A week later, against the Peterborough Petes, he scored three points (two goals, one assist) in a game in which he was named second star.  He finished January with 14 points (seven goals, seven assists), giving him 43 on the season up to that point; his four-point outing actually allowed him to surpass his point total from the previous season.  Menard was not finished there, either.  He scored ten points (four goals, six assists) in February and seven points (two goals, five assists) in March.  He finished the season with 60 points, 24 goals and 36 assists, 14 points more than in his first two seasons combined.  Additionally, Menard finished the season with 50 penalty minutes, his highest in his OHL career thus far.  His point totals were second on the Storm in team scoring with Zack Mitchell's 75 points being the only one higher.  He also managed to keep pace in the playoffs, scoring four points in the first two games of the Storm's first-round playoff series against the Plymouth Whalers.
The Guelph Storm will have perhaps the biggest veteran corps in 2012-13, with Menard and McNaughton being returning overagers up front, as well as, barring any trades, eight 1993-born players coming back, including New York Islanders draft pick Andrey Pedan on the blueline and Toronto Maple Leafs prospect Garret Sparks in goal.
Time will tell if the Francophone forward can continue the progress he has made this past season but it seems as though the "storm" of opportunity continues to blow for Francis Menard in Guelph.