The recent addition of Nikita Tryamkin on the Vancouver Canucks blue line has been heavily anticipated, and with fellow countryman Andrey Pedan also on the team's active roster, there's a bit of Russian flavor that the Canucks haven't had in many years (and have never truly had on their blue line).
With Vancouver being geographically one of the farthest NHL cities from western Russia (the more populated side of the country), it's no surprise that there isn't a long list of Russians who have donned Canucks colors. That being said, of the 16 Russian players who have spent any amount of time in the NHL with the Canucks, there are some superstars who come to mind.
Here's the list of former or current Canucks from Russia:
Note: * Denotes on active roster
Pavel Bure
Whether the list be alphabetical or sorted by the top Russians ever with the Canucks, the Hall-of-Famer Pavel Bure tops it.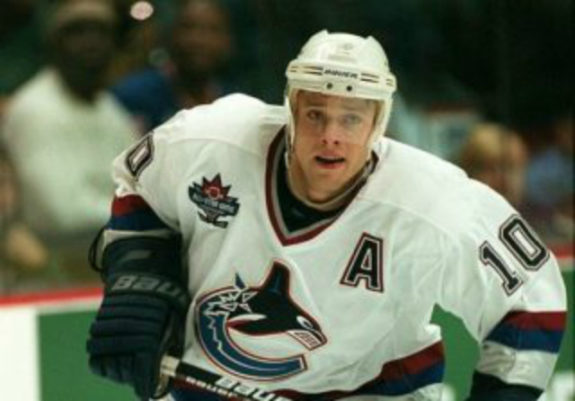 The Russian Rocket twice scored 60 goals with the Canucks and also had a 51-goal season. No Canuck player apart from Bure has ever scored 60 goals, and Alexander Mogilny (see below) is the only other player to score more than 50 with Vancouver. Bure is also the only Canuck to ever win the Calder Trophy as the NHL's top rookie in the team's 45-year history.
Bure electrified fans in the 1990s with his speed and next-level talent. Over his seven seasons with the Canucks, the Moscow native totaled 254 goals (0.53 goals per game) – good for fifth in franchise history despite only playing 478 games.
Artem Chubarov
Artem Chubarov played all of his 228 NHL games with the Canucks in parts of five seasons; statistically, he's average at best in Canucks history but sits as the team's fourth highest-scoring-Russian.
Chubarov, a former 31st overall draft pick by Vancouver in 1998, totaled 25 goals and 58 points during his tenure in the NHL. After a career-best 12 goal season in 2003-04, Chubarov went home to Russia during the NHL lockout in the 2004-05 season – a year where he won a championship with Dynamo Moscow on a team with the likes of Alex Ovechkin, Pavel Datsyuk, Andrei Markov and other star Russian players.
Fedor Fedorov
Fedor Fedorov, brother of Russian legend Sergei, never quite panned out the same in the NHL. The former third-round, 66th overall draft pick in 2001 by the Canucks totaled two assists in 15 games with Vancouver. Apart from his short tenure with the Canucks, Fedor played three games for the New York Rangers in 2005-06, recording one assist.
Vladimir Krutov
Vladimir Krutov was regarded as one of the best wingers in hockey in the 1980s – not in the NHL, however.
Nicknamed "The Tank", Krutov played with international hockey's CSKA Moscow, and made up the KLM line along with Igor Larionov and Sergei Makarov. Here, Krutov totaled 288 goals in 438 games (0.66 goals per game), a remarkable scoring pace on the larger Russian ice surface.
Despite this success in Russia, Krutov's NHL career only lasted 61 games, where he totaled 11 goals and 25 assists with the Canucks. He was drafted in 1986 by Vancouver and joined the team in 1989, but battled with homesickness and was described as a "fish out of water" by teammates.
Igor Larionov
Igor Larionov broke into the NHL with the Canucks at age 29 – the same season as Krutov, his linemate for years in Russia. The undersized forward had a hockey IQ better than most of his peers; Andrey Osadchenko, a Russian hockey writer, said it best on a guest piece in 2011 for canucksarmy.com: 
"Not only was [Larionov] able to find passing lanes but he also saw options to finish the attack that no one else could. He was simply the smartest guy on every ice-surface he ever played on." – Andrey Osadchenko.
The former 11th round, 214th overall draft pick by the Canucks in 1986 would spend his first three NHL seasons in Vancouver, totaling 51 goals and 92 assists in 210 games. Larionov played in the league until age 42, and won three Stanley Cups with the Detroit Red Wings. He was also the eighth member of the Triple Gold Club (World Championship gold medal, Olympic gold medal, Stanley Cup champion), and is one of only six Russian players to reach this mark.
Alexander Mogilny
Apart from Bure, Mogilny is undoubtedly the most talented Russian to ever play in Vancouver.
After the likes of Krutov, Larionov and Bure joining the team in the late 80s and early 90s, Mogilny was another high-profile Russian forward who was acquired by the Canucks, coming over in a trade from the Buffalo Sabres. He scored 55 goals and 107 points in 79 games with Vancouver in 1995-96, making him the second Canucks player to ever score 50 or more goals, behind Bure.
In his next four years with the team, Mogilny didn't reach the same elite level offensively (84 goals in 233 games), but still put up respectable numbers and totaled 308 points in 312 games with the franchise.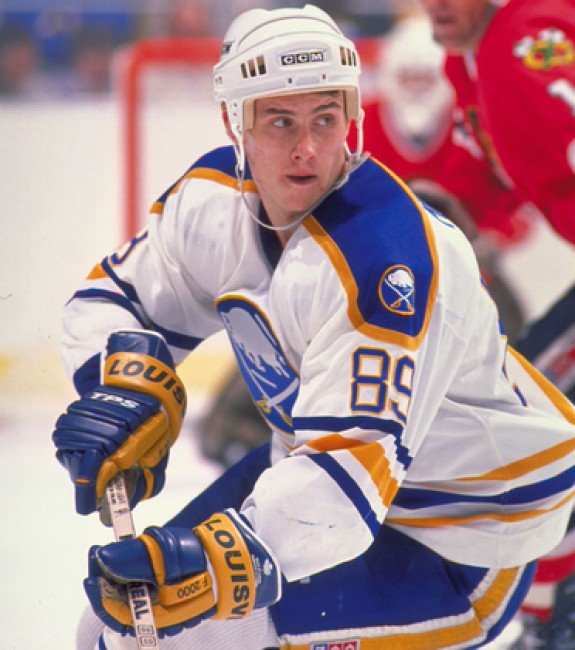 The plan to have Mogilny and Bure on a line didn't quite pan out in the three seasons that the two played together in Vancouver, largely due to injuries. The duo had previously been linemates for CSKA Moscow, along with future-NHL-legend Sergei Federov (on the same team as the KLM line).
Mogilny was traded mid-season in 1999-00 to the New Jersey Devils, where he would win his first and only Stanley Cup that year, making him the ninth member of the Triple Gold Club as well.
Evgeny Namestnikov
The first Russian-born defenseman to play for the franchise, Evgeny Namestnikov spent parts of four seasons with Vancouver, but only played in 35 games for the Canucks, recording eight assists.
The father of current Tampa Bay Lightning forward Vladislav Namestnikov, Evgeny was a career minor-leaguer for the most part, playing over 300 games in the AHL. He would also play for the New York Islanders and Nashville Predators organizations before returning home to play in Russia in 2001-02.
Sergei Nemchinov
Sergei Nemchinov's career with the Canucks lasted only six games, where he totaled two goals and three assists, making him the shortest-tenured Russian forward ever with the team.
He had 20 or more goals in his first three NHL seasons, but only once scored more than 10 in the nine NHL seasons that followed. Nemchinov did, however, win two Stanley Cups in his career, including one with the Rangers against the Canucks in 1994, making him one of four Russians to be the firsts with their names engraved on Lord Stanley's Cup.
Roman Oksiuta
Roman Oksiuta totaled 21 goals and 25 assists in 68 games with the Canucks over parts of two seasons. Despite his short tenure, Oksiuta is fifth in scoring among Russians in Canucks franchise history.
His best NHL season came in 1995-96, when the big Russian forward totaled 23 goals and 51 points in 70 games. Oksiuta bounced around in the NHL, being traded in three of his four seasons, and would play his final six pro seasons with Khimik Voskresensk in Russia – the team he began his career with in the 80s.
Andrey Pedan *
The 22-year-old Pedan was acquired in a trade from the New York Islanders early in the 2014-15 season. Pedan was actually born in Lithuania, but moved to Russia at a young age and grew up playing hockey there. He became the third Russian defenseman to play for the Canucks when he made his NHL debut on Dec. 1, 2015 (which, ironically, he played as a forward).
At 6'5″, Pedan is a big, physical defenseman, and next to the 6'8″ Tryamkin on the team's blue line, the Canucks have what looks like a Russian wall when team's are skating in against them.
Alexander Semak
Alexander Semak played only 18 games as a Canuck, totaling two goals and one assist. The Russian forward was a dynamic scorer with CSKA Moscow in the late 80s, but translated that into only one impressive offensive season in the NHL, when he had 37 goals and 79 points with the New Jersey Devils in 1992-93.
Semak had one 20-goal season with the Islanders three years later, and his pit-stop with the Canucks in 1996-97 was his final in the NHL. He spent parts of three seasons in the minors before heading back overseas in 1999-00.
Anatoli Semenov
Yet another Russian who played on the international hockey's CSKA Moscow team in the 80s, Anatoli Semenov played only 62 games in Vancouver in 1992-93, amassing 10 goals and 44 points. Semenov spent parts of seven seasons in the NHL, playing for six teams in the 90s.
He totaled 35 goals in hist first two seasons with the Edmonton Oilers, but Semenov was 30 years old when he posted his career-best 20-goal season in 1991-92, and his most productive years which were in his 20s in Russia were behind him. Semenov returned to Russia to close out his career following the 1996-97 season.
Vadim Sharifijanov
Vadim Sharifijanov was a promising player as a 25th overall draft pick by the Devils in 1994, but that didn't translate to much NHL success. The winger played only 17 games in Vancouver, totaling two goals and three points in 1999-00. That was his final stop in the NHL after parts of six seasons in the Devils organizations, which was spent largely in the AHL. Sharifijanov would return to play in Russia ahead of the 2001-02 campaign.
Sergei Shirokov
Sergei Shirokov played only eight games in the NHL, coming to the Canucks in parts of two seasons, where he scored a single goal. Shirokov showed good promise early on, with good numbers in the World Juniors and decent production with CSKA Moscow.
Some Canucks fans may recall his strong training camp ahead of the 2009-10 season as a 23-year-old, which was good enough to start the year on Vancouver's second line and first powerplay unit. It didn't take long, however, for that to prove as a large failure, as Shirokov was a healthy scratch after three games and was sent down soon after. He went back to Russia 2011-12, where he now plays for SKA St. Petersburg in the KHL.
Alexei Tezikov
Defenseman Alexei Tezikov is the shortest-tenured of all Russian players who have spent time with the Canucks; he played only two games, recording no points and a plus-two rating in 2001-02. Imagine if he had kept that plus-minus up with Vancouver…
Tezikov played 30 games in parts of three NHL seasons, as well as nearly 200 games in the AHL. He returned overseas for the 2003-04 season.
Nikita Tryamkin *
The newest face among Russian players to suit up for the Canucks, Tryamkin debuted with Vancouver on March 16, 2016. His addition to the club was highly touted, thanks in part to the 21-year-old's strong development in the KHL, and size that is nearly Zdeno-Chara-like, something that the Canucks have never really had on their blue line.
Tryamkin is a true defensive d-man, and in a small sample size he's shown that he simply overpowers all of his opponents – this coming while he continues to learn to play in a faster league, and on a smaller ice surface. His unique assets make him a solid acquisition, as Tryamkin was drafted 66th overall by the Canucks in 2014.
Fast fact: Most Russians to play for the Canucks in the same year? 1996-97 Season – Mogilny, Bure, Nemchinov, Semak, Namestnikov.
Thanks for reading.
Canucks contributor for The Hockey Writers. Maple Ridge, BC native. Contact: coltondavies95@gmail.com or @ColtonnDavies on Twitter.