When news of Nail Yakupov's trade request broke, it came as a surprise, though it wasn't really all that surprising. The former first overall pick wasn't able to build on a successful rookie season, for a myriad of reasons, and the writing appeared to be on the wall. After some early season chemistry with Connor McDavid, it seemed obvious to make Yakupov a fixture on that line, but he wasn't, suggesting that the Oilers weren't happy with his game. Throughout his brief NHL career, Yakupov has played with a lot of different linemates, most of whom weren't the highest caliber.
His production went up while playing with veteran Derek Roy, but that experiment was short lived when the team elected not to bring Roy back. Yakupov has played with centerman such as Sam Gagner, Mark Arcobello, Mark Letestu and Ryan Nugent-Hopkins, the majority of whom aren't top-six guys. Yakupov has top-six skill, but if the Oilers don't see a place for him there, then it only makes sense for them to cut bait. Yakupov's all-around game needs a lot of refining, and unless he plays with high-end linemates, he will struggle to produce consistently. Make no mistake, though. Yakupov works hard and wants to succeed. He loves the game, and his desire is to be an NHLer. It just doesn't look as though Edmonton will be the place for him to do so.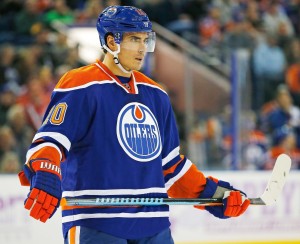 This ordeal does draw comparisons to Jonathan Drouin and his recent trade request, though far less ugly. Drouin refused to play for his AHL team when assigned there. Yakupov has kept on playing, regardless of his low ice-time, and didn't say a word. But this isn't to suggest Drouin is a bad guy. There is so much about that story we don't know, and it's unfortunate his reputation has taken a permanent hit despite our limited knowledge of the situation. But that tends to be the case with young players who make demands. There's an unwritten rule in hockey that youngsters need to take their lumps, shut their mouths and do what their told.
Yakupov didn't let his unhappiness show in his behavior, however, though his body language has long suggested a lack of confidence, and a sense of hopelessness. I really want to see Yakupov go somewhere and do well, and have the opportunity to thrive. No trade came to fruition at the trade deadline, which suggests that the Oilers were underwhelmed by the offers. Unfortunately, Yakupov's stock is fairly low. At this point, we don't know what the asking price was, but we can look at recent history to see what a player of his ilk (and/or draft status) has gone for in the past. (NOTE: Age and stats are from the time that the trade happened).
Nail Yakupov, age 22 (1st overall pick). Career stats: 48 goals, 59 assists, 107 points in 248 games.
Tyler Seguin, age 21 (2nd overall pick). Career stats: 56 goals, 121 points in 203 games.
Traded along with Rich Peverly and Ryan Button to Dallas for Loui Eriksson, Joe Morrow, Reilly Smith and Matt Fraser.
Erik Johnson, age 22 (1st overall pick). Career stats: 20 goals, 71 assists in 203 games.
Traded along with Jay McClement and a conditional first round pick to Colorado for Chris Stewart, Kevin Shattenkirk and a conditional second round pick.
Seth Jones, age 21 (4th overall pick). Career stats: 15 goals, 48 assists, 63 points in 199 games. Traded in exchange for Ryan Johansen, age 23 (4th overall pick). Career stats: 79 goals, 114 assists, 193 points in 309 games.
Phil Kessel, age 21 (5th overall pick). Career stats: 66 goals, 60 assists, 126 points in 222 games.
Traded to Toronto for two first-round picks and a second-round pick.
Brett Connolly, age 22 (6th overall pick). Career stats: 18 goals, 14 assists in 134 games.
Traded to Boston in exchange for two second-round draft picks.
Dougie Hamilton, age 22 (9th overall pick). Career stats: 83 points in 178 games.
Traded to Calgary in exchange for a first-round pick and two second-round picks.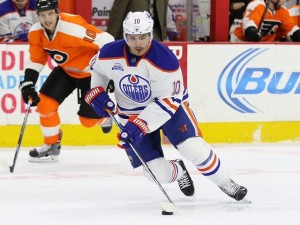 Judging by trades gone by, the Oilers should be expecting at least a second round pick, and that's just a starting point, despite Yakupov's struggles and low production. But, sometimes a team has to cut their losses, and understand the position they're in. Both sides want to part ways, and the Oilers are essentially selling potential rather than a known commodity. TSN's Bob McKenzie suggested that Yakupov could be part of a larger package deal.
"I do wonder a little bit if Nail Yakupov would be the centerpiece of any trade. That he might be a complementary piece in a package deal, as opposed to a one-off. But the one-off is not necessarily out of the question. He's looking for a fresh start. Hey listen, some people are going to make a big deal out of the fact that he asked for a trade. The Oilers would have wanted to trade him anyway. Let's not kid anybody". [Today's Slapshot]
McKenzie goes on to cite some valid points, that this situation is as much the team's fault as it is the players fault.
"Ultimately every player has to sort of bear responsibility for whether they're good, bad, or indifferent. Most of the credit or blame for how a player players should fall to that player. You wonder how much is the environment in Edmonton and all of this constant losing and upheaval. How much has it damaged individuals and people who have been there a number of  years?" [Today's Slapshot]
Edmonton is easy pickings right now, as is Yakupov himself. It's been disaster on many fronts in the Oilers organization, but they wouldn't be the first club, and won't the last, to find themselves in this predicament. Every prospect will tell you they want to be drafted first overall. But be careful what you wish for, because that status comes with a weight of expectations, and often due to circumstances outside their control, the player is unable to live up to them.  As an Oilers fan, what do you hope the team can get back in a trade? Have you say in the comment section below.