Close but No Cigar
The San Jose Sharks have been a model of consistency as well as a model of failure over the past decade. They have made the playoffs 10 years in a row and have actually had some substantial playoff success. Three trips to the Western Conference final is nothing to sneeze at. However, not once winning the Stanley Cup nor even making it to a final is the black cloud hanging over this organization. A terrific foundation has been built by GM Doug Wilson but the front office has also made significant mistakes. Arguably some of the biggest of those mistakes have been overreactions to small samples.
Love Affair With Finding Nemo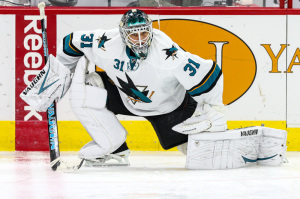 One of the biggest overreactions happens to be their love affair with goaltender Antti Niemi. If you were around the Sharks during the offseason that they signed Niemi, you would remember how often Wilson brought up the previous year's Western Conference final. As if that was the only series Niemi and the Blackhawks played the entire playoffs. The then rookie goaltender was fantastic in that series, but the other three series? Not so much. Yes, in the four game sweep of the Sharks Niemi posted a .948 save percentage. However, overall for the playoffs he finished at .910, as he sported only a .899 percentage in the other three series combined! Another sub .900 mark, which is simply bad goaltending. Behind a stellar team top to bottom, and only an .899 save percentage in three of four series? And all Wilson wants to talk about in the immediate aftermath of signing him is how good he played against the Sharks? Did Wilson not watch the other series?
Niemi is not a bad goaltender, but he only has a Stanley Cup ring because he was between the pipes for one of the most unstoppable skating lineups of the past two decades. The 2010 Chicago Blackhawks were an insanely stacked team of skaters. Despite Niemi clearly benefiting from the team in front of him in Chicago, Wilson would sign Niemi to a long term extension even before Christmas of his first season with the Sharks. While Niemi was having a good regular season, he finished the 2011 playoffs with a below .900 save percentage. While his teams won six of the first seven series of his career, Niemi had little to do with that success.
In his second year as a Shark Niemi was about average in the regular season and better in the playoffs than his first two seasons in the league. That said, a back breaking soft goal helped St. Louis eliminate the Sharks in five games. To Niemi's credit, he had a terrific season start to finish during the lockout shortened 2013 season. He earned a Vezina nomination and was lights out in the playoffs with a .930 save percentage. However, once again in the 2014 playoffs he struggled with yet another sub-.900 save percentage.
Niemi, who never shined in the lower levels, has shown himself to be an average regular season goalie and a below average postseason goalie. Why the Sharks were so quick to anoint him their No. 1 guy and why they have kept sticking with him when he clearly isn't the answer is peculiar to say the least. The Sharks have had some really good teams with Niemi around, especially that 2011 team but he has only been a difference maker in one out of four years when it matters most. That is not good enough, and why Wilson ever thought Niemi was more than average is beyond me.
Misuse of Sheppard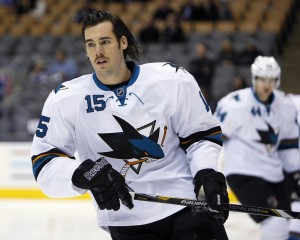 Another overreaction from management is their belief that James Sheppard was capable of third line center minutes. Not only did playing Sheppard at third line center instead of Pavelski cost the Sharks in the playoffs last year, but Sheppard proved overmatched in that role this season. Now this is not to harp on Sheppard, in fact he was one of my favorite players as winger on the third line or on the fourth line. However, he is not the type of player who can be relied upon to carry a third line. His hot stretch of points during March of 2014 as the third line center clearly fooled the Sharks into thinking they had more than what they really had. Sheppard's 11 points in 15 games last March was a very opportunistic string of points that did not represent his overall ability. He is not a 45-50 point per season player like the 11 in 15 would suggest. Taking him away from the wing on Pavelski's line during the playoffs last year was a crucial mistake as evidenced this season. Sheppard did not have a good year as the Sharks main third line center this season. Unsurprisingly he had just 16 points when he was traded at the deadline. That type of production can't be from the leader of your third line. The Kings for example often have Justin Williams, an 18-goal scorer this year, on their third line. 
Playoff Overreaction to 3 Games
And finally, the biggest setback to this team from overreacting to a small sample size came at the end of the 2014 playoffs. Yes, Sheppard found a way to get six points in seven games and scored a couple of those late in the series when the top guys dropped off. That doesn't mean he was a better player, it just means he got a couple of bounces. He wasn't all of a sudden dominating puck possession against the other team's best players like Thornton does on a regular basis. Yet, Wilson blamed his top guys saying "with all due respect to the Matty Irwins and the James Sheppards, they can't be your only goal scorers the last three games." Three games eh? THREE GAMES?!?!? How about the previous 86 meaningful games that season? Do Thornton and Marleau not get any credit for how good they were over those games? Certainly they should have been better those last three games, they weren't good enough. But taking the captaincy away from Thornton over three games? If Marc-Edouard Vlasic doesn't get hurt, there is a good chance the Sharks win that series, then go on to beat the Ducks for a spot in the Western Conference final.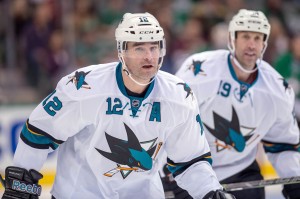 I highly doubt Thornton would have been stripped of the captaincy had the Sharks went to the third round last season. There is a lot of sheer dumb luck involved in hockey and to make decisions based on small samples is seriously stupid. Recently Wilson mentioned that a lot of decisions on players will be made over the last 19 games after the trade deadline. Seriously? Going to make big decisions based off of 19 regular season contests? That is just absurd.