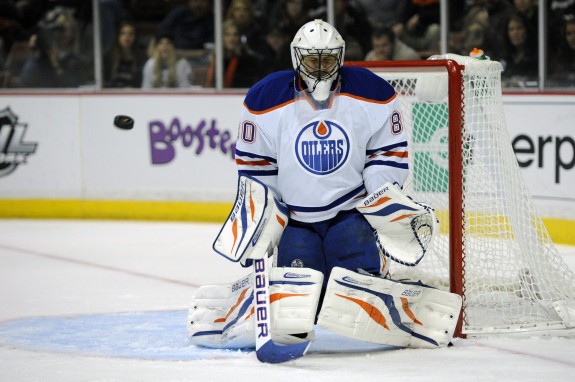 It has been no secret that the Edmonton Oilers have been searching for both a short and long term solution to their goaltending situation.
They started the season with Devan Dubnyk as their No. 1 with reliable backup Jason LaBarbera behind him.
The Oilers got off to a horrendous start to the schedule, in part to poor goaltending but due to a myriad of issues.
Gone is LaBarbera sent to Chicago for future considerations, and signed was Ilya Bryzgalov, in an attempt to upgrade the position. Though the Oilers aren't exactly making a playoff charge, the goaltending has been much better with his arrival.
Bryzgalov has a 2.30 GAA and .936 S% in his six starts and has been solid. Dubnyk has been better, albeit still inconsistent, but has put up some good performances since being paired with "Bryz". His numbers on the season however, 3.39 GAA and .891 S%, still leave much to be desired.
SHORT TERM
Craig MacTavish is diligently working the phones to try and bring in another goaltender that can be both a short and long term solution. Until that happens, the Oilers will continue with the Dubnyk – Bryzgalov tandem.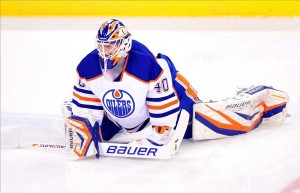 One issue going forward is that both are unrestricted free agents after the season, and the Oilers will not retain both for next season. It remains to be seen if they'll even bring one back. That also means there is the very real possibility that one could be dealt prior to March's trade deadline.
Unless Edmonton finds themselves surprisingly in a fight for the playoffs in the new year there is no reason not to entertain offers and look to deal one of the two rather than lose them for nothing. Bryzgalov would be the likely candidate to move as he is making just $1.75 million (pro-rated because he didn't sign until November) for the season and has playoff experience. He could fit in well with a team looking for depth and insurance going into the playoffs.
Dubnyk has the higher ceiling, as well as contract ($3.5 million), and is still 27 years old. If the Oilers determine they are tired of waiting for him, there could be a number of teams that hope a change of scenery is what he needs.
In the immediate future expect to see a combination of Dubnyk and Bryzgalov, but very likely there will at least one new face between the pipes for the Oilers before the season is over.
LONG TERM
Long term planning is difficult in the situation mostly because the long term solution in goal for the Oilers is not yet in their organization. The Oilers were hoping that this would be the season Devan Dubnyk took hold of the starter's reins and ran with it. The season is still young and he could still do that, but how long will the Oilers wait?
He has had a very inconsistent season to date and numbers that are well below par. Certainly not all of the blame for the team's struggles can be placed on Dubnyk, far from it, but he has been disappointing over the first three months.
So where does that leave the team for options going forward?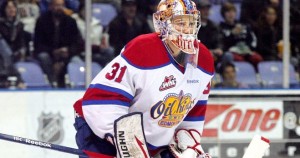 Perhaps the gem of the Bryzgalov signing could be the subsequent Ladislav Smid trade that brought in Laurent Brossoit.
The Oilers system was lacking any sort of blue chip goaltending prospect. With Brossoit, a Edmonton Oil Kings graduate, they have a legitimate NHL prospect. Just a year out of junior he has a lot of developing still to do, but does provide some hope.
The problem is that he is at least a few years away from regular NHL duty.
POSSIBLE CANDIDATES
With the real issue being the next few years, where the Oilers have their young stars locked up and are expecting to compete for the playoffs, and upgrade will be desperately sought sooner rather than later; 
Justin Peters, Carolina Hurricanes: Lately rumoured to be on the market with Carolina carrying three goaltenders, his name has been linked to the Oilers. At 27, many believe he is hitting his prime and ready for an opportunity at a bigger role. He's young, controllable and has potential, but in five seasons has compiled NHL totals of 2.98 GAA and .905S%.
Ryan Miller, Buffalo Sabres: The biggest name on the market, and linked to every team in need of goaltending help, Miller would be a big score for the Oilers. However due to his age, size of contract and likely no desire to play in Edmonton, he would be a long shot at best either in trade or free agency.
Michael Neuvirth, Washington Capitals: Recently recalled by the Caps from a conditioning stint, the team has Braden Holtby ahead of him on the depth chart and Philipp Grubauer behind him. Holtby is entrenched as the starter and Grubauer has been excellent in his five games this season which could make Neuvirth expendable.
Ben Scrivens, Los Angeles Kings: No one is unseating Jonathan Quick as the starter in LA, but when he went down to injury few could have expected Scrivens and rookie Martin Jones to be as good as they have been in relief. If the Kings want to give Jones more of a role, Scrivens could be had for the right price.
 ___________________________________________________________________
Follow Carl on twitter @maloney3383 and Google+ for more articles