The United States Olympic Hockey team is starting to come together, and the 2014 Sochi games are just around the corner. It's that time of year when the air is brisk, the neighbors are merry, and the sport we all know and love is in full swing. This year there is something else in that same air, a certain tension among experts as to who should start in goal for Team USA; a question that if asked in August, may have yielded different answers.
The Goaltending Options
Early on in this NHL season the goaltending question for the US Olympic team would've generated little discussion, most of it about the 3rd string roster spot anyway. However, as we fast-forward to mid-December, a lot of questions have popped up regarding who should make the team. Here's a rundown of those goaltenders in the mix:
A crafty vet that led Team USA to a Silver medal in Vancouver.  He would be the obvious choice to start for the team in Sochi. His play so far this season has been solid, but playing for a last place team may come with a different price. Will he be rested enough to play well throughout the tournament, and will the different pace in front of him (and most likely fewer shot totals) mess with his game play?
A sliding, lunging, acrobatic brick wall in terms of goaltending. His play this season has left something to be desired, especially after the last couple of year's playoff runs, but he was also fighting minor injuries before his major groin strain that will keep him out until close to the new year. Will he be able to get back to 100% and fight for the starting position in Sochi?
*INJURY* Los Angeles #Kings #goalie Jonathan Quick is expected to be back on the ice before Jan 1. He is nursing a groin injury.

— GoalieGram™ (@goaliegram) December 12, 2013
A patient team leader who bid his time in Vancouver until a blockbuster trade sent him across North America to split time with the greatest ever. So far this season he has only played in 15 games, and for the most part has seen limited action through that time. He does boast the 3rd best GAA at 1.97, but will that carry over to Sochi, and will he be able to crack the lineup to push for some game action?
#DevilsFacts: Cory Schneider is 3-1-1 with 1 shutout, 1.74 GAA & .924 save-% in his last five starts. He'll be in net tonight!

— New Jersey Devils (@NHLDevils) December 13, 2013
Who would've thought he would even be in the 2014 Olympic equation, but his comeback has shown he still has that competitive spirit that won him the Conn Smythe in 2011. To this point in the 2013-2014 campaign he has been a great source of consistency in Florida, but he has battled a little injury bug himself. Will he have the energy to play his never-give-up style in Russia, or will he even be considered for the team?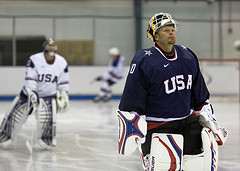 Early on this season a lot of USA hockey followers thought he may be able to provide the goaltending needed to backstop the Red, White, and Blue to another medal, but he has left much to be desired so far. His lackluster play and untimely goals against have bumped him down the depth chart, and his lingering injury problems are just that. Will he make a comeback before Sochi, or is his fit to miss out on the ride?
Over the past 2 seasons he has made quite the case for making the Olympic roster, but this season has seen gaps in his play and his overall numbers decline. While he is still stopping over 90% of shots he faces, he seems to be fighting the puck a little and a recent injury could throw off his game further. Will he be able to regain his all-star goaltending form before it's too late?
Jimmy Howard with Grade 1 MCL sprain..out 2-4 weeks per Ken Holland.#RedWings

— Ted Kulfan (@tkulfan) December 13, 2013
Possibly the last guy on the Olympic depth chart before the season started has made quite the argument for a spot on the team. He has led all American goaltenders in wins (17), GAA (with a miniscule 1.97), shutouts (3), and save percentage (.933). He has helped lead a newly revitalized Tampa team to a great start with playoff implications, and he has a track record of international play. Can he garner enough support to make the team, or will his play go unnoticed?
Olympic Goaltending Predictions
As we sort through all the possibilities of what will happen between now and Sochi, we can only speculate as to who will man the net for Team USA. Here is how I think it will go down.
Jonathan Quick: I feel like he will be back to his top form well before Sochi, and will find that drive and energy he needs to lead the team into a medal round. He wants to win for his country, and a Gold medal is the next notch on his career belt.
Ryan Miller: He deserves to be given another shot at the Gold after getting the team so close in Vancouver. He may no longer be the top guy, but his presence will have a positive overall effect on the team, and his play still proves that he can handle top competition.  Here's a sneak at his new gear:
Ryan Miller @RyanMiller3039 (Buffalo Sabres) New Vaughn V6 setup pic.twitter.com/fWVbxW6BGW

— Tendy Gear® (@tendy_gear) December 16, 2013
3. Jimmy Howard: His development over the past few seasons has been a pleasure to watch (with one exception: I am a life-long Blues fan), and I feel that this injury will allow him to refocus and re-sharpen his game. I think he will be a great addition to the Team USA roster, and will give them a complete unit of goalies to work with.
I believe that the United States Olympic team will have plenty of great options to review as February approaches, but I feel that these netminders will give the team the best goaltending possible, and the greatest chance at getting that ever-illusive Gold medal.
Honorable Mentions
For those who would like to know why I didn't choose the other Olympic hopefuls, here are some reasons: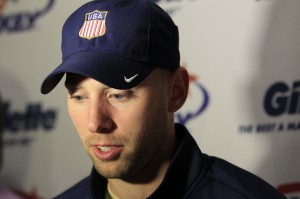 Craig Anderson (pictured in Team USA gear above): He simply has not shown that he can be an unstoppable force consistently enough for me to feel comfortable with him as our go-to-guy internationally. His recent play and systemic injuries are also a cause for concern.
Tim Thomas: The fact that he took a year off and his age combined does't sit well with me when thinking about winning the Gold. He has the work ethic you want, but given his injuries this season I think he's better off letting the trio above handle the load.
Ben Bishop: Although he has the strongest case to make the team this year, I don't think he is fully ready to take on the world at the Olympics. His career numbers have some fluctuation and he hasn't been in too many big games yet, however, he's certainly finding his stride as an NHL starter in Tampa right now.
Cory Schneider (pictured below): Many feel he will be the 3rd man on the Team USA Goaltending Depth Chart but I feel that his lack of minutes this year could spell disaster if he gets game action while in Sochi. Mix in the fact that he has yet to play a full NHL season as a starting goalie and he barely misses the cut.

(Ed Mulholland-USA TODAY Sports)
All-in-all the United States Olympic hockey team should provide some great action, and should have no problems shutting down opponents defensively. Whomever the goalies turn out to be, they will be primed and ready to take home Gold, and be sure that the team around them is hungry to erase that bad taste left in their mouths from the 2010 Games.
Like what you've just read? Follow me on Twitter: @pep30