Watching Detroit hasn't been much fun recently and enjoying writing about the team requires even more effort.  But here's another attempt, nonetheless.
Film, T.V. and literature are the finest sources of inspiration and wisdom for non-scriptural people. For the Red Wings who fall into this category of person, or for those who simply like to read books and watch movies, it might be wise to heed the characters below…
(note: not all quotes are available on video)
"Men are weak…scattered, divided, leaderless."  – Lord Elrond, "The Fellowship Of The Ring"
Not the most inspiring language, no doubt, but especially relevant words for the collapses we have come to expect in Hockeytown.  Detroit is not leaderless, and this is an insulting way to describe the Red Wings under Henrik Zetterberg's budding captaincy, but the lack of cohesion over 60 minutes is a great concern.  It would be surprising if captains Zetterberg, Datsyuk and Kronwall did not command the obedience of their teammates.  So surprising, in fact, that we can basically rule it out as a possibility.  But still, the Wings are not on the same page despite the presence of sufficient talent. Therefore leadership, at some level, must be an issue.
"F*** sides! What we need here is a little solidarity!" – Mr. Pink, "Reservoir Dogs"
Again, not all that inspiring.  There's no indication the Red Wings are pointing fingers, or pistols, at each other like in "Reservoir Dogs," but could the chaos on ice suggest a dearth of camaraderie?  Is the individual Red Wing, at this moment in time, "an agent of chaos"?  If so, this is bad and Mr. Pink, the most exuberant Reservoir Dog, has some criminal common sense to offer the team.
"If we join, we can win, and if we win, then we'll have something none of us has had before, a country of our own!" – William Wallace, "Braveheart"
Now we get to some banner-waving.  It's difficult, nearly impossible, to find a commander reaching Wallace's level of inspirational let's-do-this-ness.  In fact, Wallace is so convincing as a leader that some of us (meaning me) have become Mel Gibson apologists.  No easy task, but the man is a gifted filmmaker and his total commitment to bringing the Scottish rebel chieftain to life will be praised for generations.  Of course, Detroit has won Stanley Cups before, but you get the point.
"I'm captain of the team.  Are we still a team, or a bunch of cutthroats trying to do each other in?" – Antonio Balbi, "Alive"
"Alive" is a movie about ass-eating athletes, so this film provides some tricky territory.  Like the actors in "Alive," Henrik Zetterberg wears a beard and his hair long.  He could easily pass as an extra in the movie about Central American cannibals.  His style also makes it easy to imagine Zetterberg reciting the "cutthroat" line.  Hopefully, he never has to.
"I wanted to draw the mountain into the west.  Into our country where we could surround him and kill him." – Robb Stark, "Game Of Thrones"
This is my favorite, and I turn to Zetterberg again and cast him as the tragically murdered King Robb.  The line above comes from a scene where Robb castigates his uncle Edmure for a battlefield blunder.  "Z" has had plenty of opportunities to castigate plenty of people for plenty of things.  Part of me wishes he has.  Part of me wishes he has not.  The only prominent character in this demoralizing season who can be castigated with little consequence is coach Mike Babcock, so let's imagine it's our droning, but simultaneously savvy, skipper being reprimanded in this visceral exchange.
Visiting nhl.com is not nearly as enjoyable as it used to be.  Updating oneself on who did what in the NHL churns up feelings of envy and shame.  The game is still beautiful, but shaking the knowledge that all is not well in Hockeytown is an exercise in futility. Even the game's most mesmerizing artist, Pavel Datsyuk, has not been able to spread his magic throughout the roster.  We bloggers are even more powerless to affect things.  Waiting, watching and writing are our only options.  The options for Detroit seem to be fewer.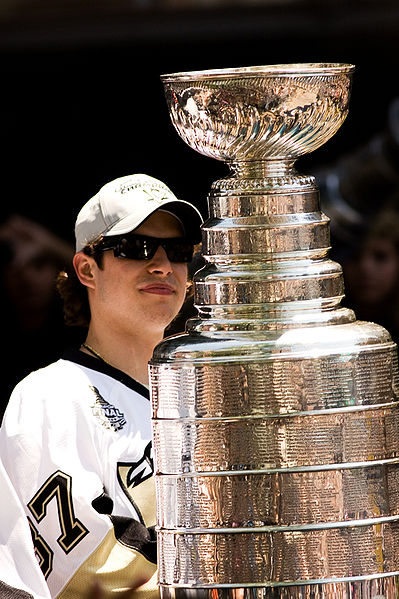 We cannot call off the season and try to forget it, as much as some of us would like to.  Detroit has more than half a season to cure itself, but 2013-2014 could be an unsolvable problem; a Gordian Knot fastening the team to a pole for ravens to encircle. With each expected defeat, our chins  drop closer to the floor, lowering us so we no longer resemble fans of the proudest team in the world.  The pride is slipping away.  It's as if the 2009 Stanley Cup Finals wounded the organization and the wound was neglected, left to leak and fester.
Things have not been the same since Sidney Crosby skated with the historical silver trophy.
Hockeytown now wonders: will it ever be the same again?
Follow Ian on Twitter at: https://twitter.com/ianflemingdunha