By the middle of December, the Lightning's domination in the Eastern Conference has dwindled.  Now holding the third seed in the Atlantic Division, the past five games have seen the Bolts go 3-1-1, an upward trend thanks to the strength of their four lines.  The top three lines have each started a game for the Bolts, while the fourth line has been shuffled mainly on the wing.  Each of these lines have contributed to the Lightning's recent surge at a time when the playoff picture is becoming clearer and each win more important.
First Line: Ondrej Palat-Tyler Johnson-Martin St. Louis
This line will look different once Steven Stamkos returns to the lineup, but for the time being, the top line for the Lightning has been fine without the sniper, with a combined 12 points in five games.
In his second season with the Bolts, Tyler Johnson has grabbed 18 points in 34 games, including four in his past five.  His faceoff percentage hasn't been great, or even above 50% in that span, but he has scored goals when it's been needed, including the game-winning goal against Detroit.  Though Ondrej Palat contributed three points in the past five games, his combined 11 hits and five blocked shots have helped keep the top line gritty.
The stud of the first line is captain Martin St. Louis.  His best game of the past five was the December 10 goal-fest against Washington.  Lighting the lamp twice and getting a helper secured a 5-6 win and third star nomination on hostile ice.  Overall he has five points in five games; the best points total on the team for that span.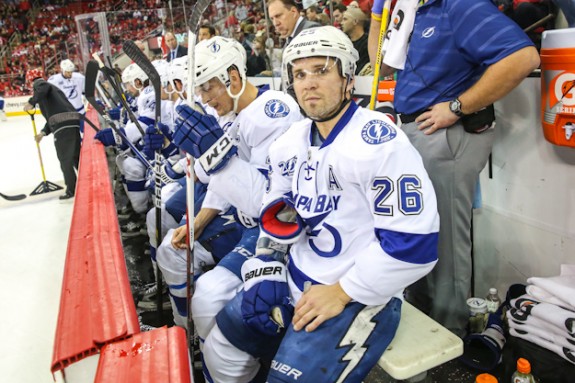 Second Line: Alex Killorn-Valtteri Filppula-Teddy Purcell
The productivity for this line has disappeared but with Filppula's performance from the 3-2 shootout win against the Islanders on December 17, there is confidence that he will break out of his slump and continue to light the lamp.
His line mates, however, have not had a breakout game.  Alex Killorn is a minus two over the past five, scoring a mere one point (a goal in a 3-0 win over Detroit) during that span.  Teddy Purcell only has an assist in five games and is also minus two.  Filppula underwent a similar slump until his two goals and successful shootout round win.
This goal by Filppula tied the eventual come-from-behind win with four seconds left:
Third Line: J.T. Brown-Nate Thompson-Nikita Kucherov
After the first line, the Lightning's third has been the most productive, putting up a combined eight points in five games.  Their plus/minus has also been positive, with only Thompson at a draw over five games.  Brown has contributed the most to this line's fire power, with one goal and four assists.
Kucherov has done well in the skills competition as well.  Not only has he won two of three rounds, but those shootout wins resulted in the Lightning getting two points (the Bolts' other shootout win, against Detroit was won by St. Louis after five unsuccessful rounds).
Fourth Line: Richard Panik-B.J. Crombeen-Dana Tyrell
There are not many positives to be found in Tampa Bay's fourth line, which has seen the most changes – and scratches – of any line on the team.  Panik and Tyrell have only seen ice time on three of the Bolts' past five games and Crombeen has suited up for four.  While their combined points total (one) leave a lot to be desired, their ten hits and eight blocked shots contributed to Lightning wins.
Michelle Timian fell in love with hockey after watching a game between the Montreal Canadiens and Toronto Maple Leafs in 2006 and has been following hockey ever since. She is a graduate of Western Illinois University with a degree in Creative Writing and is more comfortable in front of a keyboard than on skates. She also blogs for the New York Rangers at blueshirtsunited.com.