"Honestly, we don't care what league they come from — college, juniors, Europe. If they can play, they can play for us. Every player is unique."
– Garth Snow, General Manager of the New York Islanders
It was the summer of 2006. Neil Smith had been the General Manager of the New York Islanders for 41 days before being relieved of his duties with the team. While Smith's dismissal certainly shocked some Islanders fans, the hockey world was probably a bit perplexed when Charles B. Wang announced that Garth Snow would assume GM duties after Smith's ouster from the position.
Despite the fact that Snow had no prior professional managerial experience, his Bachelor's and Master's experience in Administration lent some credence to the promotion of the ex-goalie to such a post. Transitioning to a new style of play in the post-lockout (2004-2005) era wouldn't be an easy task for the New York Islanders or a new General Manager, but Snow quickly gained notoriety in hockey circles by making a 2007 NHL Trade Deadline splash by acquiring Ryan Smyth. Even though Smyth couldn't help New York advance during the 2007 Stanley Cup Playoffs and ultimately left Long Island after his short stint with the Islanders, Snow's introductory season saw him make a number of shrewd moves to better his team – a trend that would certainly be reinforced as the years passed by.
The Draft Strategy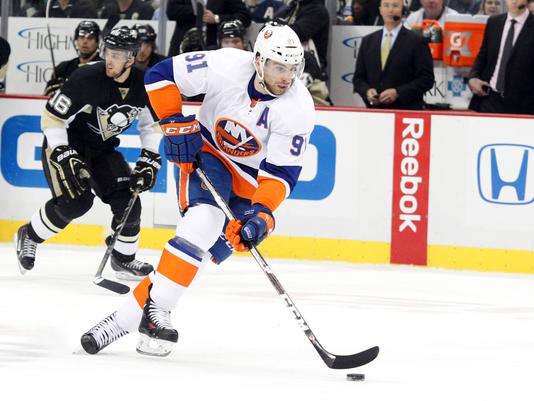 After battling all the way until the last day of the 2006-2007 NHL season in order to secure a playoff berth, the New York Islanders were dispatched by the Buffalo Sabres in five games during the first round of the 2007 Stanley Cup Playoffs. While New York's big ticket trade deadline acquisition (Smyth) chose to sign with the Colorado Avalanche during the 2007 offseason, Garth Snow decided to embark upon a journey that has only recently begun to shown some signs of fruition.
Starting in 2007, Snow decided to rebuild the Islanders through the NHL Entry Draft – a long and arduous task that could be daunting for any GM, much less one that was fairly new to the job like Snow. Regardless of any perceived lack of experience, Snow started to restock the Islanders' pipeline and build a team from scratch.
Mike Milbury's imprint on the Islanders was certainly felt when Snow assumed GM duties for New York as there was a dearth of viable prospects remaining in the franchise's farm system. While Milbury did leave Snow with very few prospects in the Islanders' pipeline, he also left the team with an image that carried over into the Snow era. Not only was Snow forced to figure out how to manage New York's youth movement, he often received labels that didn't apply to him as some hockey fans wrongly attributed moves such as Rick DiPietro's contract signing to Snow's earliest doings as an NHL GM.
Young players and future draft picks didn't have much of a shelf life under Milbury, but Snow's tenure brought about a new form of business – one that would eventually see the Islanders build up one of the most formidable prospect systems in the NHL.
The 2007 NHL Entry Draft didn't produce many players that became everyday fixtures in the Isles' lineup, but there surely was a plethora of drafting success to be had in future drafts. In particular, the 2008 NHL Entry Draft saw the Islanders make thirteen selections. Out of those thirteen selections, Matt Martin, Travis Hamonic, and Josh Bailey have had a significant impact at the NHL level for New York while Kevin Poulin, Aaron Ness, Matt Donovan, and Kirill Petrov continue to be held in high regards as they develop overseas or in the Isles' farm system.
While the Islanders undoubtedly stocked up on talent during the 2008 NHL Draft (courtesy of Garth Snow's maneuvering through trades), the organization's subsequent drafts only saw the team stockpile more promising players for the future. Picks such as John Tavares and Ryan Strome were viewed as obvious no-brainers, but selecting the likes of Calvin de Haan, Anders Nilsson, Casey Cizikas, Anders Lee, Nino Niederreiter, and Kirill Kabanov in between the Tavares and Strome selections has been the key to New York's rejuvenated youth movement.
The 2011, 2012, and 2013 NHL Entry Drafts were certainly no different for Garth Snow and the Islanders as the franchise managed to pick a number of promising defensemen (Mayfield, Pedan, Reinhart, Pokka, Pelech, & Pulock) and forwards (Sundstrom, Persson, & Strome) over the last three summers. Of course, it will undoubtedly take a while to see which of the aforementioned picks pans out for New York in the long run, but there is definitely enough reason for optimism as more and more Islanders draft picks are showing signs of progress and maturation. Rebuilding through the draft has been Garth Snow's agenda since Richard Zednik, Ryan Smyth, and Jason Blake jettisoned from Long Island, and after six years the fruits of Snow's labor are finally beginning to show.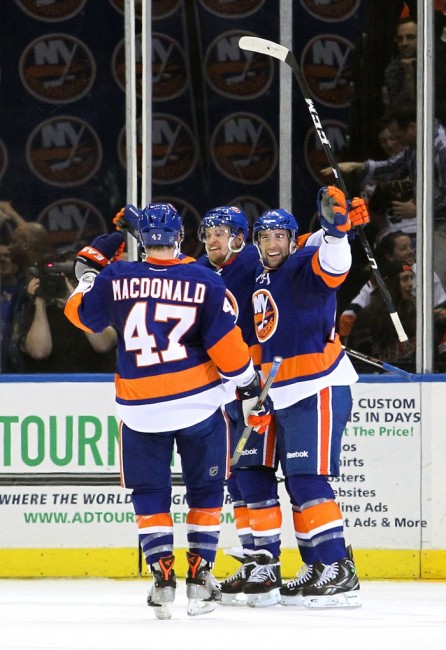 To many NHL GMs, filling out parts of a professional hockey lineup by plucking players off of the waiver wire might not seem like a very appealing option. For Garth Snow and Islanders fans, the waiver-wire has been a splendid choice that has yielded quite some favorable results for the franchise.
Players such as Thomas Hickey, Michael Grabner, Evgeni Nabokov, Keith Aucoin, and Brian Strait have all played important roles with the Islanders in some capacity. While Hickey and Aucoin could be viewed as depth players at their respective positions, Grabner and Nabokov have become integral parts of the Isles' everyday lineup, and Brian Strait has certainly rounded out New York's defensive units.
As previously mentioned, the waiver wire might not be a GM's first choice when building up a contender, but Snow has found a few gems that have fit perfectly into the Isles' current plans. Not only has Snow found a number of steals through the waiver wire, he has locked up these players (Hickey, Nabokov, Strait, & Grabner) to very responsible and manageable deals – something that is hard to say for other teams around the NHL that are handing out long-term big money contracts to free agents. Despite that many have looked down upon Snow's waiver-wire dealings, the GM has certainly proved, as cliche as it may sound, that one man's trash can be another man's treasure.
Shrewd Trades
Over the years, Garth Snow has not only picked the waiver-wire and the NHL Draft for some gems, he has also had success when it comes to trading and handing out contracts. Snow might not have had the best trade chips available, but he has certainly made do with the resources at his disposal.
Starting in 2007, Snow swung a few deadline deals that netted him Marc-Andre Bergeron, Richard Zednik, and Ryan Smyth. While such dealings did cost draft picks, Snow's deadline acquisitions helped the Islanders make the 2007 Stanley Cup Playoffs and even helped the GM garner "Executive of the Year" honors for the 2006-2007 hockey season. Despite the fact that Snow hasn't swung any deals for superstars since trading for Smyth, his track record in the trade market has been quite impressive.
During the next three seasons (2007-2010), Snow chose not to dabble in any blockbuster deadline deals, but he did move around some picks in order to better position the Islanders in the NHL Draft from 2008-2010. Dealing away players such as Chris Campoli, Mike Comrie, and Andy Sutton might not have been regarded as important moves being made by Snow, but they provided the Islanders with better positioning in future drafts.
Much the same can be said about the GM's moves from 2010 onward as Snow improved his draft positioning through trades and even managed to get a better return for James Wisniewski when he dealt him away in late 2010. While fan favorites such as Dwayne Roloson were also moved during the 2010-2011 NHL season, Snow displayed an ability to accurately gauge a player's value – especially if a player seemed likely to want or make an exit from Long Island.
Savvy Deals
Playing the waiver wire and drafting top talent through the NHL Draft has been a strong suit for Garth Snow, but New York's GM has also locked up his core talent to very responsible deals. If one takes a look around the NHL and the trends that have been occurring in regards to some long-term contracts being handed out, then it might become apparent that some teams are investing big money and years into high profile free agents. This is not to say that some long-term contracts have not been well deserved by some players, but in days of lavish spending it is sometimes harder to find a General Manager that will commit himself to the utmost fiscal responsibility.
Aside from locking up newcomers such as Brian Strait and Colin McDonald to manageable deals, Snow has also locked up his core players to solid deals that fall right within the team's finances at the moment.
| Player | Contract Length | Contract Value | Yearly Cap Hit |
| --- | --- | --- | --- |
| John Tavares | Six Years | $33 Million | $5.5 Million |
| Travis Hamonic | Seven Years | $27 Million | $3,857,143 Million |
| Josh Bailey | Five Years | $16.5 Million | $3.3 Million |
| Frans Nielsen | Four Years | $11 Million | $2.75 Million |
| Michael Grabner | Five Years | $15 Million | $3 Million |
| Kyle Okposo | Five Years | $14 Million | $2.8 Million |
Islanders fans have certainly been aware of the fact that Charles Wang has been bleeding money since taking over as owner of the hockey franchise, so it is all the more impressive to see Snow keep his core players intact while remaining inside of his budgetary limits. Of course, if a free agent was available at a reasonable price, then there is no reason to think that Snow wouldn't pursue that player. However, if New York's GM has shown hockey fans anything over the last several years, then he has displayed a patient approach to committing to multi-year contracts on certain players.
Mark Streit certainly gave the Islanders his all during his tenure with the team, but the free agent's desire for one last NHL contract proved to be too steep of a price to pay for an aging defenseman. Considering the fact that Snow initially signed Streit to a very friendly five-year contract ($20.5 Million) in 2008-2009, it would be unfair to expect the GM to break bank and match a contract offer such as the one given out by the Flyers (Four Years at $21 Million) – especially since he had already signed Lubomir Visnovsky to a two-year deal worth $9.5 Million.
Not only has Snow shown a willingness to keep his young players around, he has given them a fair reward when it is properly due. The New York Islanders have begun to show many signs of improvement as a collective unit, and it wouldn't be a surprise to see the same core members of this team rewarded in the near future if they keep on consistently improving.
Garth Snow – The Right Guy For The Job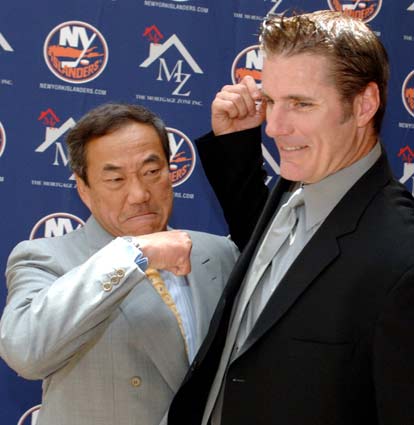 Many hockey fans and analysts might still have their respective opinions of Garth Snow, but I believe that the GM has done the most that he can do with the Islanders, and then some. After taking over a team with little to no assets in the pipeline, Snow has slowly built up a team that is showing signs of maturation and growth. Nobody said that the rebuild would be easy for the franchise or its fans, but then again when are rebuilds ever easy for a team and its fan-base?
Instead of mortgaging the future and making a trade for a high profile player, Snow has stuck to his guns and has let his young players develop as a group. The core players that comprise the New York Islanders have been signed and re-signed for a reason. Of course, it could be easier to spend money and bring in players, but Snow has opted to take a route that will see his core players share the ups and downs of NHL life as a group. Nobody can predict how well some players will grow and play together, but there is no doubting the fact that Snow is trying to build a product from the ground up.
Over the years, Garth Snow has received a good amount of criticism from hockey fans for a number of reasons. While fans will still make their jokes and critiques, one could look at New York's situation through a "ten-year" lens and start to see a positive reversal of trends. Mike Milbury brought in high profile players to Long Island, but some of those moves were done at the expense of New York's future. Not only has Garth Snow reversed the trend of trading away young and promising players, he has managed to identify and undertake a number of low-risk moves that have paid off their dividends for the franchise.
As previously stated, pushing forth with a full-scale rebuild is usually a lengthy task, but it has been one that Snow has dedicated himself to to the fullest degree. Value deals, waiver-wire transactions, and developing draft picks might not have been the ideal scenario for Islanders fans in 2006, but the fruits of Garth Snow's labor are finally starting to show. With the Islanders set to move to the Barclays Center in the very near future, there is no telling what kind of opportunities will be presented to the team with an influx of new marketing opportunities and fans. One thing is for certain though, the New York Islanders' prospects as a team are looking as bright as they ever have, and Garth Snow should certainly be given credit where credit is due.