Slava Voynov, Los Angeles Kings
Drew Doughty is no longer the only offensive weapon the Kings possess on the blueline. The 23-year-old defenseman broke out last season, notching 25 points in all 48 games with the team. He carried it into the playoffs where he finished 14th in scoring among all NHL players.  This youngster is clearly a fantasy gem in the making and is a must draft for this upcoming campaign. Drew Doughty hasn't cracked 40 points since his 59 point campaign in 2009-2010 and the Kings are starting to realize that Doughty might not be the elite offensive talent they thought he was. Voynov is a lock to surpass 40 points and don't be surprised if he hits 50.
Voynov showcases his ability to step into the rush and score a timely goal
Oliver Ekman-Larsson, Phoenix Coyotes
Phoenix isn't usually the ideal place to turn to when fantasy owners are in need but Ekman-Larsson's case is just too good to ignore. The 22-year-old defenseman has put together two consecutive terrific fantasy seasons where he has provided outstanding offense from the blueline. Last campaign, he potted three goals and 24 points in 48 games with the Yotes.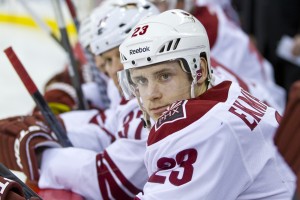 This impressive season came right after his breakout year where he recorded 13 goals and 32 points. Larsson runs the power-play alongside fellow fantasy gem Keith Yandle. The power-play should see a significant boost with the addition of playmaker Mike Ribeiro. Larsson averaged 3:40 of power-play time last season and on a unit with Yandle, Ribeiro, Radim Vrbata, and Martin Hanzal, his production will keep improving.
Tyson Barrie, Colorado Avalanche
Things are heating up in Colorado with newcomer Nathan Mackinnon looking to make an early impact. Meanwhile, Matt Duchene is back to elite status and PA-Parenteau is showing he can be taken with confidence in a fantasy pool. The Avs are lacking top offensive talent from the back end and that is where Barrie comes in. He has had some auditions and now it's time for the 22-year-old to show what he can do. With 13 points in 32 games with the Avs last season, Barrie is well on his way to becoming a regular fantasy contributor. His 2:38 ice time with the man advantage last campaign suggests he is ready to be a regular on the team's top unit. That is a fantastic gig if you can get it as the Avs are becoming loaded with talent up front. Barrie could crack 30 points next season if he makes an impact early and lands a regular spot with the team. Erik Johnson has talent and could possibly prevent Barrie from appearing on the top power-play unit but injuries often keep Johnson on the sidelines.
Barrie's wicked shot will be a massive asset to the Avalanche's power-play
Justin Schultz, Edmonton Oilers
The Edmonton Oilers will finish atop of the NHL standings sooner than you might expect and this kid will play a major role. Many rookies seem to endure the dreaded sophomore slump in their second year but Schultz just doesn't seem like the type. His minus-17 rating was a disaster but his 27 points in 48 games during his rookie was definitely not. On a top power-play unit with Taylor Hall, Jordan Eberle, Ryan-Nugent Hopkins and Sam Gagner, he could turn into a point producing machine. Andrew Ference was brought in to help the Oilers become stronger defensively which can let Schultz be more confident with his offensive rushes. Schultz could crack 50 points next season and is going to keep getting better with the team around him.
Schultz will continue to improve with such great young forwards in front of him