Vegas Golden Knights general manager George McPhee is salivating at the chance to willfully and legally extort his fellow general managers.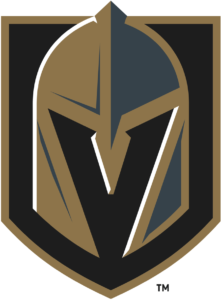 "For the next 72 hours, my staff and I will be negotiating with every team," said McPhee. "Once I know what players they want me to stay away from, I'll toy with them till I get whatever I want."
The Timing of It All
Teams had until 5 p.m. EST Saturday to submit their protected lists to the NHL front office. Once McPhee receives them at 10 a.m. Sunday, he holds all the cards.
"I've talked to every general manager in the league," McPhee said. "They think we're going to play nice. But, this is the only time we can easily destroy their roster plans. We just can't resist," he said as he rubbed his hands together and laughed sinisterly.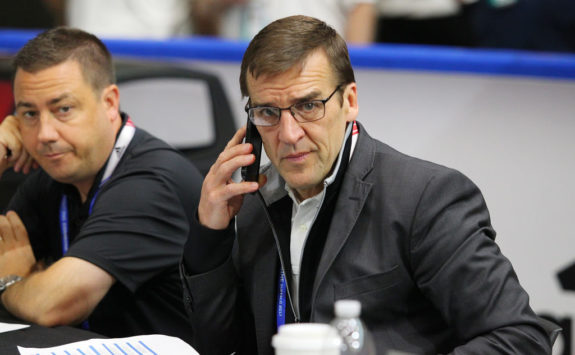 The Golden Knights must submit their list of picks – one from each team – to the NHL by 10 a.m. Wednesday.
Wheeling & Dealing
Some teams, like the Anaheim Ducks, have too many players they want to keep but cannot protect. They may end up having to expose defenseman Josh Manson or forward Jakob Silfverberg. That's when McPhee can backstab Anaheim's general manager Bob Murray. "Bobby knows he's about to get fleeced," said a cold and calculated McPhee. "There's nothing he can do to stop me."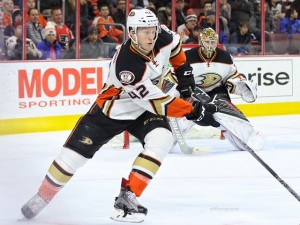 The Golden Knights are not permitted to announce any deals they've made until after the expansion roster is announced Wednesday night during the NHL awards show.
"Yeah, I know that's the rule. But I don't know if I'll be able to keep my mouth shut," said a giddy McPhee. "I'm killin' it. You wouldn't believe what I've been able to extort already."
McPhee's War Room
With so much to keep track of, the Golden Knights have set up a war room like those seen in anti-terrorism TV shows based inside the Central Intelligence Agency. Screens cover most of the wall space. Whiteboards are covered with player photos and strings connecting them to different teams.
"I knew watching '24' would come in handy one day," said McPhee while tethering a piece of string between two clubs.
The room has several rows of phones set up telethon-style. Calls will be answered from desperate and pleading general managers making a last-ditch effort to save their rosters. The phones never stop ringing.
"We're in Vegas and I hold all the cards," said a scheming McPhee, using another lame pun the hockey community should come to expect.
Pretty Please
McPhee said several general managers have desperately asked him to take on a bloated contract to provide them salary cap relief. For example, the Sabres would love to rid themselves of Matt Moulson, who has two years of his $5-million-per-year contract, and Zach Bogosian, who has three years left at $5.1 million.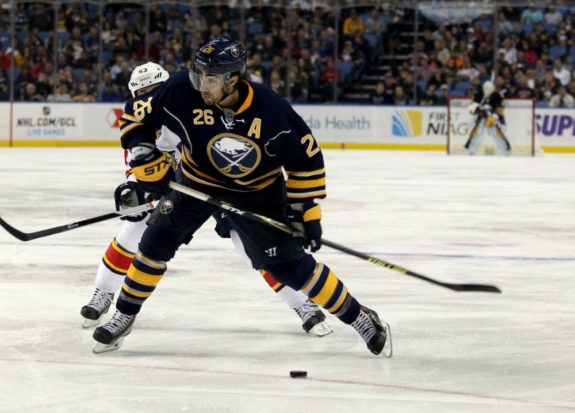 "We may do a little of that," said McPhee, trying not to belly laugh. "Those guys for $10 million? Come on. I'm not stupid. Yeah, maybe if they throw in a charter plane, a couple first-round draft picks and a pair of new Zambonis."
Fans and Media on Edge
With the suspense building, both fans and media are finding themselves glued to social media, waiting to hear about potential moves and trades.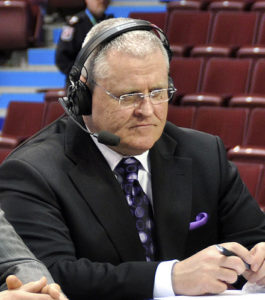 "I really need to make a trip to Home Depot for some light bulbs and weed killer," said a frustrated Elliotte Friedman. "But I know the minute I head out, my phone will blow up with a trade."
Canadian hockey commentator Bob McKenzie has admitted he has FOMO–the fear of missing out. "I've refreshed my twitter page 38,200 times this past hour. I can't miss any news."
Win Now or Later
Given the new rules and expansion policy put in place by the NHL, the Golden Knights could be competitive right away. Having paid a $500 million fee to join the NHL, the Golden Knights will benefit from the most generous expansion draft rules the NHL has ever had.
McPhee thinks his squad will be competitive this year. But within two or three years they'll be a dynasty.
"Teams typically have seven draft picks per year, but it's not out of the question we compile 60, 80 even 100 picks over the next two years," said a disingenuous McPhee. "We'll literally own the draft."
NHL Entry Draft
The NHL Entry Draft is scheduled for June 23-24 at the United Center in Chicago. The first round takes place on Friday, with rounds two through seven on Saturday.
It's quite possible the entire event will be over on June 23. The Golden Knights may hold every pick.
Trying to Outsmart McPhee
Several teams have stepped up their efforts to curry favor with the sinister McPhee. With too many defensemen to protect, the Minnesota Wild have sent a team of showgirls wearing nothing but feathered headdresses to serve McPhee meals and cater to his needs.
The Boston Bruins have made assurances that the next 10 generations of McPhees have been guaranteed entrance to MIT, Harvard, BU or any other New England college.
The Nashville Predators, wanting to protect both James Neal and Calle Jarnkrok, have sent all of Smashville to serenade McPhee until he guarantees he won't take them.
McPhee's Game Plan
McPhee says he's open to any offer or trade idea. "It's pretty cool to have so many general managers shaking in their boots, willing to do whatever I want," said the conniving businessman.
He'll take every deal on a team-by-team basis and exploit each one ruthlessly.
"Systematically, we'll try to decimate whatever plan every team has in place for success," McPhee shrewdly admitted.
The Golden Knights' future is in McPhee's greedy hands. Sabotaging opponents' rosters will lead to the Golden Knights' quick success.
*Relax. It's satire.