After going five straight games with no alterations to the lineup (except in goaltender for game four), Buffalo Sabres head coach, Lindy Ruff, has decided to change things up for tonight's game versus the Florida Panthers.
Here are the new lines from today's practice:
1st: Thomas Vanek, Luke Adam, Jason Pominville (stays the same)
2nd: Tyler Ennis, Derek Roy, Drew Stafford (Ennis now at LW)
3rd: Nathan Gerbe, Paul Gaustad, Pat Kaleta (Gerbe now at LW)
4th: Ville Leino, Cody McCormick, Brad Boyes (Leino now at LW)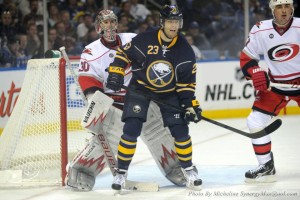 The most dramatic change of note is the shift of $27 million off season acquisition Ville Leino to the 4th line. He'll be paired with slugger Cody McCormick and 2010-2011 trade deadline addition, Brad Boyes. Both Leino and Boyes are struggling to find their role so far this year, putting up just 2 points between the two of them and a combined +/- of 0. To make matters worse, Leino has registered only 3 shots on net so far to Boyes' 7. At first, Leino's game winning goal against the Anaheim Ducks in Finland during the season opener seemed like a great start for his career with the Sabres. However, he's been silenced since then, registering 0 points and has even been benched. In the game against the Montreal Canadiens on Monday, where the Sabres were out shot 23-41, Leino played only two shifts in the 3rd period. He knows he needs to produce sooner than later and adjust better to his previous position switch from winger to center:
"I don't know if it's the system or whatever, but I'm sure that I'm not happy with how I've played. I'm sure Lindy isn't happy either. I'm just trying to work here and get things working."
Does this line demotion mean Lindy Ruff has already lost faith in his new star forward? No, absolutely not. It's only five games into the season and it takes time to find the correct line pairings for any team. Plus, a major reason why Leino was brought onto the Sabres is that he's proven to be a playoff beast (10 goals and 18 assists in 37 post season games), just ask any Buffalo Sabres fan.
Says Ruff on his decision to move Leino:
"It takes time to fit in. It takes time to find the right guy to play with. I think we're having some success right now. We'll just have some patience. I think, at times, he's held onto a few pucks too long but there hasn't been a lot of chemistry on that line."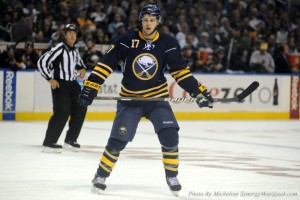 It would seem as if the defensive lineup may be undergoing a change as well. Marc-Andre Gragnani, who provides an offensive punch (2 assists, 3 shots, +3 in 5 games) but often gets caught in his own end, could be switched out for Mike Weber. Weber is more of a physical, defensive player, and if he does play this week, it will be his first game of the season. He had a +13 rating last year in 58 games. Apparently Ruff feels as though his defense has enough firepower with Jordan Leopold and Christian Ehrhoff (7 points, 16 shots between the two of them this year), so the switch of Weber for Gragnani will give Ryan Miller more support in his own end and leave the offense to the forwards. Considering how the Sabres were absolutely dominated against the Canadiens, yet still squeaked out a win thanks to Miller, this looks like a solid move by Ruff. Gragnani did practice with the number one power play unit today, so this change most likely won't take place against the Panthers.
Still, don't be surprised if these lineups are swapped and switched even more before tonight's game against the Florida Panthers, and again on Saturday versus the Tampa Bay Lightning. Ruff has been known to change things on a dime and given his track record, he's usually right.
Email: andy@comicattack.net // Twitter: @yourfriendandy // Sources: NHL.com, BuffaloNews.com, WGR550.com // All photos courtesy of Micheline (synergymax@aol.com)