I'm a fan of the show "Seinfeld." The group dynamics, the ridiculousness of everyday activities, and the general buffoonery of friends in the real world just does it for me. Heck, I've even used the classic George Costanza line: "Was that wrong? Should I not have done that?" to explain a professional mistake or two. The episode I kept thinking of this past week was one in which Jerry Seinfeld proclaims that everything evens out for him. He losses twenty bucks, and promptly finds another crisp Jackson-faced bill. One friend gets a new job and girlfriend; the others sees their life ripped to shreds. It always evens out for Jerry.
The moral of my revelation? No, I don't have some side deal with NBC or Crackle (but that can be changed if any of their executives are reading this). It will always even out for the NHL as a whole. The win streaks, the losing woes, and every affliction that franchises have to deal with, everything balances out over the long haul of an 82 game marathon. Just ask the Montreal Canadiens, who won their first nine games this year and are currently one of the coldest professional sports teams in North America.
Of course this balancing act includes injuries, which was something that the Los Angeles Kings happily avoided early in the year. A few players were banged up, some were held out of a few games, but that's to be expected when playing such a bruising sport. Well the other shoe finally dropped last week, when Marian Gaborik was injured in a thrilling Kings' victory over the New York Rangers. It was an odd game to say the least, as Gaborik scored one of two L.A. first period goals to give his team a lead. But then out of thin air, this happened:
As you can see there was nothing really peculiar about this play, one which probably happens 5000 times or so in an NHL season. Gaborik went for a hit on the Rangers' Dominic Moore, who saw him coming at this last moment and went to avoid getting his eggs scrambled. The result was awkward contact that left Gaborik injured, and the Kings reeling a bit. As Lisa Dillman of the L.A. times reported, the Kings are moving forward with Gaborik on the long-term injury report, and are unsure if he will be back in time for the playoffs.
You never want to see the words "long term" next to any player's injury prognosis, let alone somebody the caliber of Gaborik. Kings coach Darryl Sutter, not exactly a wordsmith, made it clear that the skillful forward would be out of the lineup for a great deal of time. So what are the Kings losing, what does it mean for their (currently shrinking by the second) divisional lead Pacific? Most importantly, how can they overcome the loss of a premier player on their roster? I'm glad you asked.
The Absence of Gaborik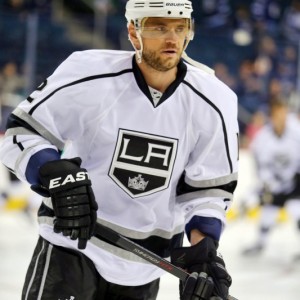 At 34 years old, it's safe to start wondering whether Gaborik has already begun to slow down. His 22 points in 54 games are modest, and he's on pace to be a net minus (-6 this season) for the first time since 2012-13. But Gaborik represents a different type of L.A. forward, one that is rooted in dynamic speed and exceptional hands. Gaborik's game is so slick that he could probably sell a Ketchup popsicle to a woman in white gloves. He gives the Kings something they've been criticized for lacking in the past: versatility. Their straight forward, puck possession approach is top-notch, but even the best laid plans need an energy boost at times. That's where the gifted Slovakian fits in, and why teams don't seem to have an answer for his big-moment scoring runs. There's a lot to account for on the Kings offensive attack before Gaborik is unleashed.
That versatility has rippling effects throughout the entire lineup. Gaborik can play with anyone, and can adjust his style to compliment any combination of linemates. Sutter understands this, and also so understands that Gaborik lacks the one thing that all coaches despise: an ego. His selflessness as a proven goal scorer enables Sutter to play around with the lines when others are struggling, without having to worry about ruffling Gaborik's feathers. Remember, he played several games on the third line this year, something that would cause fist-fights and profanity laced tirades in the star-driven locker rooms of other franchises.
Overcoming a Vital Loss
Gaborik is certainly a key component to L.A.'s scoring attack, but thankfully this is the deepest pool of forwards that this franchise has possessed in recent memory. Anze Kopitar, Jeff Carter, and Tyler Toffoli are proven game-changers, and will each have to account for additional output during Gaborik's absence. The most imposing forward in the Pacific Division might be Milan Lucic, and his duty of owning the front of the opposing net while not melting down remains intact. Dustin Brown's been playing much better as of late, but now his true scoring mettle will be tested. And fresh off of his overtime heroics at Madison Square Garden, Tanner Pearson will get the chance to show whether he has the consistency to be a major player up front for the Kings.
The real key to the Kings contingency plan without Gaborik lies at the bottom of the depth chart. There's no longer that same excess of skill spilling over to lines three and four, nor an embarrassment of roster flexibility for Sutter to choose from. It's time for players to step up, and prove that they belong in the lineup for good. Trevor Lewis is a trusted veteran and Swiss army knife of a forward, but even he has been prone to mistakes (the Capitals first goal against the Kings was a direct result of him being out of position in the defensive zone).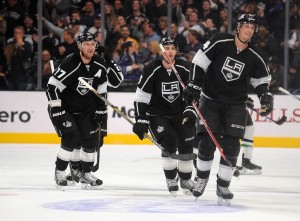 Vinny Lecavalier started out sizzling in L.A., but the numbers eventually evened out (there it is again). Can he provide some offensive production on a consistent basis? Will Nick Shore rise from the ashes and return as the promising forward he was earlier this year? Are Jordan Nolan, Andy Andreoff, Kyle Clifford, and Dwight King ready to set themselves apart from their bruising counterparts? Solid play and you're in the lineup for the long haul, but play poorly and you could be relegated to permanent healthy scratch status.
And maybe the real answer isn't up front, but rather on the other end of the ice for the Kings. L.A. has been awfully inconsistent during their recent stretch, and it starts with giving up way too many goals. The defense has been lacking, the goaltending has been mediocre, and the forecheck/backcheck combination that won two Stanley Cups has been less than precise. Maybe this injury is a wakeup call to reinforce the principles that have given the Kings their identity in the first place.
The Pacific Division Race
Oh yeah, it's a race again. The Ducks are on fire, the Sharks refuse to leave the club after last call, and the Kings are stuck in neutral. The Gaborik injury could be the difference in a division title for the Kings, and could also serve as the opening that both the Ducks and Sharks need to overtake L.A. in the standings. But honestly, would it be the worst thing in the world? The two teams that don't win the division will play each other in the first round, while the winner will get a central holdover along the lines of Nashville or Colorado. I'm not saying Sutter's going to go full "Philadelphia 76ers" and tank the end of the season, but the division title does not mean everything to the Kings' postseason aspirations.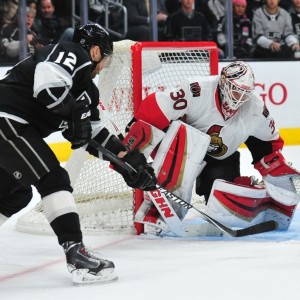 Now having said that, what L.A. can't do is limp into the playoffs. Gaborik's loss is a crucial one, but the team cannot pull their parachute now and start coasting into April. Bad habits will develop, and it will be hard to flip the switch back to overdrive. Last year they tried to kick it into gear too late, and the team ended up watching the postseason from the golf course. A sense of urgency must be felt in that locker room, and it should resonate with every player. Whether they are proven stars who have to do more, or bottom of the depth chart players who will be looked at more closely, the Kings will be counting on everyone.
Marian Gaborik's injury is another example of the adversity each team will face as they pursue Lord Stanley's trophy. Nobody in the NHL will feel sorry for the Kings, and nor should they given their own locker room adversity. It's never easy, but it's a grind that L.A. knows all too well.