Coming into the 2015-16 season, two of the more frustrating players in Philadelphia Flyers' fans' eyes were Sean Couturier and Brayden Schenn. It wasn't necessarily that the pair had played badly in the previous seasons, but more was expected from two top-ten draft choices.
Couturier has filled those expectations this year and much has been made about it. His defensive game causes mismatches for opponents, while his absence has done the same for the Flyers. Before his injury, the Phoenix-born center had 16 points in 16 games and 24 in 40 games, overall.
But it's Schenn who hasn't been getting much recognition for the contributions he's made to the team this year. He has 17 goals and 17 assists for 34 points and stands a good chance of breaking his career-high of 41 points in a season and maybe even the 50-point plateau.
Brayden Schenn's Progression
When the Saskatoon native was acquired from the Los Angeles Kings in the Mike Richards deal in 2011, he projected to eventually be the team's second-line center with Couturier manning a shutdown third line. Unfortunately for Schenn and the team, he hasn't performed at his best in the pivot role and has since shifted to wing in the past couple of years.
For a long time, Schenn didn't mesh well away from center, regardless of his linemates. He played the left wing with Claude Giroux, Couturier and Wayne Simmonds and with Vincent Lecavalier, who was brought in to replace Schenn as the second-line center incidentally, but nothing worked out.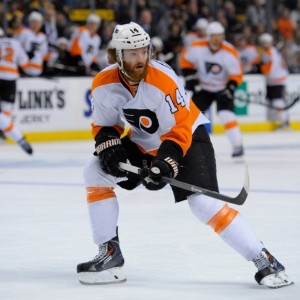 This year, new coach Dave Hakstol started using Schenn as a right-winger with Couturier and an offensive transformation began to evolve. The two players found chemistry they never had before, despite being paired together previously. It didn't matter if Matt Read or Michael Raffl played the left wing, the line clicked and finally brought some secondary scoring to the Flyers that had been sorely lacking.
While Couturier was injured Feb. 4, in the seven games since, Schenn has added three goals including a three-point night against the New Jersey Devils in Philly's last game. Two of those goals came on the power-play where Schenn has made most of his living this season.
Nine of his 17 goals have come on the man-advantage and is one tally behind Simmonds for the team-lead in power-play markers. While Shayne Gostisbehere has been rightfully commended for improving the Flyers' power-play, Schenn deserves some of that credit also.
He's created another option for Giroux and Jake Voracek with their pass-first mentalities and like Simmonds, can be a force in front of the net.  While Schenn's had the most chemistry with Couturier, he's also shown he can excel with other players also this year.
Schenn's Future
Despite the progress Schenn's made this season, he's rumored as a potential trade option for the Flyers at this year's trade deadline. The winger will be a restricted free agent this summer and could cash in on a contract over $4 million.
With the salary cap potentially going down and the Flyers with holes to fill, trading Schenn to solve more lineup problems could be an option for the team. With 17 goals on his resume this season and the ability to play a couple different positions, Schenn could have plenty of value in a trade.
But finding chemistry isn't always the easy thing to do with a lineup and Schenn and Couturier have found a promising bit. No one will know unless if Schenn is moved for sure, but trading Schenn could derail some of Couturier's development this season, also. It may be a tad costly, but Schenn has shown he can bring the depth scoring the Flyers need.