The Philadelphia Flyers are currently on the outside looking in of the NHL playoff race. But they're certainly not out of contention yet, they have 55 points through 51 games and the current wildcard teams, the Detroit Red Wings and Pittsburgh Penguins, have 60 and 59 points, respectively. The advantage the Flyers have over the three non-playoff teams currently ahead of them is that they have three games in hand.
However, it was recently announced that forward Sean Couturier will miss four weeks with a "lower-body" injury. I found out that Couturier's injury is in fact to his right foot and he has been seen in a walking boot. The diagnosis currently stands at missing four weeks, which is past the NHL trade deadline on February 29th at 3pm.
Philadelphia Flyers Playoff Outlook and Future
That leaves 10 games, and a maximum of 20 points on the table before the team has to make some big decisions. Next season both Jakub Voracek's and Couturier's new contracts begin which results in an increase of $6,583,333 on the salary cap. That figure is before dealing with any of the team's four unrestricted or five restricted free agents, some of which will be looking for a raise.
When you add in that the team has quite a few prospects looking to jump to the NHL level next season, something has to give. There is not enough roster space or cap space to retain the entire team and bring up some youth.
And I'll be blunt, the Flyers are a much better team with Couturier in the lineup. He leads the team as a +9 skater and is sixth in scoring with 24 points, but point production is not why Couturier is paid.
Couturier drives possession and is a vastly underrated defensive forward. Let's take a look his numbers and how it compares to his teammates.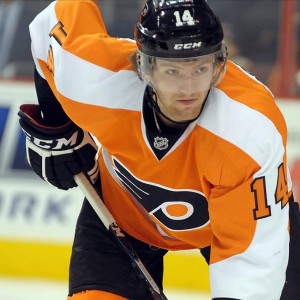 All Figures at Even-Strength, Unless Noted
Points-Per-60: 2.19 (1st)
Corsi-For Percentage: 54.86% (1st)
Corsi-For (Relative): +6.16% (1st)
Zone Starts (Fraction Off vs Def): 42.37% (4th)
Shorthanded Corsi Against-Per-60: 90.34 (1st)
Shorthanded Fenwick Against-Per-60: 67.05 (3rd)
If Couturier isn't leading the Flyers in almost every defensive metric, he's very close to the leaders. Without him the team has struggled and they just lost him right before the trade deadline. If these next 10 games do not fall in the Flyers favor, they'll likely become sellers at the deadline.
What seemed like a dark horse team to contend for a playoff position might have just lost any momentum they had. Couturier's absence is huge for this team and the playoffs look further away than ever before.
General manager Ron Hextall had this to say about Couturier's injury and what losing him means.
It's not the news we wanted but that is the way life goes. Again, we have a resilient group and got to continue with that. Coots is a big part but other guys have a chance to step up and get more minutes. Take the ball and roll with it.
While it's easy to say that the team is resilient and some other players now have a chance to step up, replacing a player of Couturier's caliber is no easy feat. Considering that the Flyers are 2-7-2 without Couturier in the lineup, are 21-12-7 with him and things do not look very bright in Philadelphia.
Will the Flyers contend for the playoffs? Will they become trade deadline sellers? There's a lot of questions surrounding this team and they'll be answered in three short weeks.
Thanks for reading! Feel free to leave your comments below or tweet me anytime @MPityk_PHI