There isn't a position in the NHL less predictable than goaltending. The variance in year-to-year save percentage is just astonishing. It's what makes even the most predictably average of goaltenders, like Jaroslav Halak, Brian Elliott, Kari Lehtonen and Ryan Miller such rare – if unexceptional – commodities. They're not going to be mentioned in the league's best on an annual basis, but it's almost a given that they will perform to at least average or above average levels of play. The goalies who bounce between both ends of the league average spectrum, they're a little more indicative of the rule. They're also more susceptible to losing their grip on a starting job.
It sometimes isn't a one-year process, either. Anton Khudobin stands as a long-serving testament to this. The Kazakh netminder has posted impressive numbers in back-to-back seasons – with an admittedly small sample size – and hasn't yet secured his spot in the Hurricanes crease over Cam Ward — Ward's last four seasons have been remarkably awful to average. Amazing the equity a Stanley Cup run can buy a goaltender; even ten years later. It's taken Cory Schneider four great seasons to finally find a crease to call his own.
For goaltenders, patience really is a virtue.
With the 2014-15 season nigh upon us, it's worth looking into who exactly is primed to be that next breakout netminder. For every seasoned veteran that bides their time between the AHL and backup gigs, there's a John Gibson that just bursts onto the scene. Here's a look at goalies on both sides of the spectrum, primed to break-out this season.
The Field
Josh Harding/Darcy Kuemper, Minnesota Wild
I'm not sure how Minnesota will clear space for one of these young stud goaltenders, but it's past overdue. That said, Josh Harding's lengthy injury history has made the passing of the torch from Backstrom a little more difficult than originally intended. Injuries or otherwise, the Wild will be entering the season with three goalies on one-way contracts and that doesn't even account for Ilya Bryzgalov's PTO. At some point, somebody has got to go.
Brygalov's tryout could have a large impact on how this goaltending situation plays out. On an affordable deal, perhaps of the two-way variety, the Wild could justifiably enter the season with Kuemper and Backstrom playing in the big leagues and Brygalov marinating in the minors. Somebody still has to be moved though once Harding comes back from injury and suspension, mid-season. My head is spinning. One thing is certain: the Wild aren't short on options.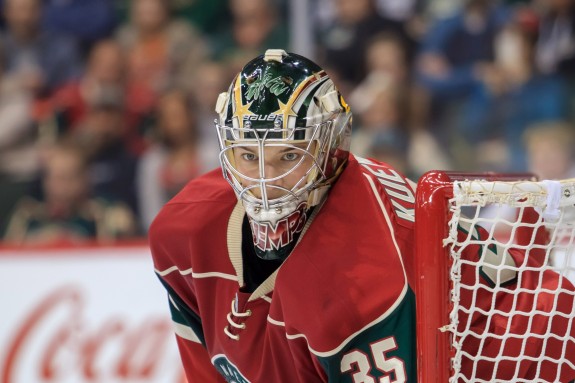 Their best option from a talent perspective, is Harding. And it's not even close. In his just 29-games last season, Harding led the league with a .933 SV% and was good enough to mask the Wild's dreadful possession play for stretches of the season. The problem with Harding has always been durability. When the rigors of hockey aren't taking him out, he even finds a way to do it himself; his most recent injury is a broken foot that Harding sustained kicking a wall. Lurking in the weeds, however, is playoff standout from last season, Darcy Kuemper. In ~150 minutes less 5v5 ice-time than Harding, Kuemper sustained an even-strength save percentage just less than 1% below Harding.
One of these guys is taking away Backstrom's crease and the .914 sv% he posted at even-strength in it last season. Contractual handcuffs or otherwise. Circumstances will dictate this scenario as much as play.
Thomas Greiss, Pittsburgh Penguins
This is as much about Thomas Greiss' solid play as a backup tender to this point in his career as it is Marc-Andre Fleury being kind of bad. Really bad. Under the previous regime, nearly every excuse in the book was levied at Fleury's critics for his sub-standard play in net. Apparently, it was all mental. Or just a bad stretch. Or something. Whatever the case, the Penguins went to the trouble of hiring a sports psychologist for Fleury before last season, and the results were only marginally better. His regular season sv% dropped only one-percent lower on the grand-standing scale of mediocrity, and his play in the post-season wasn't terrible.
New general manager, Jim Rutherford, doesn't have this kind of a rapport with Fleury. He wasn't there when they drafted him (not that Ray Shero was) and he wasn't there when they signed him to that albatross of a seven-year $35 million extension. Fleury is now in the last year of that contract. This clubs attachment to Fleury is tenuous at best.
In Greiss, the Penguins have a marginally younger goaltender, on a vastly more affordable contract, who's trending in the opposite direction of Fleury. Last year, Greiss was fourth in goaltenders with >750 minutes of even-strength action with a .939 SV%. Fleury was 39th with a .919. Crosby and Malkin aren't going to be in their prime forever. With a comparable option to Fleury ready to break out, the Pens will have to decide whether Fleury and his hefty price tag are worth keeping around. Or worse, extending.
Anton Khudobin, Carolina Hurricanes
I feel like I've already covered a lot of ground on this one. Cam Ward's play since winning the Stanley Cup in 2005-06 with the Carolina Hurricanes has been steadily, but surely, getting worse on an almost annual basis. This, in combination with injuries, opened the door for Anton Khudobin to make his mark with the Canes last season. Khudobin posted the fifth-highest SV% among qualifying goalies on TSN, and looks poised to continue his trend upwards this season in Carolina. If Khudobin can keep this up for another season, that crease is as good as his. Permanently.
It looks as though the transition has already started. There were rumours that the Canes were trying to dish Ward at the draft, along with one of their draft picks, for next-to-nothing so as to free them from Ward's onerous contract. I can't imagine Ward enters this season with the lengthiest of leashes.
Eddie Lack, Vancouver Canucks
The Canucks last management team was willing to go all-in on the Swedish netminder. Between Tortorella's decision to start Lack in the Heritage Classic and the ensuing trade between the Florida Panthers and Canucks that sent Luongo south, there was just too much invested in Lack for him to not be "the guy". Enter new GM, Jim Benning. Benning lacks this attachment to Lack, and like much of the league and its observers needs more convincing from the Swede. Benning proceeds to sign Ryan Miller to a three-year, $18 million contract and Lack's grip on the crease has faltered.
I'm convinced that won't be the case for long, though. At this point in their respective careers, I actually don't see Miller as an upgrade over Lack. Significant, or otherwise. The evidence from last season just doesn't suggest that's the case. There's also reason for concern following Millers awful stretch of play after being acquired by the St.Louis Blues at last years trade deadline. I don't think it will be much longer before another goalie controversy emerges in Vancouver.