The second day of the NHL's preseason schedule was a busy one with seven teams playing split-squad games. The Maple Leafs took on the Flyers in London at Budweiser Gardens, while the Senators and Islanders took part in their split-squad festivities in St. John's, Newfoundland.
While there were many standout performances in the 12 games played on day two, three big league hopefuls made their cases for cracking opening night lineups with their respective clubs. So without further adieu, here are the three players to keep an eye on from day two in the NHL's preseason.
Jyrki Jokipakka, D, Dallas Stars
He was a seventh-round pick for the Dallas Stars in 2011 and at the age of 23, Jyrki Jokipakka could be an interesting player to watch in the Dallas organization. On Monday, Jokipakka played just under 21 minutes. His offensive tools were certainly visible in his first preseason game of the year, but it was his abilities as a big, tough defenceman that also made him stand out.
He played almost three minutes on the powerplay and just under two minutes on the penalty kill. He recorded one assist, a plus-one rating, and blocked two shots on route to a Dallas win over the St. Louis Blues.
While the Stars likely won't have room on their blue line for the Finnish defenceman, he'll be knocking on the door if he continues to perform the same way.
Reid Boucher, RW, New Jersey Devils
In 2013-14, Reid Boucher played in 23 games for the New Jersey Devils. He recorded seven points (2g-5a) and a plus-two rating over that time. On Monday, he continued to make his presence felt as the Devils beat their Metropolitan division counterparts 5-4 on Monday.
Reid Boucher is going to make things very difficult for the coaching staff if he keeps up the strong play

— Devils Insiders (@DevilsInsiders) September 23, 2014
Boucher played just over 15 minutes – including five and a half minutes on the powerplay – and recorded a goal and an assist. He fired six shots at the New York net recording a plus-four rating in helping his team to the victory.
Boucher could fight his way into a roster spot with the Devils in 2014-15 if he can continue to put up the same effort in the remaining preseason games.
Max Domi, C, Arizona Coyotes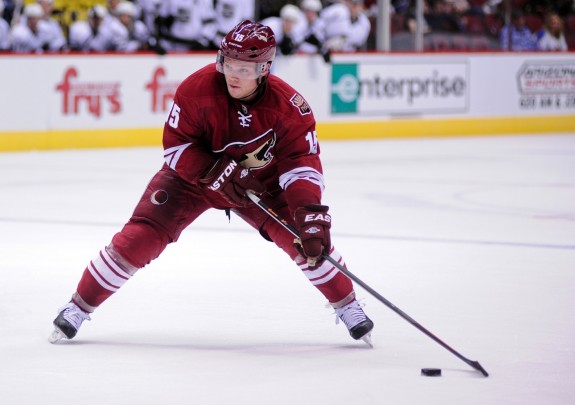 A product of the London Knights organization, Max Domi might've been the most impressive in his preseason debut. Playing on a line with Martin Hanzal and Henrik Samuelsson, Domi recorded three assists in under 18 minutes of ice time.
The 5-foot-10 forward also had one blocked shot and three shots of his own while seeing ice time on both the powerplay (5:10) and the penalty kill (0:40). While he's still a question when it comes to Arizona roster spots, the former 12th overall pick surely has the talent that the Coyotes will be looking for in 2014-15.
NHL Preseason: Three Stars From Day 1 (Sept. 21)
NHL Preseason: Three Stars From Day 3 (Sept. 23)
NHL Preseason: Three Stars From Day 4 (Sept. 24)
NHL Preseason: Three Stars From Day 5 (Sept. 25)
NHL Preseason: Three Stars From Day 6 (Sept. 26)
NHL Preseason: Three Stars From Day 7 (Sept. 27)
For more, follow Andrew on Twitter at @AndrewGForbes or his column at @Tape2TapeTHW.